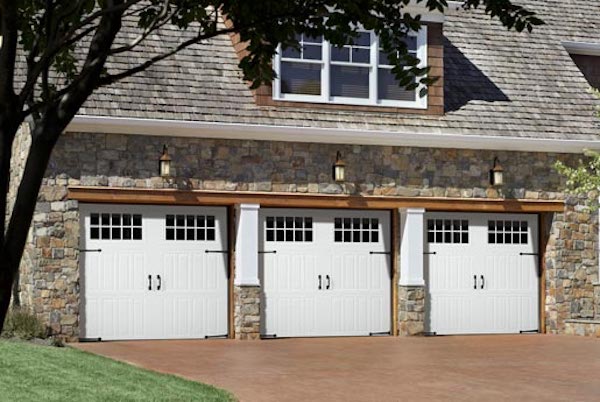 For many homeowners spring cleaning brings the garage to mind. And, since you can't hire a maid service for this, a garage often proves to be a daunting task. Whether you need to organize your garage, remodel it for another use, or even need to build a garage, there is a solution for you. And, once your garage is in shape you can make it livable by fitting it with the same comforts of home: heating and air conditioning, phone wiring, even plumbing.
1. Garage Additions
Whether you use this to shelter your car, for storage space, or want to finish it to make it livable space—or all three—a garage addition is great way to add square footage to your home. Even if you already have a garage, adding a second story can be the perfect answer to carving out additional living space.
Many people find that garage additions offers the perfect environment to house their home office, studio space, or workshop. Most garages can be easily fitted with the same comforts as a home: heating and cooling, phone wiring, even plumbing.
2. Garage Remodeling
Many people find that a garage remodel offers the perfect environment to house their home office, converted extra bedroom, studio space, or workshop.
Transforming your garage doesn't mean you have to sacrifice your storage area. Many garages today have become multifunctional, allowing for cars, general storage, and a home office or workshop all in the same space.
And, if you find you will be losing too much storage space in your garage, consider building a small storage shed in your yard to house tools, sporting equipment and seasonal items. A building separate from the house will expand your storage space, allowing you to use the garage in ways that you could not use a shed: electricity or heating, for example.
In addition to remodeling your current garage space, you could also consider an addition above the garage. Raising the roof and adding a room for work space above your existing garage can give you additional space, not to mention increase the value of a home, without changing the floor plan.
Garage addition or remodeling ideas:
Guest apartment
Home office
Laundry room
Mud room
Music studio
Ready to start your
garage solutions

?Find Pros
3. Garage Storage and Organization
Organizing or even contemplating organizing the garage can be a tiresome task for many homeowners. Remember that organizing your garage is about finding a designated place for everything while still keeping your tools and sporting goods easily accessible for everyday use.
Step 1: Sort and categorize all items in your garage
First things first, empty that garage. Start by sorting everything into categories. Separate all lawn maintenance tools, sporting equipment, electric tools, etc. Once you realize how much stuff you actually have, you can determine the best ways to organize and store everything.
Also, if there are miscellaneous items that ended up in the garage by mistake, return them to their proper place.
Step 2: Separate and store seasonal items
Get a handyman to install a rack to hang lawn maintenance tools, snow tools, and sports equipment that you may use regularly in an accessible yet out of the way place. Anything that is used seasonally should be stored and then swapped out when needed.
Step 3: Add additional garage storage shelving or cabinets
If you haven't already done so, now is the perfect time to add additional garage storage space to help you maintain your organization in the months to come. You could have shelves or cabinets mounted on the wall or, for a more inexpensive option, consider purchasing durable plastic totes and drawers.
Step 4: Create an efficient work area
If you use your garage as a work area, be sure to make the best use of this space. Install a work bench or table. A pegboard and a sturdy tool chest are a great way to store your tools, yet keep them easily accessible.
Step 5: Relocate trash and recycling bins to nearby the garage entrance
Section off an area near the entrance of your home for trash or recycling to make it easier to dispose of these items.
No Comments Yet