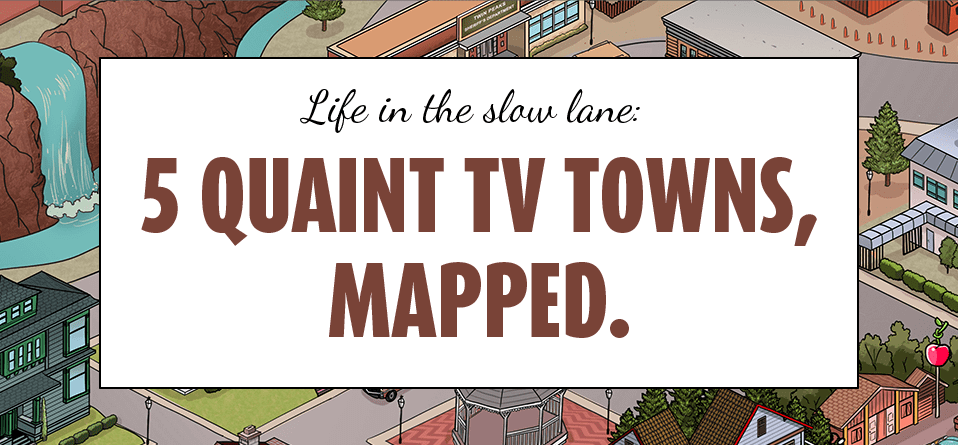 As we tune into our favorite TV shows week after week, the characters and locations can start to feel as familiar as our real lives. Whether you're into the historic architectural styles of New England or the stately homes of the deep south, who hasn't wished they could live in one of the cozy towns from the small screen?
To bring these towns just a little closer to real life, we've mapped out a handful of our favorites.
Hawkins (Stranger Things)
Nobody's saying that Hawkins is perfect. There are some disturbing things going on in that laboratory, and everything can get a bit 'Upside Down' from time to time. But its subdued brick and siding houses and quiet tree-lined streets are exactly what you might expect of a suburban midwestern town in the 80s.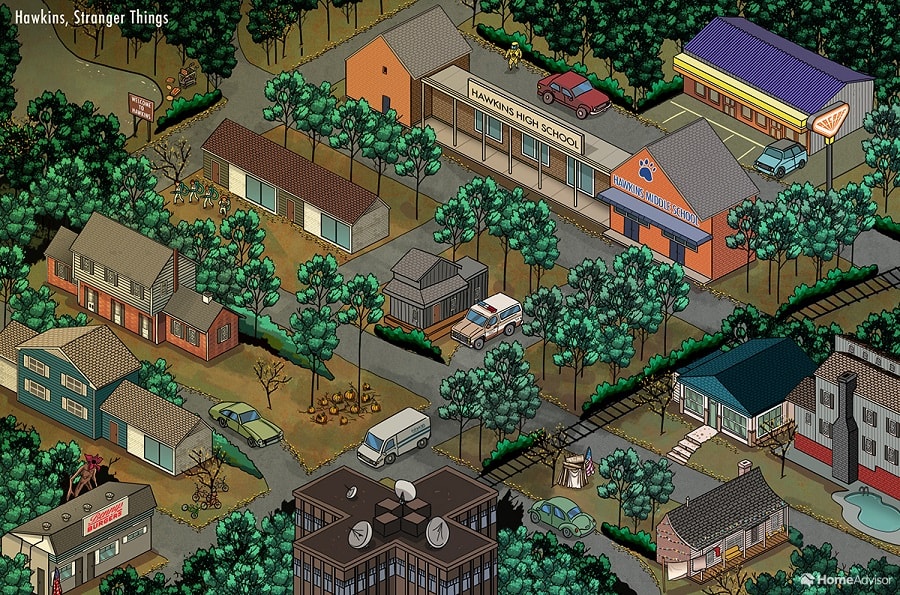 Stars Hollow (Gilmore Girls)
Stars Hollow sounds almost too cute to be true – and the town and its inhabitants often fit that description. This quintessential New England community boasts grand brick buildings and pastel-colored historic homes with large porches and columns. It's one of those towns where a pumpkin patch is never too far away, and everyone turns up to the dances and town meetings.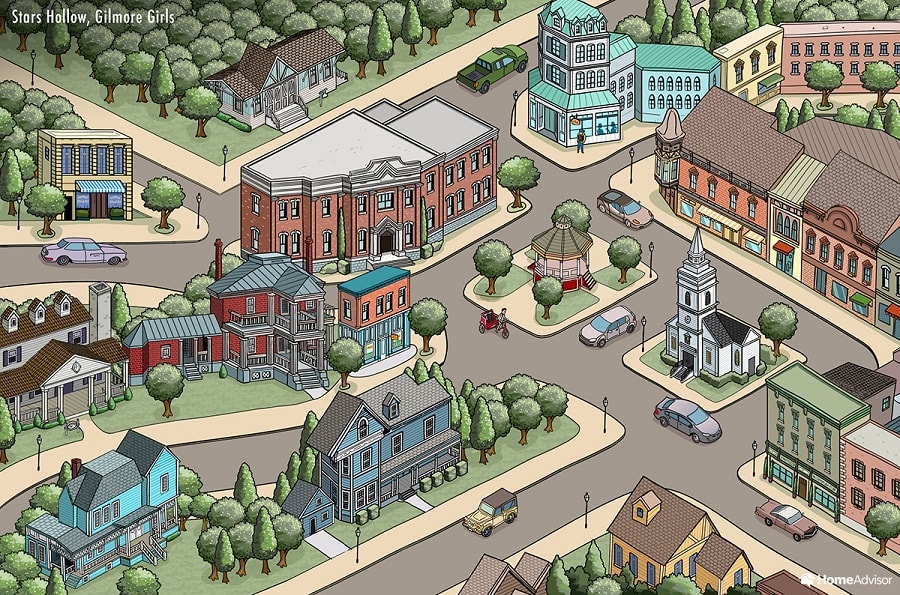 Twin Peaks (Twin Peaks)
The logging industry has been the heart of Twin Peaks for decades. And from the beautiful lodge at the falls to the historic brick buildings and traditional symmetrical houses, Twin Peaks typifies a small Washington town. But this seemingly idyllic place has more than just a hint of darkness about it. There's something stirring in the woods and the owls are not what they seem.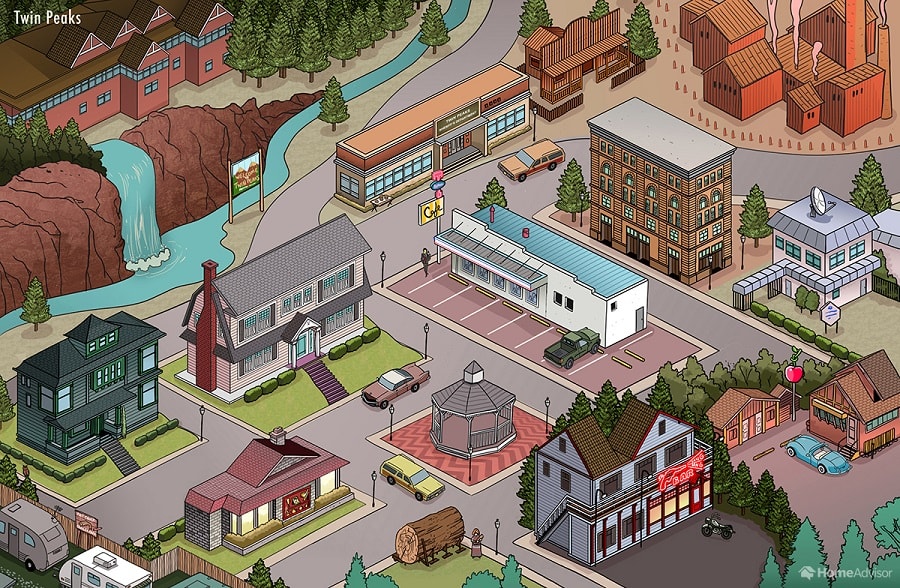 Bon Temps (True Blood)
There's nothing quite like the Southern hospitality of a small town in Louisiana, and Bon Temps is full of rustic charm. The waitresses at Merlotte's are always friendly when you pop in for a bite, but beware of the others "looking for a bite" while you're on your way home. Between the beautiful arched windows of the church and plantation style homes, Bon Temps is full of character. Of course, the characters that call it home also include vampires, werewolves, fairies and all manner of other supernatural residents.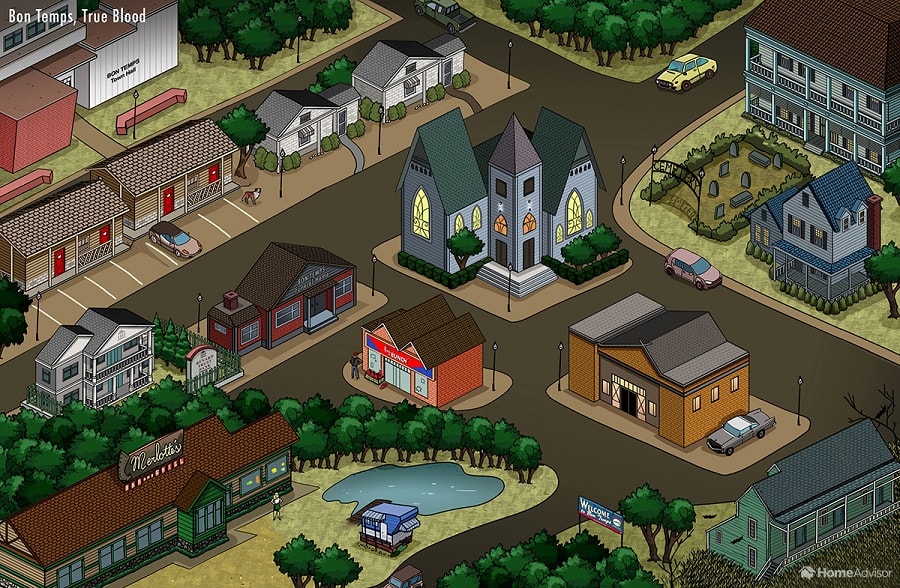 Arlen (King of the Hill)
If you're looking for a sleepy small town that takes life at its own pace, you could do much worse than Arlen, Texas. The brightly colored town has a diverse array of buildings, from small trailers and simple bungalows to the ritzy Hotel Arlen, with its radius windows and prominent balconies. The town's denizens are a simple folk and it takes a lot to make them angry – just be sure to show the proper appreciation for propane and propane accessories.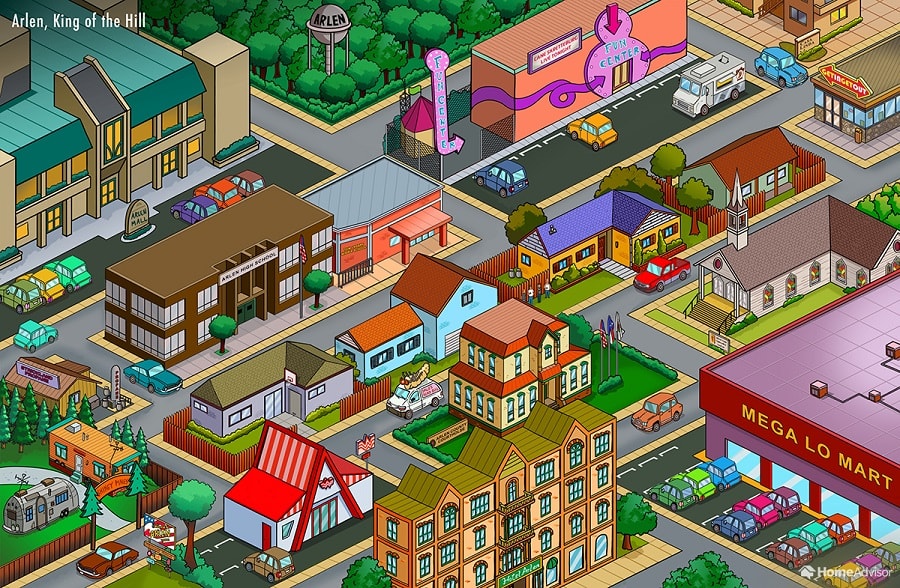 These small towns have delighted fans for decades on TV. But now that you've seen them in a new light, which of them would you want to call home?
Add this graphic to your site:
Click the text below.
Copy the selected text.
Paste the code on your website.
Sources
Stranger Things Wiki (2018) Filming Locations. strangerthings.wikia.com
Semley, J. Dyess-Nugent, P. et al (2012) "The setting itself is a character": 17 fictional TV towns with personality. tv.avclub.com
Woerner, M. (2009) The Worst Fake Cities on Earth. gizmodo.com
King of the Hill Wiki. (2018) Arlen. kingofthehill.wikia.com
No Comments Yet