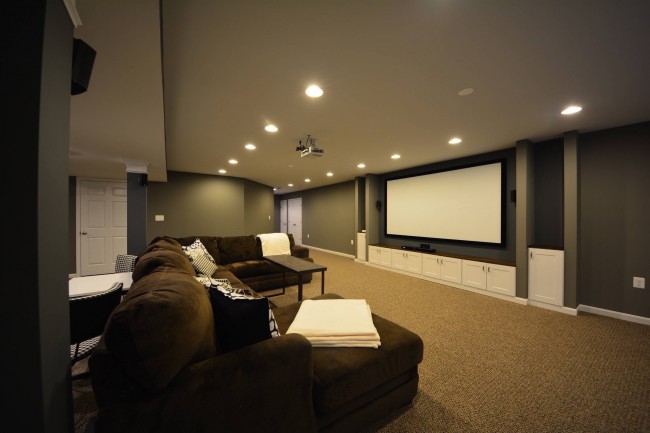 While most finished basements are technically a far cry from any of the multiple incarnations of the Bat Cave, there are a few things the average homeowner can take from the Dark Knight's interesting sense of style. Identifying which Bat Cave suits you best can certainly be entertaining, but with the right eyes, it can also give you a better idea of what you can get from investing in a basement remodel.
Bat Cave Basement Remodels
For anyone who's ever seen a Batman movie, watched the T.V. show, or read the comic books, the Bat Cave represents far more than just a cellar. However, though the average Joe doesn't have the money or power (or deep-set issues) of Bruce Wayne, creating our own personalized underground space is only a basement remodel away.
The T.V. Bat Cave
Filled with bright colors, plenty of light, tons of flashing bulbs, a heavy sprinkling of camp, and a seemingly limitless supply of labels, the Bat Cave from the 1960s T.V. series is not for the squeamish. When compared to some of the Bat Cave's more recent incarnations, Adam West's model might seem a bit outdated. There's no doubt, however, that a period piece such as this placed in the basement of one who can appreciate it could become a prize unlike any other. The nice thing about a retro-remodel is that it can often be done rather cheaply by purchasing materials and items that would seem garish in another setting (and that people are generally not too unhappy to part with).
The Bat Cave 1989
With Tim Burton at the wheel, it's no surprise that the Bat Cave became a much darker (though oddly enough, slightly less quirky) place to be. Dimly lit, spacious, and surprisingly elegant, Burton's Bat Cave is less a place of bells and whistles as it is a relaxing place for Bruce and Alfred to get away. Minimal lighting, nice car, relaxing atmosphere, few women–sounds like a bar to me! Add a plasma T.V., a few neon lights, some stools, and maybe a tap or two and you've got yourself the perfect hang-out spot for the big game. Throw in a pool table or dart board and a card table and Michael Keaton's Bat Cave could easily compete with the hottest pub or tavern in town!
Ready to start your
finished basement

?Find Pros
Batman and Robin 1997
Though not without its fans, this article (along with most of the movie watching world and several A-list celebrities) is simply going to pretend that this film never happened.
The Dark Knight Bat Cave
Incredibly minimalist, but stunning in its form, the temporary Bat Cave from the Dark Knight is a perfect place to house whatever Bruce and Alfred are in need of. Wide, open, and adequately lit, the newest Bat Cave could be at home training an army or simply hiding the Batmobile and a small workspace. A Dark Knight basement remodel might not be as flashy as a retro-room or basement bar, but its sound design and nearly vacant floor plan will allow you to change the space into whatever you need at the time. One good idea for this kind of utilitarian basement remodel is to have a remodeler add a large entry way that leads directly to the outside. The ease of moving large objects in and out of your basement always comes in handy (even for billionaires).
No Comments Yet