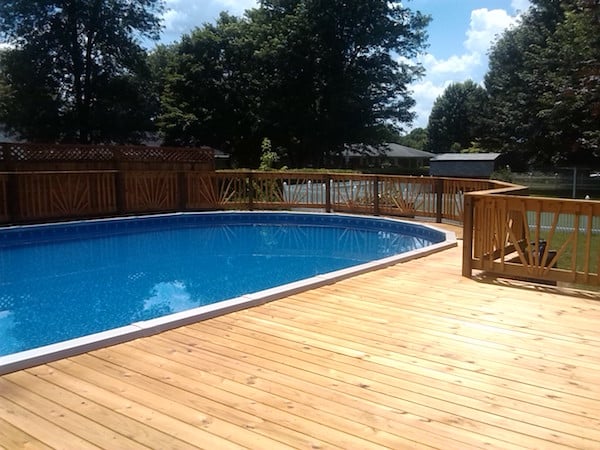 Above ground pool decks are an essential addition to your backyard swimming pool project. A deck will give you an easier way to get in and out of your pool and extra lounge space while you supervise the kids. Your above ground pool deck plans can include an attachment to a house entrance or it can be a stand alone deck. It will reduce tracking mud and grass into your pool and back into your home. It can aid the structural integrity of your pool and will withstand the typical abuse your children will try to inflict on it. If you haven't already planned on adding an above ground pool deck to your backyard pool, you should start now.
Above Ground Pool Deck Plans
Splash Decks— This deck design creates a decking border around your pool. The width of this border can be varied but, three feet is typical. A splash deck will allow you to enter and exit from any side of the pool and will help create a more stunning appearance for your pool. The disadvantage of the deck is that it doesn't create much, if any, lounge space and doesn't allow you to connect your pool deck to your house.
Side Decks—With this deck design, a lounge space is created on one side of the pool. You will still have a place to get in and out of your pool but, this space becomes limited. It can also create a lopsided appearance, leaving a large portion of your pool exposed.
Splash and Side Combinations— Yes, this is exactly what it says. You can get the best of both worlds but, this will make also make your deck almost twice as expensive. Individual splash and side decks are similarly priced, ranging up from $1,000, depending on the dimensions and installation options. You can choose a partial splash deck with your side deck design, creating a border that goes around a portion of your pool.
Interlocking Wood Deck Tiles
Many deck projects can be an expensive proposition and above ground pool decks are no exception. One option that can save you some money is interlocking wood deck tiles. These tiles can save you money by circumventing the need for cement or other adhesives and doesn't require the extensive surface preparation of traditional decking. Interlocking tiles allow for significantly easier installation, making it a more feasible project for some DIYs. Should your deck ever need to be repaired, interlocking tiles will also make this repair a jiff. In fact, if your existing deck still has good structural integrity, interlocking tiles can be used to replace or repair traditional decking.
Additional Options and Considerations
You'll want to make sure you put down some kind of stripping to reduce the risk of slipping on your deck. Good stripping should make walking on your deck reasonably safe, even with wet feet. Synthetic grass or plastic pavers may also be used but these won't look as nice as a good hardwood deck. If you're building a low deck and placing your decking on the bare Earth (not recommended), you'll need to put down a weed control mat.
1 Comments