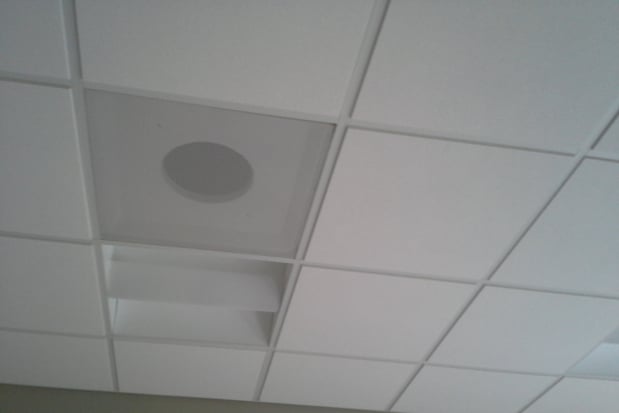 Many homeowners have had the experience of being in a room that simply sounds empty. Often, especially with hard surface flooring such as concrete, ceramic tile, or concrete, sound bounces from wall to wall and ceiling to floor creating an echoing sound that is far less homey than most people enjoy. Instead of covering up a floor with carpet, some homeowners have found a solution to this problem by installing acoustic ceilings or popcorn ceilings.
Benefits of Acoustic Ceilings and Acoustic Tile
Acoustic tile is very sound absorbent, taking the harshness out of a hard ceiling. In addition to reducing echo and improving sound quality in a room, an acoustic ceiling can also reduce noise that permeates from one story of a house to another. Because it hangs from the ceiling, it is handy for hiding pipes, wires, and other unsightly necessities while allowing easy access for repairs or remodeling. This makes acoustic ceilings a popular choice for basement remodels.
Highly light reflective, acoustic tiles let more available light reflect back into the room, and save money in utility costs. The panels come in different levels of humidity resistance, reflectivity, and fire resistance.
Acoustic ceilings are flexible and can be installed in most rooms. To hang the tiles, a grid of extruded metal is hung by wire loops from the true ceiling with a panel resting in each rectangle. Fluorescent lighting easily drops into any square since the entire lighting fixture is a single unit. If dust, smoke or soil should mar the finish, the panels are easily cleaned. They are impact resistant and, if they are damaged, can be replaced easily in a matter of minutes.
Ready to start your
Acoustic Ceiling

?Find Pros
Acoustic Ceiling Options
Acoustic ceilings come in two basic styles. A dropped or suspended ceiling is more common. It consists of 2 x 2 foot or 2 x 4 foot tiles dropped into an interlocking metal grid suspended from the structural ceiling. Glued ceilings are tiles (usually 1 x 1 foot tiles) glued directly onto the structural ceiling. Both offer soundproofing qualities and can cover-up existing damage, but only suspended ceilings will hide any exposed ducts, pipes, and wires.
Suspended and Glued Acoustic Tile Sizes
Most glued tiles are 12 x 12 inches. Suspended ceiling panels usually come in 2 feet x 2 feet or 2 feet x 4 feet panels. The larger panel is less expensive and takes less material to put it up. Installation is generally faster, too.
All styles will conceal a damaged ceiling and reduce noise. The standard color is white or off-white; however, they all come in many designs and patterns. If you want color, you may be able to paint the panels, though you should check with the manufacturer's instructions to make sure that you will not lose any of the tile's sound-dampening qualities.
Acoustic ceiling manufacturers also make panels with additional insulation, which consist of a vinyl surface backed with about a half inch of fiberglass. The insulation is not a lot (only about an R-3), but if installed underneath a drafty attic, it'll help.
Some manufacturers also create fire-rated panels that are treated with a fire retardant. The panels themselves are not fireproof, but they should provide you with about 20 minutes of protection.
Ready to start your
Acoustic Ceiling

?Find Pros
No Comments Yet