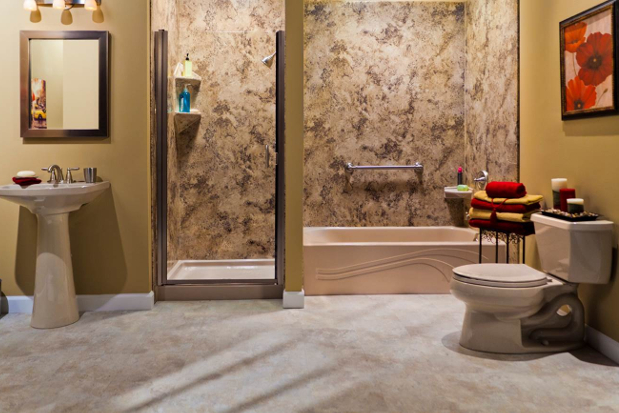 For master bath remodels and even normal-sized bath remodels, many homeowners find their way to choosing an acrylic shower or bathtub—and for good reason. Acrylic showers are easily maintained, require less intensive cleaning, and last longer than many other tubs. Instead of buying expensive cleaning products that may be harmful to your bathtub, vinegar and water or a weak bleach/water mix works well to clean the acrylic surface. Their nonporous surface makes it difficult for mold and mildew to get a hold in your shower.
Many manufacturers offer an array of common colors: white, gray, any number of shades of beige, but shop around and you should be able to find any color you can imagine, including marble imitations. Convenience, durability, and beauty put acrylic showers and bathtubs at the forefront of bathtub installations.
Acrylic Shower Backing
Acrylic is a great material for shower and bathtub surfaces, but high-quality acrylic showers are backed with a sturdy material. A layer of resin (called a gel-coat) helps create the backing for the bathtub. Fiberglass, foam, and wood are then added to bolster the support of your acrylic bathtub installation, making it extremely durable. By using a different material for the tub surface and the backing, you can get the best of both worlds—the smooth, low-maintenance surface with the years of longevity that a quality backing brings.
Ready to start your
Shower Installation

?Find Pros
Fiberglass vs. Acrylic Bathtubs
Fiberglass and acrylic bathtubs are the two most common bathtubs out there. They're very similar bathtubs; essentially they're both molded plastic. Acrylic bathtubs have fiberglass in them, and fiberglass tubs are made from more than just fiberglass. What makes them different, though, is the process by which they're created. Fiberglass is laid out on a bathtub mold and mixed with the gel-coat to create the basic form of the bathtub. Acrylic bathtubs are heated, stretched out on the mold, and then vacuumed into their final shape.
The final products look almost identical—although the vacuum process means acrylic showers generally have a ceiling—but they are anything but identical in durability. Acrylic bathtubs are more durable and more scratch-resistant. Minor scratches can also be sanded out of acrylic. Of course, you also pay more for this durability. In fact, some acrylic tubs can be twice as expensive as their fiberglass counterparts.
Transform Your Old Tub with an Acrylic Liner
One of the greatest things about acrylic is that it can also be installed on top of your current bathtub. Any sized or shaped tub can have an acrylic liner heated and vacuumed right over your old tub, and you immediately have all the advantages of an acrylic tub. If you're thinking about a bathroom remodel and want a new tub, then this is often a great choice, especially for people on a tight bathroom remodeling budget. Installing an acrylic tub liner isn't cheap, but it's probably only going to cost a fraction of the price to remove your old tub and put a new one in. They can even accommodate small imperfections in your old tub, but if you've let your old tub fall into complete disrepair the liner may not be plausible.
You can find more great shower remodeling ideas from BathroomRemodel.com
No Comments Yet