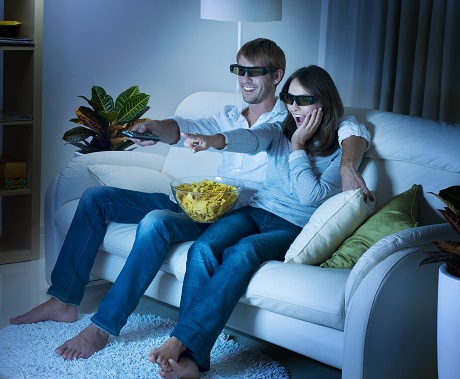 You've got that unused space in the basement that's become a storage area. Why not use it for something that will bring happiness to everyone in your home by converting it into a home theater?
If the potential cost of a home theater has you thinking it's not possible, take note: Home theater components are more affordable than ever! And with the increase in picture quality available for the home market, you may never need to spend money at the theater again.
Shop for Hardware
You can get a good quality projectors suitable for your home theater for around $500-700. You'll spend a little more for a projector with 1080p resolution and higher lumens, which measure image brightness.
The screen is important, but you won't have nearly as many choices. You can get a pull-down screen or, more affordably, a fixed screen — but that won't give your space as much flexibility. A manual pull-down can cost between $100 and $200.
Don't want to mess with a projector and screen? You can still create a fun space for watching movies and playing video games with a wall-mounted, flat-screen television. The cost will vary depending on the size of screen and the technology you want, but you can pick up a very nice TV for the cost of a projector and screen, should you wish to go this route.
You'll likely choose to connect a gaming or Blu-Ray player to the system and perhaps an Apple TV or other streaming device. Be sure to factor in the cost of these components (usually less than $100 each) if you don't already have them.
You'll also need a sound system. Wireless is the way to go if you don't want to crawl around hiding audio cables, so you'll have to shell out a bit more for a high-quality wireless system. The sky's the limit when it comes to cost, as there's a huge range of options on the market, but you can secure a decent system for as little as $300. If you're very focused on audio quality, plan on spending around $500-800.
Set Up the System
It's not always easy to get things working immediately. But even if you need to spend a bit of time tweaking your system to get the best possible picture and sound, it will be worth it.
Start by setting up your projector. While ceiling mount options are available, for most affordable home theaters, you can position the projector on a high shelf in the back of the room. Your projector's manufacturer should include information about calculating the best projection distance, either as part of the instruction manual or as an online tool.
Then, you'll mount your screen, or install your television if you've decide to forego the projector. You can eyeball the correct height, or you can calculate it based on seating position and screen size.
Connect media components like a Blu-Ray player or Apple TV to your projector or television and arrange them accordingly. Many people add an extra shelf or cabinet to house these components.
Finally, you'll set up your speakers. With wireless speakers, you'll have a lot less work, but you'll still need to arrange them so that the sound is optimal. You may also want to install speaker mounts for a more authentic, surround-sound experience.
Add the Extras
Comfortable seating is a must for your home theater. Recliners or a sofa will do the trick, but if you're feeling creative you can use papasan cushions and large pillows on virtually any hard surface. You may be able to move furniture from another room or purchase good-quality used seating.
Lighting is key to a good home theater experience. You'll appreciate having lights on a dimmer switch that can be adjusted slowly. To ensure that you don't have any unwanted glare on the screen, consider installing recessed or track lighting. Recessed lighting will cost you about $100-200 per light if you have them professionally installed, or you can put in track lighting with a little DIY electrical knowledge.
Refreshments are also important for your movie nights. At a minimum, a small refrigerator to hold drinks and a cabinet for snacks can keep everything organized. You may also add a popcorn machine or wine chiller, depending on your preferences.
Your home theater doesn't have to be fancy, use elaborate sound-deadening materials on the walls or mimic a real movie theater in seating. You can have a fun space that the whole family will enjoy with a little shopping around, elbow grease and a reasonable budget.
No Comments Yet