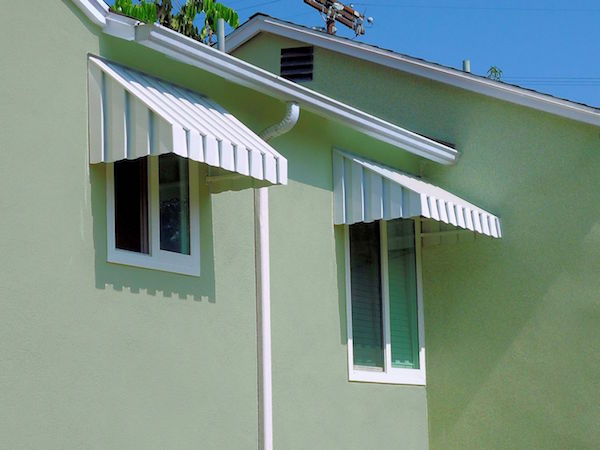 Aluminum windows made their place in the window market as a low-cost alternative to wood and vinyl windows. Most homeowners gloss over the other built-in advantages of aluminum windows. They resist splitting, shrinking, cracking, swelling, and rust. Aluminum windows are also three times as strong as vinyl and more than forty times as strong as wood. While this strength protects windows from high winds and other inclement weather, it also increases the window space and allows for greater design versatility.
The most notable disadvantage of aluminum windows is not the bland or metallic appearance but the high heat and cold conduction rate. This characteristic of aluminum will make your windows less energy efficient, though weather-stripping and thermal treatments will make this less of an issue.
Curb Appeal
Many homeowners don't like the look of aluminum windows because they imagine the natural color of aluminum in a simple, rectangular window. Aluminum can be any color and will match any color scheme or design of your home, enhancing its curb appeal and allowing for a greater array of siding options. Its strength easily allows for any shape and size of arched or regular window. Wood windows may look nice up close, but for a complete visually stunning window appearance for your home, aluminum will give you the options for elaborate window design and total area at an affordable price and a long-lasting product. The design possibilities obviously make this feature more attractive in new construction where you can influence the design without elaborate renovation costs.
Ready to start your
aluminum windows

?Find Pros
Aluminum Clad Wood Windows
You can also get the best of both worlds with aluminum clad wood windows. These windows, simply put, have an aluminum exterior and a wood interior. This allows the homeowner to achieve a stunning look for curb appeal on the outside while still retaining a warmth and elegance for the home's interior. The interior wood doesn't suffer the blistering and warping of weathering, but the aluminum's low energy-efficiency can still be a problem. Plus, you should keep in mind this window combination no longer makes it a low-cost installation.
Noise Abatement
Aluminum also outperforms both wood and vinyl windows at noise abatement. Windows are usually the easiest area in a room for sound to travel. This quality shouldn't be overlooked if you're easily annoyed by peripheral sounds. Like the disadvantages of aluminum, wood and vinyl windows can be double-paned. For your bedroom, window plugs will block out sound and light while you're sleeping.
1 Comments