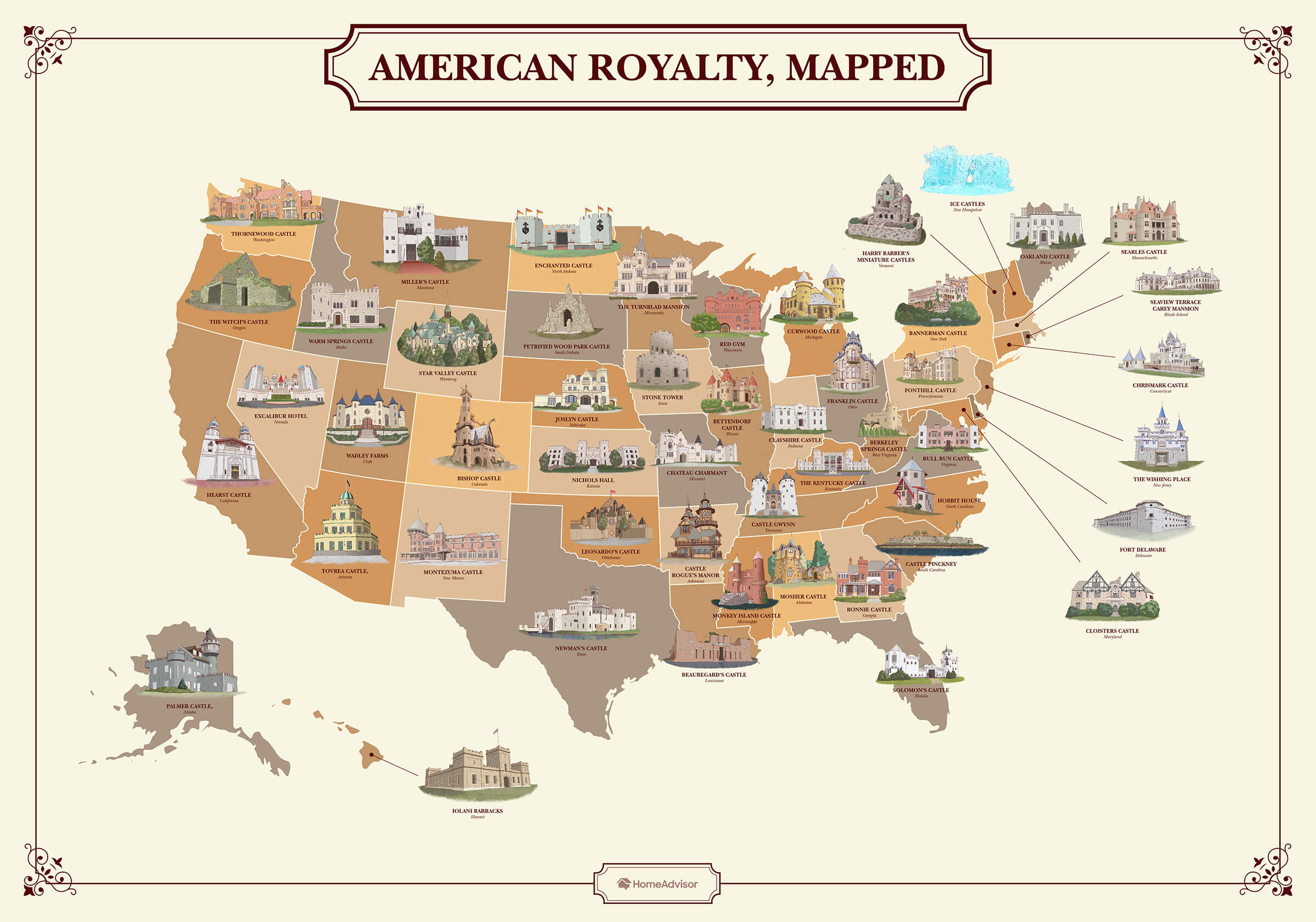 Think Europe is the only continent with expansive castles? Think again. The U.S. has its fair share of castles, some fit for royalty and some built solely for monkeys to roam. From castles made entirely of ice to fortresses of iron, these are the best castles in every state.
Choose a State:
AL | AK | AZ | AR | CA | CO | CT | DE | FL | GA | HI | ID | IL | IN | IA | KS | KY | LA | ME | MD | MA | MI | MN | MS | MO | MT | NE | NV | NH | NJ | NM | NY | NC | ND | OH | OK | OR | PA | RI | SC | SD | TN | TX | UT | VT | VA | WA | WV | WI | WY
1. Alabama – Mosher Castle, Fairhope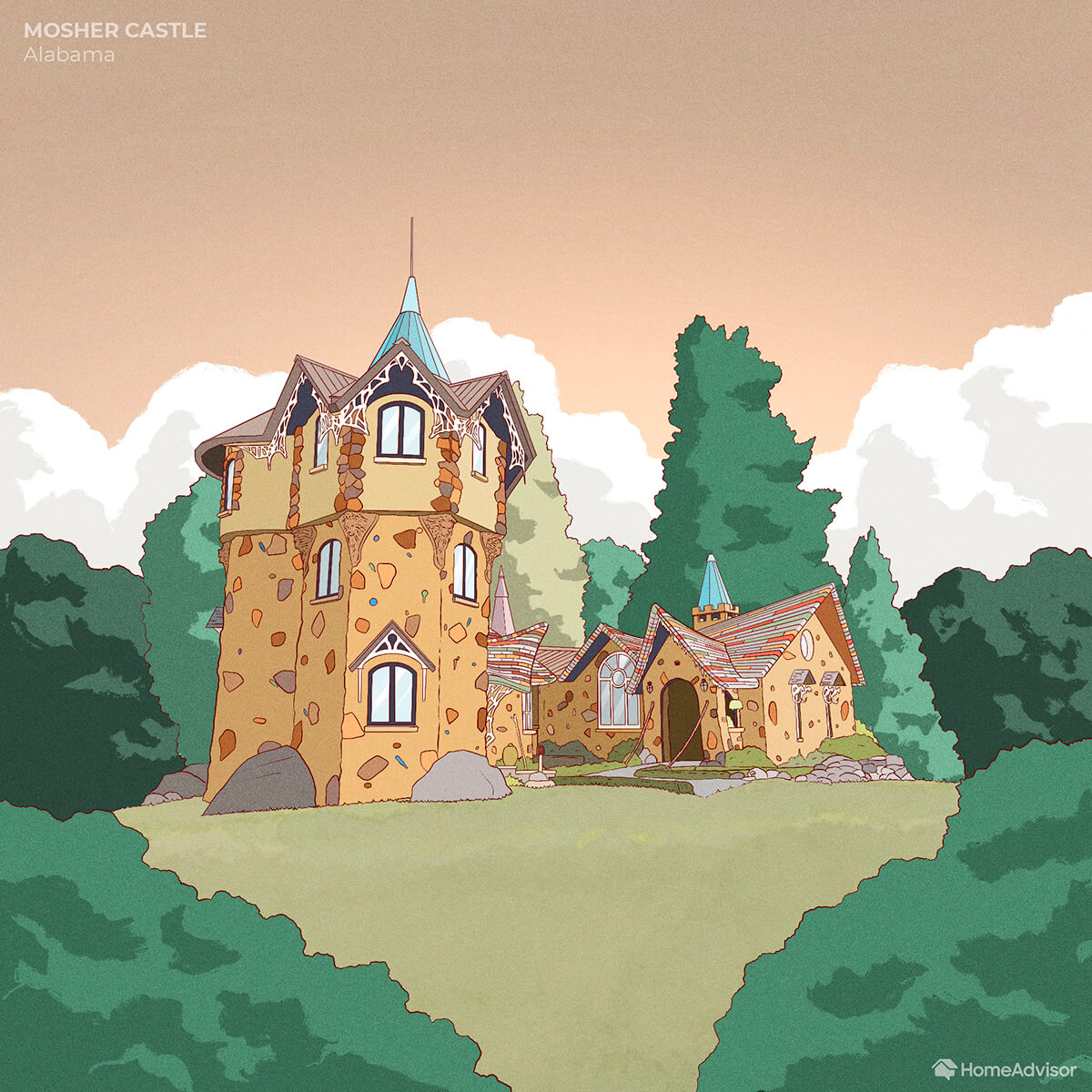 Mosher Storybook Castle was slowly crafted over decades as artist and historian Dean Mosher "castle-ized" a cottage on his in-laws' land. Mosher integrates repurposed and recycled items into its charming details, each of which was hand-crafted by Mosher with assistance from various relatives. Sculpted lions and welded dragons guard this fairytale fortress.
2. Alaska – Palmer Castle, Palmer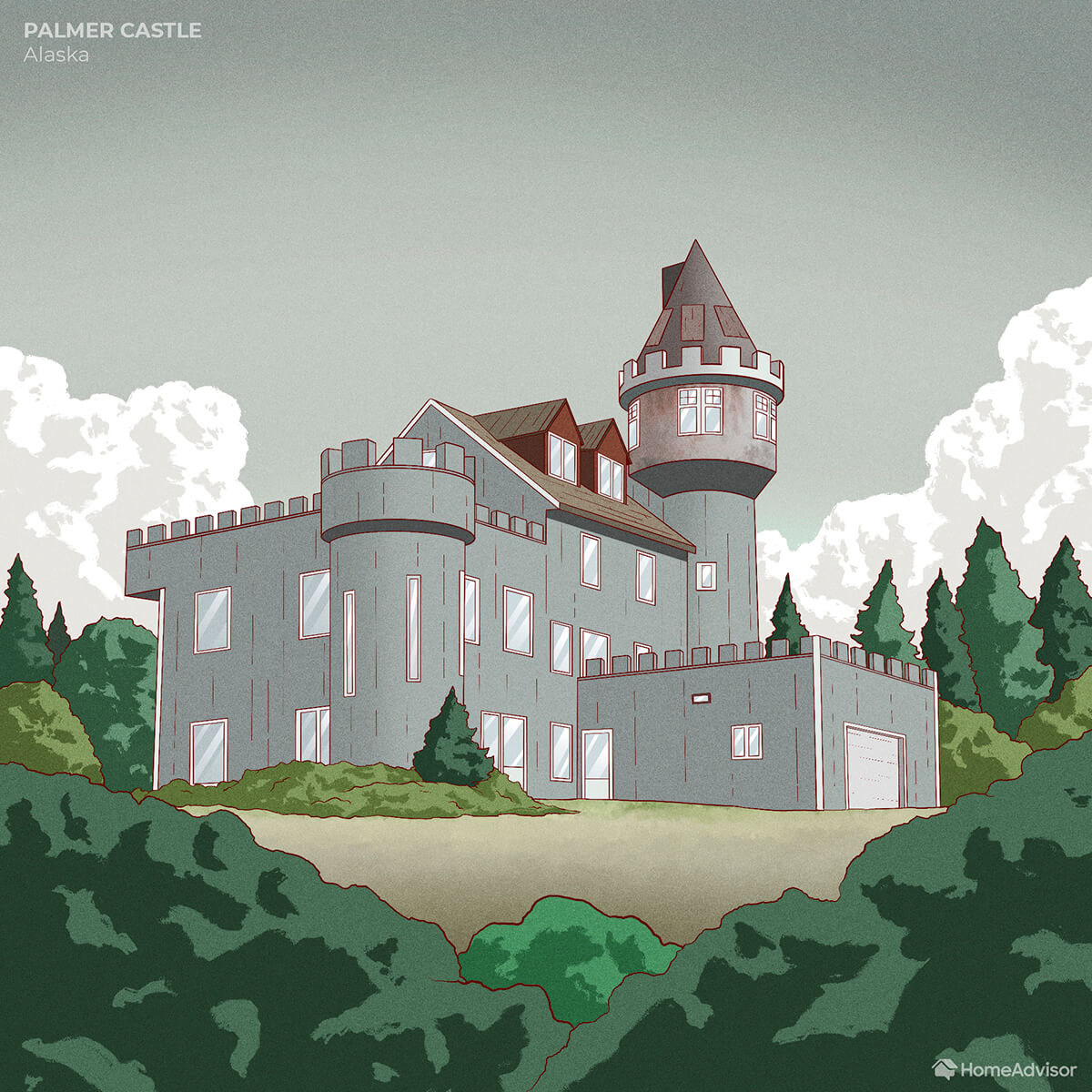 Located 45 minutes from Anchorage, this four-story castle was bought by welder Tom Hepola in 2004. Hepola decorated the interior with metal sculptures and added on an existing structure. The building is not open to the public, which is a pity as its battlements offer a fantastic view of Knik Glacier.
3. Arizona – Tovrea Castle, Phoenix
Tovrea castle was built in 1928 by sheet-metal tycoon Alessio Carraro, who had dreams of a resort in the Sonaran desert. However, the Great Depression—or some say the smells and sights of a nearby meatpacking plant—prevented Carraro's dreams from coming to fruition. Ironically, a family who made their fortune in meatpacking would later buy the estate. Tovrea—with its cactus gardens, wedding-cake levels and domed top—is currently owned by the city of Phoenix.
4. Arkansas – Castle Rogue's Manor, Beaver
This sprawling, 20-acre, seven-towered fortress is the brainchild of Smith Treuer, who built it using native and salvaged wood. Guests can hold their wedding reception in the Great Hall—a magnificent dining room with heat-breathing bronze dragons above the fireplace. Rogue's Gallery Castle also features the "Gatekeepers Cottage," a garage, a barn and spectacular view of the Ozarks.
5. California – Hearst Castle, San Simeon
William Randolph Hearst asked the architect Julia Morgan to build him something "a little more comfortable" on his 250,000-acre ranch, and the flowing-fountain, white-bell-tower opulence of Hearst Castle was the result. Built as a retreat for the aging tycoon, it was never finished in his lifetime. Today the estate is a California State Park, and home to much of Hearst's extensive art collection.
6. Colorado – Bishop Castle, Rye
Bishop Castle stands 9,000 feet above sea-level, on a 2.5-acre lot purchased with the then-15-year-old Jim Bishop's paper-route money. Most of the structure was hand-constructed by Bishop, who originally intended only to build a small cabin for his family. The 35-foot tower features a fire-breathing metal dragon head. It is free to all; visitor donations support its continued construction.
7. Connecticut – Chrismark Castle, Woodstock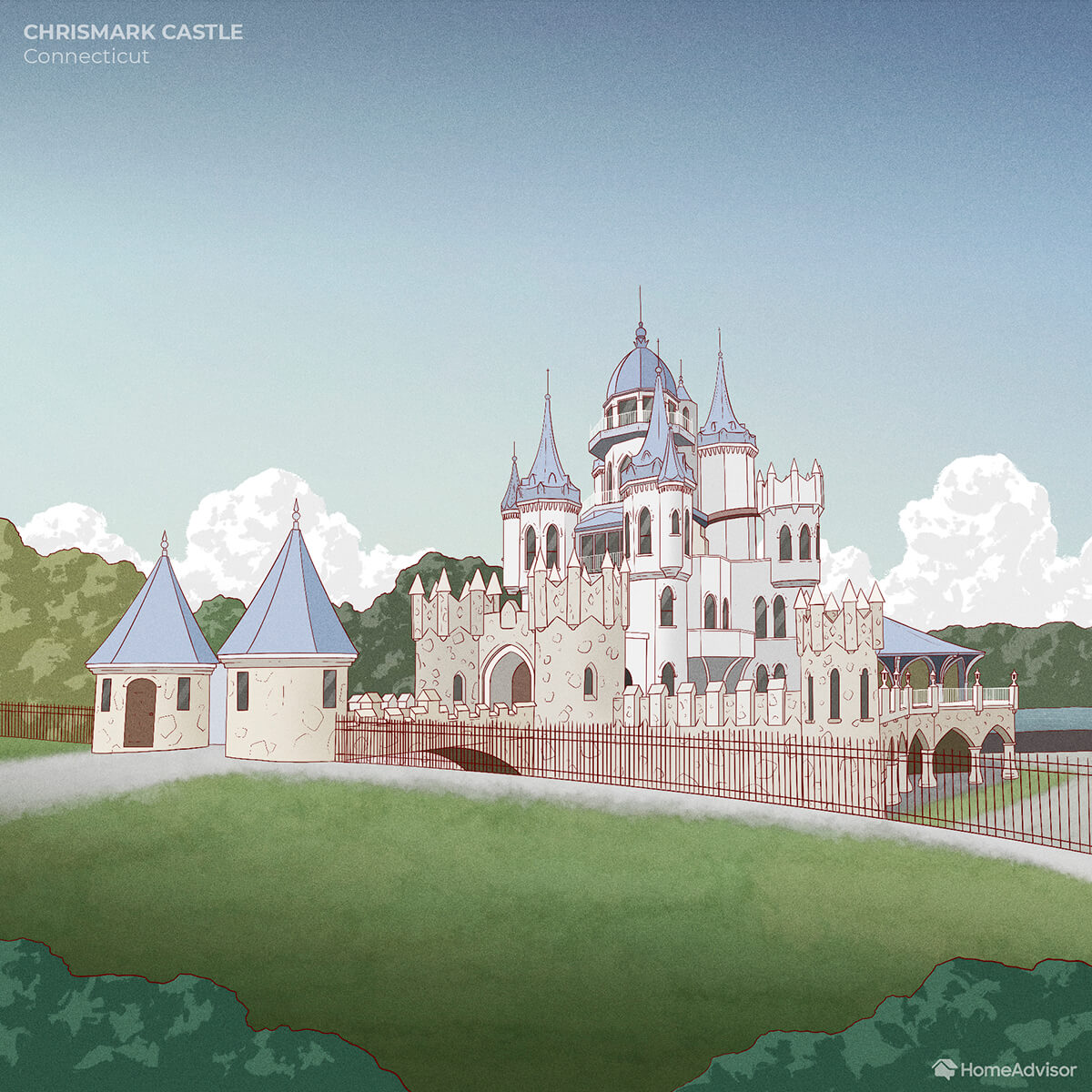 Chrismark Castle was built in 2003 for Christopher Mark, great-grandson of Chicago industrialist Clayton Mark Sr. The $4.1 million dollar structure features a moat, bridge and guard towers. Mark tried to start several businesses on the property, including a modeling business, a bed-and-breakfast and a private zoo. The latter made negative headlines when a camel reportedly died there in 2010. Today the estate is available as a venue for photographers, videographers and live events.
8. Delaware – Fort Delaware, Delaware City
This fort was built in 1859, just in time to house Confederate prisoners during the American Civil War. The fort's guns protected the ports of Wilmington and Philadelphia until World War Two. Today, Delaware Fort is a state park and museum staffed by costumed guides.
9. Florida – Solomon's Castle, Ona
The late Howard Solomon built this vertical castle because he didn't have enough dry ground on his property to build horizontally. Perhaps one of the most distinctive landmarks on this list, it is nearly impossible to photograph in sunlight due to the repurposed aluminum printing plates which coat its side. The interior features original unsold art pieces by Solomon, as well as a restaurant for visitors inside a replica 16th Century cargo ship.
10. Georgia – Bonnie Castle, Grantville
Also known as Colley House, this 1896 mansion's former bed-and-breakfast hosted the likes of Franklin D. Roosevelt and Jimmy Carter. Today, there are rumors the house may be home to an electrophobic ghost and a spectral cat, among other supernatural inhabitants. Bonnie Castle is not available for tours but is a treasured part of downtown Grantville's historic district, nonetheless.
11. Hawaii – Iolani Barracks, Honolulu
The Iolani Barracks housed the Hawaiian Royal guard from 1871 until the overthrow of the monarchy in 1893. The Barracks were dismantled and reassembled at their current location in 1965 to make room for the Hawaiian State Capital. Today, they house a gift shop, movie theater and ticket center for Iolani Palace—the only former royal palace on U.S. Soil.
12. Idaho – Warm Springs Castle, Boise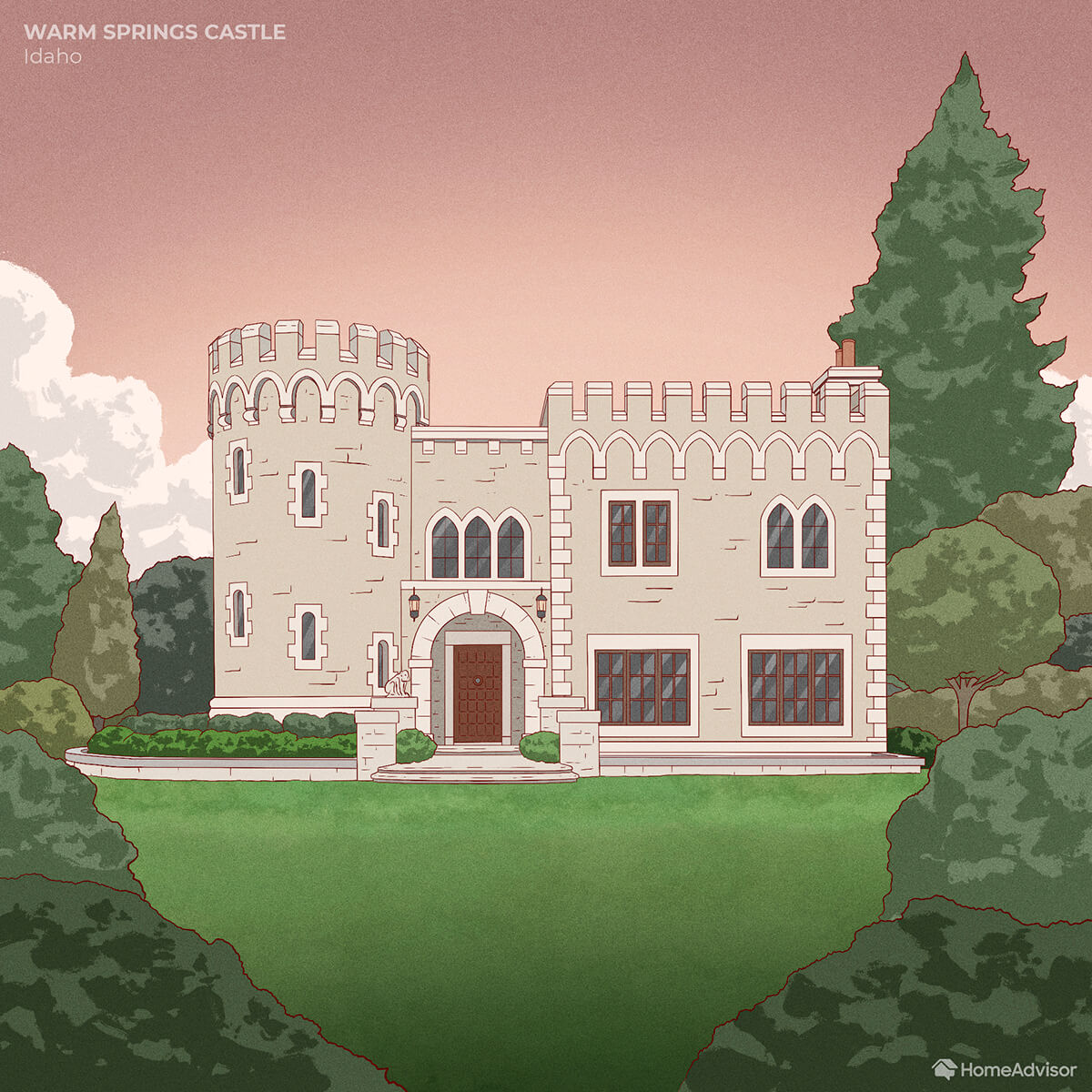 This Idaho castle is built out of local sandstone. The owner's affection for movies is revealed in the christening of its statues; a Gargoyle named Zuul and a wooden dragon named Pete guard this fortress. While not open to the public, the exterior and grounds are beloved by the local community as a trick-or-treat destination and setting for summer Shakespeare plays.
13. Illinois – Bettendorf Castle, Fox River Grove
The late Teddy Bettendorf built this charming wonder over 36 years, inspired and educated by the restoration of a castle in his native Luxembourg. The structure boasts many historical amenities such as a working drawbridge, moat and courtyard. Today, Bettendorf Castle is available for weddings, photoshoots and (in non-COVID times) tours.
14. Indiana – Clayshire Castle, Bowling Green
Pediatrician Mary Jo Smock and aerospace engineer Doug Smock retired in 2013 to become Lady Josephine and Lord Douglas of Clayshire. Sharing a love for Medieval Faires, the couple built the castle both as a themed bed-and-breakfast and as their home. Clayshire boasts entertainment for its guests, including a medieval costume room, stocked fishing pond, lawn chess, butterfly garden and a seasonal fair.
15. Iowa – Stone Tower, Clinton
The New Deal's Works Progress Administration funded hundreds of building projects during the Great Depression. One of these was a $3 million beautification of Eagle Point Park, during which the Stone Tower was built. This Norman-inspired tower offers visitors a stunning view of the Mississippi River.
16. Kansas – Nichols Hall, Manhattan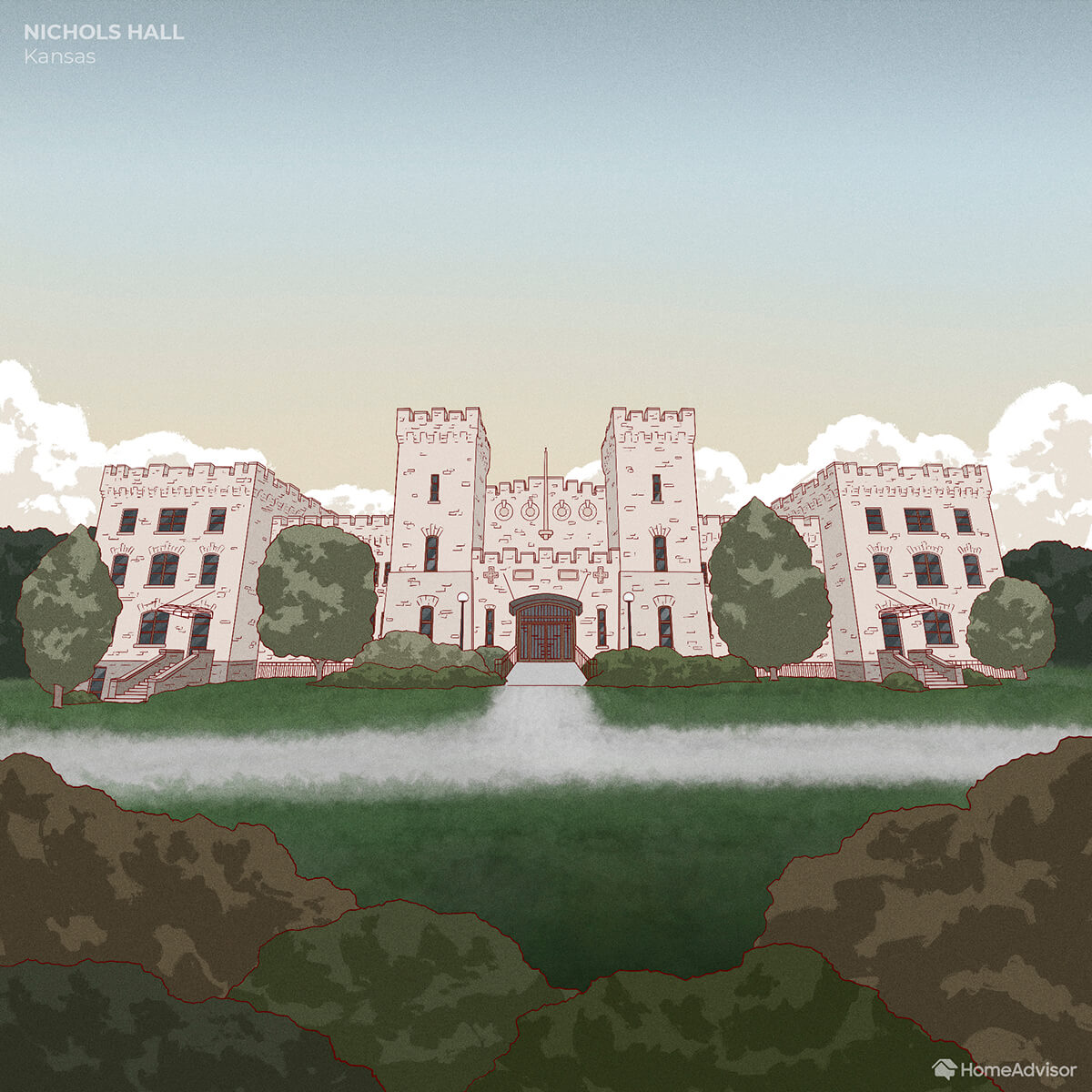 Built in 1911, destroyed in 1968 and rebuilt in 1985, this Kansas State building has a fiery history. The first version of this hall was engulfed in flames by an arsonist protesting the Vietnam War, destroying the marching band's music library, and sending a piano crashing through the floors below. Only a single song's sheet music ("The Wabash Cannonball") survived, becoming an unofficial anthem of perseverance for the beleaguered school. When the building was reconstructed, it once again became home to the school's music department.
17. Kentucky – The Kentucky Castle, Versailles
This impressive 1968 fortress really gets into a medieval mood. Like a historical castle, it gets its food from the surrounding land, albeit for the purposes of a farm-to-table restaurant rather than hoarding surplus during a siege. Were there a siege, the impressive outer wall might come in handy. Located in Versailles, Kentucky, the Kentucky Castle is currently a luxury hotel, restaurant, farm and spa.
18. Louisiana- Beauregard's Castle—Fort Proctor, St. Bernard Parish
Intended to protect New Orleans, the fort was damaged by a hurricane before it could fulfill that purpose. The fort was slowly swallowed by Lake Borgne after repairs were indefinitely delayed by the Civil War Today, visitors can admire the sinking virgin fort with its collapsed iron beams, but only by kayak.
19. Maine – Oakland Castle—Gardiner Castle, Gardiner
The lands of the Gardiner family were confiscated during the Revolutionary War when drug importer Sylvester Gardiner sided with the British Crown. The lands were later restored to his grandson Robert, who had the structure built in 1835. The mansion is in the National Register of Historic Places as an example of the early work of architect Richard Upjohn.
20. Maryland – Cloisters Castle, Lutherville-Timonium
Between 1905 and 1941, the late Sumner Parker and G. Dudrea Parkers scoured Europe for ideas and material for their personal villa. Their castle is a beautiful blending of history, including medieval gables from France, facade medallions from Venice and stained-glass doors from Verona. Mrs. Parker willed the Cloisters to the city upon her death; it currently operates as an event venue and offers tours by appointment.
21. Massachusetts – Searles Castle, Great Barrington
Massachusetts' Searles Castle is drenched in Gilded Age gossip. In 1881, the wealthy widow Mary Hopkins commissioned the decorator Edward F. Searles to build an estate near her childhood home. Hopkins ended up marrying the much younger Searles; some say she was coerced. The newly minted Mrs. Searles died in 1887 and left her entire fortune to Edward, birthing rumors of poisoning, ghosts, hidden passages and midnight burials. Today, the estate—with its Atlas marble pillars, German bronze doors and French chateau design—is home to the John Dewey Academy.
22. Michigan – Curwood Castle, Owosso
This yellow stucco chateau was built as a writing studio for adventure author and conservationist James Oliver Curwood. In the five years preceding his death, he wrote his novels while sitting in the highest turret overlooking the Shiawassee River. It is now a museum under the operation of the Owosso Historical Commission.
23. Minnesota – The Turnblad Mansion, Minneapolis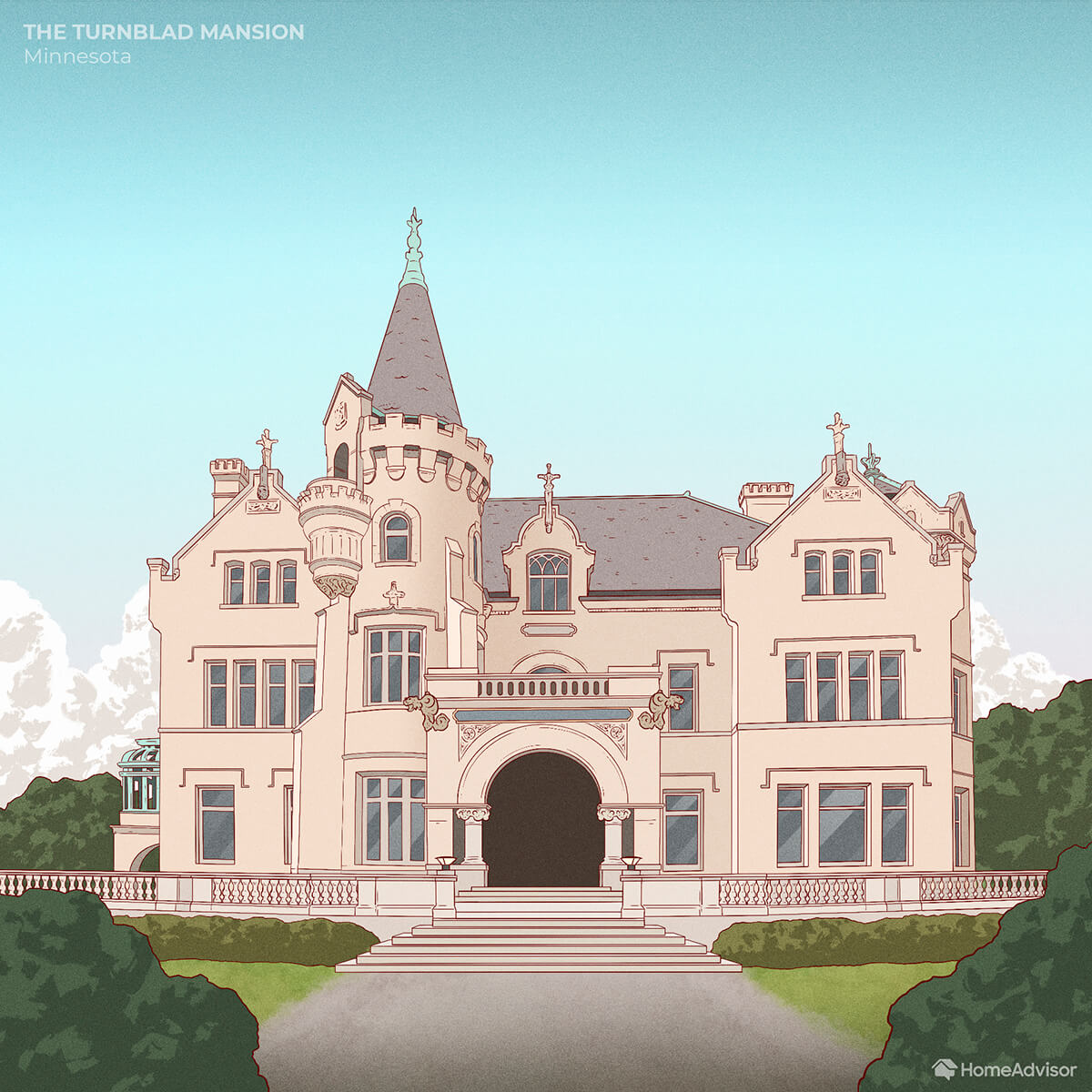 The Turnblad Mansion was commissioned in 1904 by Swan Turnblad, the owner of the largest Swedish-language newspaper in the United States. The spired masterpiece sits majestically on Minneapolis's Golden Mile, featuring 33 rooms and 11 antique stoves from Sweden. Today, it is a museum operated by the American Swedish Institute.
24. Mississippi – Monkey Island Castle, Jackson
Like Iowa's tone Tower (above), Monkey Island Castle was funded by the New Deal's WPA program. It was built for the Jackson Zoo's rhesus macaques exhibit. Monkey Island is currently monkey-less, as the troop was relocated to another part of the zoo. Nevertheless, the zany look of these moated towers still invokes fond childhood memories in the locals.
25. Missouri – Chateau Charmant, Fordland
The castle serves as an event venue for those seeking to evoke the essence of both old world and new. For instance, the exterior is modeled after a 14th Century French chateau, yet the beams in its Great Hall were hewn by Amish craftsmen. Built almost entirely by a family of three, the lodgings feature six rooms, each painted to pay tribute to a different palace from Europe.
26. Montana – Miller's Castle, Darby
This castle was built by Wayne Miller, funded by his sundry carpentry jobs and restaurant management gigs. Miller manifested the entire complex from his imagination without blueprints. It includes a dungeon (doghouse), caretaker quarters, stone fireplace and drawbridge. As of 2002, Miller was looking to sell (with his antique toilet-seat collection thrown in as a sweetener), but no word on if he was successful. The castle is currently off the market.
27. Nebraska – Joslyn Castle, Omaha
A stunning example of the Scottish Baronial style popular during the Gilded Age, this 1903 mansion was built in 11 months. Completed for Sarah and George Jocyln, its 35 opulent rooms (including a ballroom, library and bowling alley) were the pinnacle of modern luxury. After 44 years as the headquarters of Omaha public schools, the castle today is part of the Nebraska Statewide Arboretum.
28. Nevada – Excalibur Hotel, Las Vegas
When this medieval-themed Las Vegas resort opened in 1990, it was the largest hotel in the world. Renovations since 2006 have removed much of the medieval-themed decor, but guests can still be entertained by a live joust. The hotel is currently owned by MGM.
29. New Hampshire – Ice Castles, North Woodstock
Castles in Europe may have risen and fallen with the winds of war, but these beauties rise and fall with the summer sun. Every winter, artists meld thousands of icicles and LEDs to create these haunting structures of transient majesty. According to Ice Castles' website, they are furnished with "frozen thrones, ice-carved tunnels, slides, fountains and much more."
30. New Jersey – The Wishing Place, Monroe Township
Many historical castles are now run by nonprofits, but this modern castle was built to be one. While it functions as the administrative headquarters of New Jersey Make-A-Wish, the building was designed with the comfort of the charity's Wish Kids in mind. The Wishing Place is decorated with ornate stained-glass windows depicting differently-abled children. It also houses a teen lounge, a "wishing room" and an "inspiration grove" among its other facilities.
31. New Mexico – Montezuma Castle, Montezuma
Built in 1886 as a luxury hotel, VIPs from Jesse James to Japan's Emperor Hirohito came to enjoy the local hot springs. The castle changed hands multiple times from 1903 until 1981, when it was purchased by United World College. Today, it hosts a cafeteria, dorm rooms, classrooms and the "Dwan Light Sanctuary Public Art Space."
32. New York – Bannerman Castle, Newburgh
There are actually two "castles" on this tiny island in the Hudson. The smaller is the former summer residence of arms-dealer Francis Bannerman and his family. The larger is the shell of the arsenal where Bannerman stored his surplus munitions. Today, the island is maintained by a trust which offers tours of the 19th-century structures and is attempting to preserve them.
33. North Carolina – Hobbit House Micro-Castle, Asheville
J.R.R. Tolkien's Hobbits don't live in castles, but if they did, it might look like this. The micro-castle is packed with cozy rooms of bursting with rustic decoration. This tiny tower sits 4,000 feet above sea level. It functions as a vacation rental.
34. North Dakota – Enchanted Castle, Regent
This 1909 school was "castle-ized" in 2011 to become a themed hotel. Serving tourists of North Dakota's Enchanted Highway (32 miles of scrap metal sculptures), the hotel entertains guests with drinks in a medieval tavern and dinner at "Excalibur Steakhouse."
35. Ohio – Franklin Castle, Cleveland
Banker Hans Tiedemann built this house in the 1880s under the gloom of hextuple tragedy. Rumor has it that Teidemann elaborated on the building plans (complete with gargoyles and turrets) in an attempt to distract his wife from the deaths of four of their children in the house. Tiedemann's wife and mother would also die there. Such a compounding of tragedy has led to unsubstantiated legends of secret tunnels, ghosts, hangings and axe murders. Though the house was open to ghost tours once (complete with a publicity stunt involving 'found' human bones), it is currently a private residence.
36. Oklahoma – Leonardo's Castle, Enid
The towers of this castle house the world's largest community-built outdoor playground. Twelve thousand volunteers (one-fourth of Enid, Oklahoma's 1996 population) labored on its various slides, swings, mazes and bridges. The playground is owned and operated as a part of Leonardo's Children's Museum.
37. Oregon – The Witch's Castle, Portland
The land where The Witch's Castle was built has a bewitching history involving forbidden love, a wicked stepfather, murder and execution. The history of the building itself, however, is far more prosaic: It was a 1930s ranger station and restroom operated by Portland Parks and Recreation. The ruins were rechristened by partying college students in the 1980s.
38. Pennsylvania – Fonthill Castle, Doylestown
The antiquarian and archaeologist Henry Chapman Mercer built this castle as a home for both himself and his extensive tiles and prints collection. Today, it is a museum that still showcases the collection. Besides the art collection, Fonthill's unique design features 200 windows of varying sizes.
39. Rhode Island – Seaview Terrace—Carey Mansion, Newport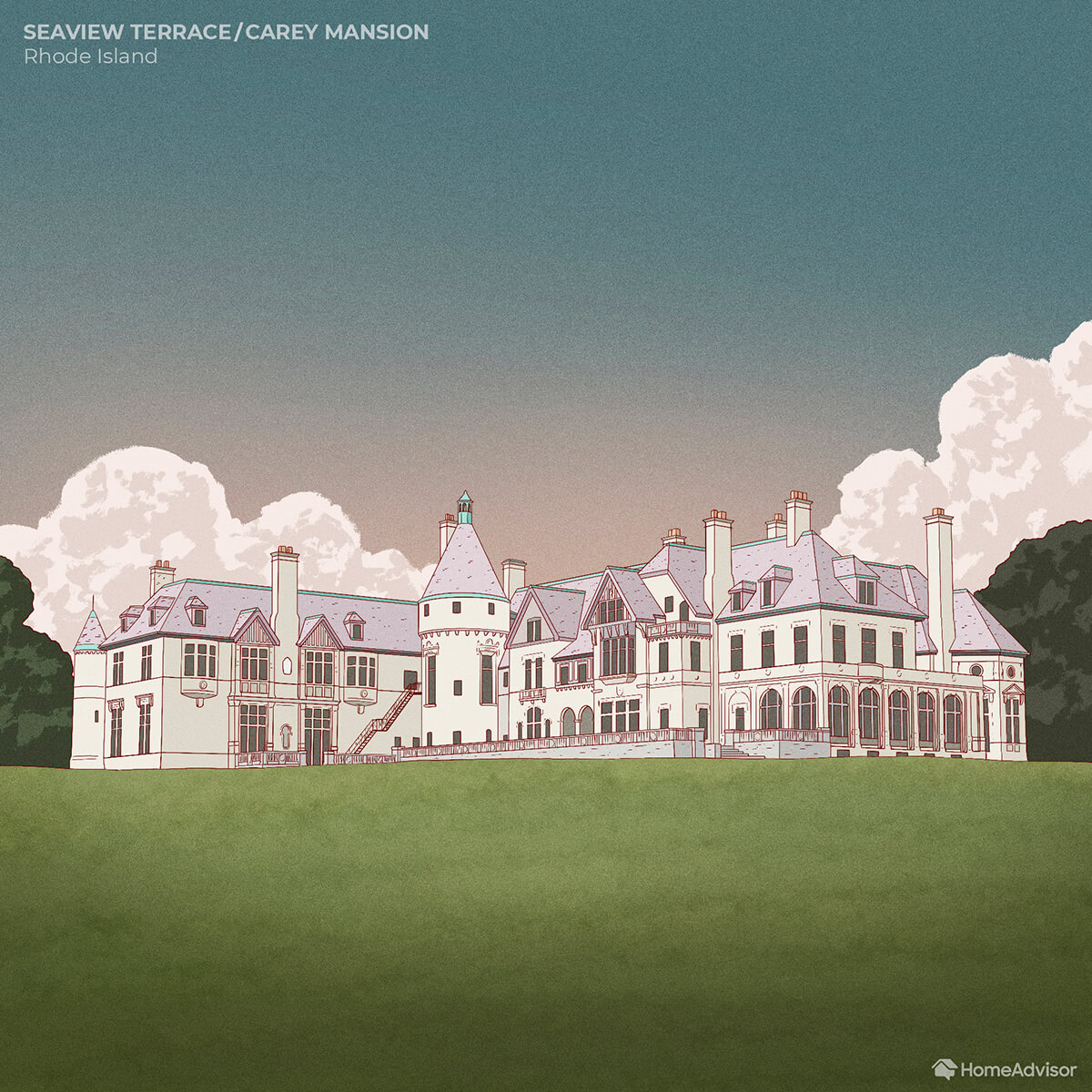 The largest privately-owned mansion built during Newport's Gilded Age, whiskey-distiller Edson Bradley Jr. commissioned this opulent 54-room complex After Bradley's death, it served as a girls boarding school and the setting of the soap opera Dark Shadows. In 1974, it was acquired by the Carey-Bettencourt family, and became a private residence once more.
40. South Carolina – Castle Pinckney, Mt. Pleasant
Castle Pinckney was built as coastal defense for Charleston in 1810 on the site of two previous forts, but quickly became outdated. Surrendering to the confederacy early in the American Civil War, it was briefly a prison for union soldiers. The fort has changed hands frequently since being decommissioned, operated in turn by the Department of the Treasury, the Sons of Confederate Veterans (twice), the National Park Service and the South Carolina Port Authority (also twice).
41. South Dakota – Petrified Wood Park Castle, Lemmon
Amateur geologist Ole S. Quammen convinced the unemployed residents of depression-era Lemmon, South Dakota to put their extra time to use. Collecting petrified wood, the residents built this primal-looking castle, along with hundreds of other sculptures and structures. Today, the Petrified Wood Park is operated by the city. Visitors can admire this piece of American history crafted out of prehistory.
42. Tennessee – Castle Gwynn, Arrington
This centerpiece of the Tennessee Renaissance festival is also the home of festival founder Mike Freeman. In addition to being a home and fairgrounds, it was also the setting for Taylor Swift's music video "Love Story." Freeman hopes to expand on the peaked towers and gate, eventually adding a fairytale wedding venue.
43. Texas – Newman's Castle, Bellville
Baker Mike Newman had this castle built between 1998 and 2008 for tours and special events. It appears to be somewhat more historically accurate than the typical American castle, featuring a chapel, courtyard, perimeter wall, keep and working drawbridge. Perhaps unlike a true historical fortress, enemies who fall into the moat are liable to be chomped by a gator.
44. Utah – Wadley Farms, Lindon
The Wadley family built a castle on their 150-year-old family farm in 2011. Used as a wedding venue, the building's interior was largely assembled out of repurposed historical materials. The fireplaces, wooden beams and floors were rescued from local historical buildings, and the chandeliers were crafted from a discarded drill pipe. It is not the only event venue at Wadley Farms, which also offers a barn, lodge and chateau.
45. Vermont – Harry Barber's Miniature Castles, South Hero
Scattered through the homes, gardens and islands of South Hero Vermont are tiny miniature castles. These are the brainchild of Swiss immigrant Harry Barber, who constructed them out of fieldstones he would collect on his way home from work. Some of Barber's creations are simple yard ornaments, while others feature stained glass, electric lights and running water. Most of Barber's structures are on private property, but many can be viewed from the road.
46. Virginia – Bull Run Castle, Loudon County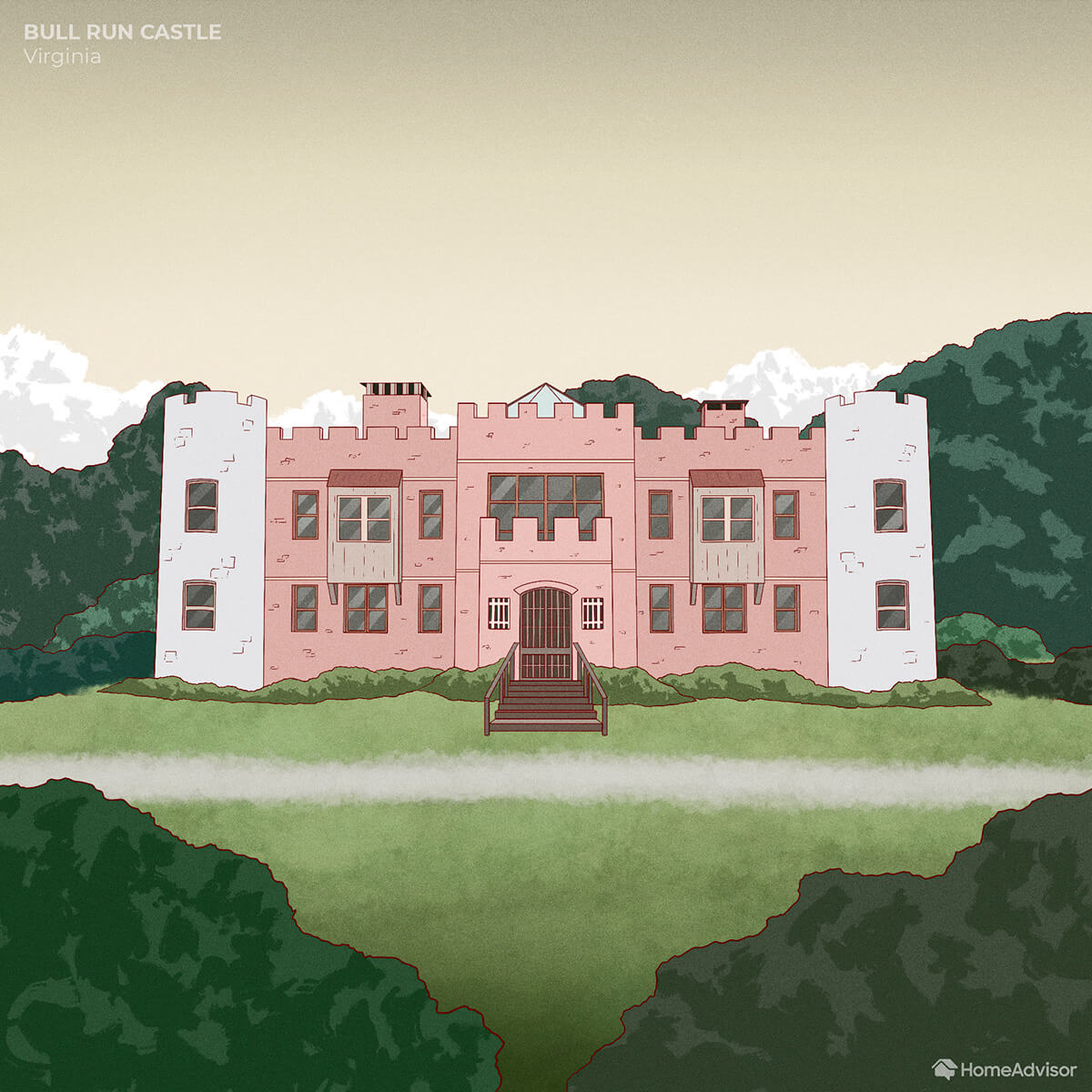 It is not often that the lord of the castle also cooks you breakfast. Built 1986 to 1996 by John Roswell Miller as a bed-and-breakfast, this brick edifice features an iron-shod door, watchful gargoyles and 89 windows. Alas, the bed-and-breakfast closed down and is not currently open to the public.
47. Washington – Thornewood Castle, Lakewood
Completed in 1911 out of imported Welsh brick, steel and concrete, this Tudor/Gothic-style mansion was the home of one of the founders of the Port of Tacoma. The estate and its three-acre grounds have been favored as a setting for film and TV, including Stephen King's Red Rose. The castle displays exquisite stained-glass artwork dating from the 15th to 17th centuries. Today, it operates as a hotel and wedding venue.
48. West Virginia – Berkeley Springs Castle, Berkeley Springs
According to local legend, this castle was a bribe from Colonel Samuel Taylor Suite to his 17-year-old heartthrob, Rosa Pelham, in exchange for her agreeing to marry him. Col. Suite died, and Rosa apparently ran out of money hosting lavish parties. Berkeley Springs was once open for tours, but it has since changed hands and is closed to the public.
49. Wisconsin – Red Gym, Madison
This red-bricked Romanesque Revival was built for the University of Wisconsin-Madison in 1894 as a combination gymnasium and armory. It survived both arson and plans for demolition, before being renovated as offices, a lounge and an art gallery in 1998. Its mezzanine offers a wonderful view of Lake Mendota.
50. Wyoming – Star Valley Castle, Afton
This multi-towered complex rests 700 feet up in Star Valley, regally delighting in its own mystery. Despite multiple questions from curious castle lovers, no one has come forward with any information about this estate's history or owners. For now, the spired beauty will keep its secrets.
The United States takes the saying that every man and woman is a king or queen of their castle quite literally. From Gilded Age estates to crowd-funded projects, historical recreations to modern art pieces, Americans have claimed this symbol of nobility for the common people. As strange as it may sound, the castle is as American as apple pie.
Sources
Matthews, M. (2019). You can now stay in a fairytale castle in Fairhope. AL.com.
Mosher, D&P. (2019). The Mosher's Storybook Castle in Fairhope, Alabama. fairhopecastle.com.
Spoth, D. (2004). Palmer man's home is his castle. Frontiersman.com.
Frankenmrick. (2021). Castle House. AtlasObscura.com.
(2021). The Characters of the Castle. TovreaCastleTours.com.
Leitereg, N. (2011). Castle Rogue's Manor in Eureka Springs, Arkansas for $1.8 Million. Realtor.com.
Gillette, B. (2017). A 'fantasy come true' and a castle prove it. Eureka.news.
(2015). Welcome to Castle Rogue's Manor. CastleRoguesManoratBeaver.com.
(2018). Hearst Castle. One-Million-Places.com.
(2021). Hearst Castle History and Art. HearstCastle.org.
(2021). Bishop Castle: Learn & Explore. BishopCastle.org.
Peterson, S. (2014). Ludicrous Nightmare Castle with Skeezy, Sad History Asks $45M. Curbed.com.
(2021). The Chris Mark Castle. ChrisMarkCastle.com.
(2021). Fort Delaware State Park. VisitDelaware.com.
(2006). Fort Delaware. Web.archive.org.
Kirby, Smith, & Wilkins. (2021). Solomon's Castle. RoadsideAmerica.com.
(2021). Bonnie Castle circa 1896. Airbnb.co.nz.
Roman, M. (2016). The Story Behind This Haunted Castle In Georgia Will Chill You To The Bone. Onlyinyourstate.com.
Lane. (2016). Grantville – Favorite Old Homes. OldGeorgiaHomes.com.
(2021). Hale Koa: Iolani Barracks. Iolanipalace.org.
Heart, M. (2018). 5 Things You Didn't Know About the Boise Castle. LiteOnline.com.
(2021). About Bettendorf Castle. BettendorfCastle.com.
Hopkins, M. (2014). Fit for a King. Tribstar.com.
(2021). Stone Tower – Eagle Point Park. PocketSights.com.
(2018). Nichols Hall story. K-State.edu.
Bramer, Dawson, & Elliot. (2020). About. TheKentuckyCastle.com.
Beujc11. (2021). Fort Proctor. AtlasBbscura.com.
Starin, M. (2021). Most People Don't Know These 5 Castles are Hiding in Maine. OnlyinYourState.com.
(1973). National Register of Historic Places Inventory – Nomination Form 'Oaklands.' npgallery.nps.gov.
(2016). Cloisters Castle: History. CloistersCastle.com.
Durwin, J. (2012). These Mysterious Hills. Mysterious-hills.blogspot.com.
Jacobson, M. & et. al. (2021). Curwood Castle. AtlasObscura.com.
(2021). James Oliver Curwood: A Great American Adventurer. OwossoHistory.org.
(2021). The Historic Turnblad Mansion. Asimn.org.
DiRienzo, D. (2016). Most People Don't Know These 7 Castles Are Hiding In Mississippi. OnlyinYourState.com.
(2021). History of the Castle. CharmingCastle.com.
Devlin, V. (2002). Going Medieval. Missoulian.com.
(2021). About the Castle. Joslyncastle.com.
(2021). Tournament of Kings. MGMResorts.com.
(2021). Excalibur Hotel and Casino. Wikipedia.com.
(2021). Welcome to Ice Castles. IceCastles.com.
(2021). Our Chapter. Wish.org.
(2020). Montezuma Castle. VisitLasVegasNM.com.
(2021). History of Bannerman Island. Bannermancastle.org.
(2021). Pollepel Island: Satellite View. Google.com/Maps.
Krunk, K. (2018). This Micro Castle Is Something Straight Out Of A Fairy Tale. Atchuup.com.
Ybarra, C. (2015). Dreams Come True at Hobbit House. CarolinaMornings.com.
Leah. (2016). Entering This Hidden North Dakota Castle Will Make You Feel Like You're In A Fairy Tale. OnlyinYourState.com.
(2021). Enchanted Castle. EnchantedCastle.com.
Fbolda2k9. (2021). Franklin Castle. AtlasObscura.com.
(2019). Adventure Quest. Leonardos.org.
Zichk. (2021). The Witch's Castle. AtlasObscura.com.
(2021). About. MercerMuseum.org.
(2021). Seaview Terrance. HouseHistree.com.
(2021). Castle Pickney: Rising from the Ruins. CastlePinckney.org.
Dorrance, R. (2013). A Chronology of the Physical and Administrative Development of Castle Pinckney. CastlePinckney.org.
(2021). Petrified Wood Park. RoadsideAmerica.com.
Rennick, Lee. (2019). 10 Things to Know About Tennessee Renaissance Festival. WilliamsonSource.com.
Dupont, J. & P. (2010). Castell Gwynn. DupontCastle.com.
(2017). Castle. NewmansCastle.com.
(2020). Our History. WadleyFarms.com.
Grimes, K. (2020). The Legend Behind These Tiny Castles In Vermont Is Fascinating. OnlyinYourState.com.
Beth. (2017). The Hidden Castle In Virginia That Almost No One Knows About. OnlyinYourState.com.
(2016). Thornewood Castle. Thornewoodcastle.com.
Katherine. (2020). Most People Don't Know That Berkeley Springs Castle Is Hiding In West Virginia. OnlyinYourState.com.
(2021). History of the Red Gym. iss.wisc.edu.
CourrierGuy (2009). Star Valley Wyoming Castle. BackCountryPilot.org.
Jess. (2020). What Do You Know About This Castle in Wyoming? Kisscasper.com.
No Comments Yet