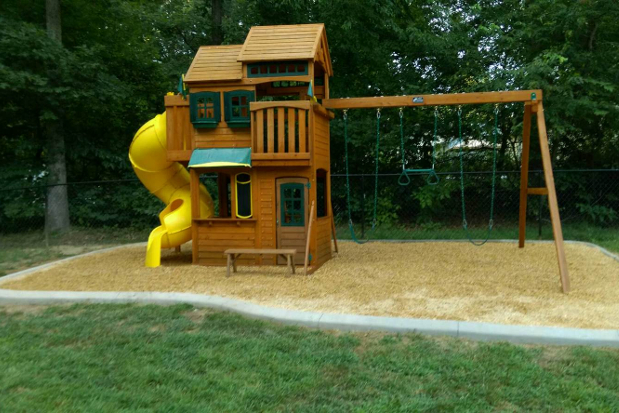 A yard offers enough room for kids to explore and grow without being too far from supervision. Installing a home playground is one way to encourage children to exercise and have fun outdoors. As with anything, however, the best backyard playgrounds are those that have been properly planned out. When changing the landscape of your yard to be more kid-friendly, there are a few things to consider.
1. Don't Skimp on Open Play Areas
One thing that some homeowners might forget when planning a home playground is to leave enough open space. A spacious, flat, grassy area that lends itself well to a wide range of sports and play activities is essential. You could also consider installing synthetic grass in the play area. It's durable, designed to be realistic, and maintenance-free. Open play areas allow for a wide variety of games from badminton to tag. A few trees around the perimeter of the yard are also a plus. Besides offering some shade, trees can serve as bases, hiding places, and net supports.
2. Home Playground Containment
Fences are the most common solution for keeping children in one area and discouraging strangers from entering your yard. If your neighborhood has restrictions on fencing, consider hedges and stone or brick walls as attractive alternatives.
Fencing is essential around swimming pools and other hazards if small children are regularly playing in the yard. Fencing can also help keep toys and bikes in one area, reducing the amount of wear and tear on plants and grass throughout your yard.
3. Specialized Playground and Sport Areas
Specialized play areas can be built for relatively low costs. A wide, paved area can be made into a basketball court with the addition of a hoop. Masonry paint can convert a walkway into a shuffleboard or hopscotch court.
One of the most valuable specialized play areas is also the simplest: a small patch of plain dirt. From playing with trucks and shovels, to making mud pies, plain old dirt can be the source of countless hours of creative fun. A sandbox is an alternative to a dirt patch. Though easier on clothes, it requires considerably more maintenance.
There is a wide variety of playground equipment with slides, swings, bars, and ropes. Choose equipment that doesn't require much maintenance. The more you spend, the more important it is to choose equipment that is compatible with the changing desires and needs of children as they progress from toddlers to pre-teens. One option for older kids is to let them design and build wooden ramps for practicing stunts on in-line skates, skateboards, or bikes.
4. Dramatic Slopes Make Home Playgrounds More Fun
Never underestimate the power of a hill when it comes to creating a home playground. If you don't have a slope or hill, you can easily have one graded in your yard. King-of-the hill, sledding, rolling, and star-gazing are just a few of the activities inspired by a simple slope, and your kids will certainly be able to add to that list with the help of their friends and a little imagination!
5. Outbuildings and Hideaways
Another spark for the natural creativity of children is a small, enclosed, room-like structure. While a formal playhouse is great, less elaborate structures can work just as well. A carport attic, tool shed, under deck area, garage, or gazebo will do the job, though nothing quite beats a tree house for pure adventure.
Ready to start your
Playground Installation

?Find Pros
6. Home Playground Durability
Creating kid-happy spaces in your landscaping is pointless if it is filled with fragile, precious plants that you worry about being damaged. So if you want some delicate or valuable plants, isolate them from the play areas. Kids are rough on grass, so plant a variety that is hearty enough to take a pounding. This may also mean extra watering, fertilizing and weed and pest control. It is also a good idea to avoid the use of toxic chemicals and take precautions to minimize exposure to even supposedly safe chemicals.
7. For Summer Playgrounds, Just Add Water
From elaborate facilities such as in-ground swimming pools to simple lawn sprinklers, a little water makes the backyard appealing even during the hottest months of summer vacation. As long as you're not looking to have a diving board, there is a kiddie pool available to meet your needs. While the old hard plastic kid pools are still around, the majority of new kiddie pools are inflatable. This makes them easier to store during the cold weather months, and cuts down on price as well. Kid pools are available in sizes ranging from tiny to tremendous. The smallest models might not be big enough for an adult to get their ankles wet, but they're the perfect size for infants. The largest kiddie pools are big enough to hold a whole family and a few friends as well.
There are dozens of ways to convert even the most modest yard into a healthy home playground that will delight your children for years. All it takes is a little imagination (which your kids will happily supply) and a bit of grown-up planning.
No Comments Yet