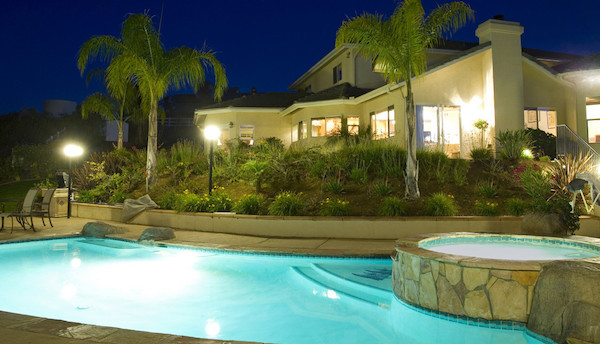 Forgo that summer vacation in favor of a retreat you can use right in your own backyard. Decks, patios, landscaping and gardens, and swimming pools and hot tubs can provide a daily relaxing escape from your everyday routines for years to come.
1. Decks: Outdoor Living
Decks have become an extremely popular, low-cost way to add living space to a home. They not only make it convenient to enjoy sitting outside day or night, they also open up the home and facilitate entertaining and outdoor dining.
Outdoor rooms are becoming very popular, in fact, and not just in warm weather climates. Homeowners are remodeling their decks and patios into small- and full-scale outdoor kitchens, dining and entertaining areas. Even with a small budget you can create an enjoyable outdoor room for dining and entertaining.
There are three basics to any outdoor kitchen: grilling area, food prep area and sink and, of course, dining area. Unless you have an extravagant budget to work with, the grill is a good basis for most outdoor kitchens.
But, before you can even begin cooking you will want to have a food preparation area. For many homeowners, a simple counter space will suffice for this. Another basic necessity for food preparation is an outdoor sink. Perhaps the most important aspect of your outdoor kitchen is the dining area. Be sure to choose a location on your deck that is comfortable. If you're eating during the daytime you're not going to want the sun beating down on you or your food. A tabletop umbrella, a pergola, or even large trees will do the trick.

2. Patios: Low-Maintenance Retreat
If you don't enjoy working on your landscaping and yard work, a small, low-maintenance patio is a good solution for you.
Small doesn't have to mean dull and uninteresting. A well-designed patio, no matter how small, can be a fun escape from indoors. Use this link to install a patio. The choice of materials for your patio is based on personal taste. Many people like the classic look of brick, which is durable, easy to install and available in many colors. Patio pavers are also inexpensive and easy to install. They are available in many shapes and sizes and are long lasting and durable. A third option is flagstone. Available in many shapes and colors, flagstone can be pre-cut for standard sizes or custom shapes.
If you would like to have box gardens or a small patch of grass on your patio, plan to have them in the areas that receive consistent amounts of sunlight. A fountain or small waterfall will add a luxurious and exotic feel to your patio. Running water helps obscure outside noises and creates a relaxing atmosphere, especially if you are in an urban area. There is nothing as pleasant as enjoying a meal on your patio. Design an area large enough for a table and a few chairs. If you are very limited on space, built-in planters with wide borders offer a place to sit for buffets and casual gatherings.


Ready to start your
vacation landscape

?Find Pros
3. Landscape: Your Personal Garden Escape
There are numerous traditional landscaping and garden styles which you can model your own after. Or, you can be creative and incorporate elements from different styles to create a look of your own design. One of the most important things in landscape design, however, is to work with what you have.
English Garden Style: Utilizes many shrubs and perennials in a design that complements the architectural style of your home. Other decorative elements might include an arbor or bird bath.
Oriental Landscape: Uses water, rocks and evergreens with a variety of plants to create distinctive perspectives. Also popular is the traditional Japanese Zen garden.
Woodland Landscape: Reflects the natural way that fauna grows in a wooded area, this design has a less manicured appearance. A good choice if you do not wish to spend a lot of time on maintenance.

Butterfly Gardens: Butterfly or bird species common to your area make a welcome addition to many gardens. Certain species of plants provide a food source and are useful for attracting these flying friends.
Xeriscape Gardens: Includes lots of low-water plants and flowers, as well as design ideas to reduce water evaporation.
Remember, you will spend a lot more time in your yard if you have a landscape design that you are happy with.

4. Swimming Pools and Hot Tubs: Soak Away Stress
Why should you only enjoy a swimming pool or hot tub while you're on vacation? If you install your own, every day can be a vacation. A swimming pool can provide hours of relaxation and fun.
Swimming pools come in a variety of different materials, some requiring more maintenance than others. No matter which type fits your liking, use this link to get your own swimming pool.
The slick surface of fiberglass pools repels algae, but it will need occasional re-coating.
Concrete pools can take more wear and tear than other pool materials, however they need to be replaced or resurfaced every 7 to 10 years.
Tile is a concrete pool with a tile finish instead of a plaster finish. The tile surface requires less surface maintenance than other surfaces.
Vinyl-lined pools have a slick surface that, like fiberglass, repels algae. It's easier to maintain the chemical balance in vinyl pools, but they need to be replaced about every 10 years.
Hot tubs also serve as the ultimate personal retreat. The tub's therapeutic waters are ideal for stress relief and relaxation, alleviating the aches and pains of everyday demands in the privacy of your own home. Hot Tubs are direct paths to relaxing evenings.
The spa and hot tub industry is mostly filled with man-made materials. You'll occasionally find plaster, tile and wood spas in older homes, but these tubs are often difficult to maintain. The most common material is an acrylic tub with a fiberglass back. These tubs are very strong, easy to care for, insulated for heat and come in a variety of colors and styles.
No Comments Yet