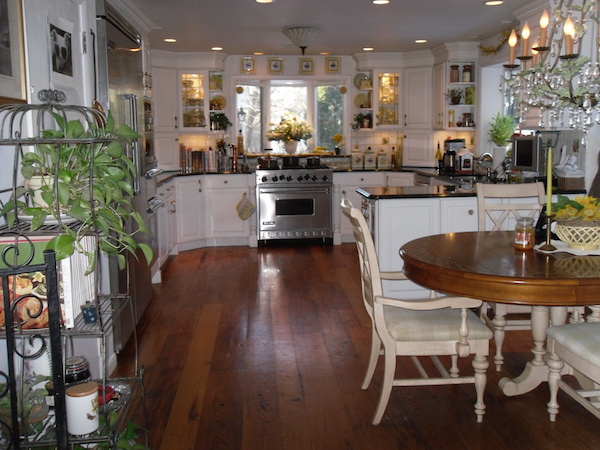 Today, most building lumber comes from tree farms, cut by machine and heavily processed, but a hundred or more years ago, the wood used to build structures was not only rough cut, or hand cut, but it was old growth forest. And if you've never seen a kitchen or living room built with these hand hewn beams and cut barn boards, with that rich patina that only comes with decades of daily use and weathering from wind, rain and sun, then you're missing out. Reclaimed wood is an elegant, graceful, and sturdy material used for many different home construction and renovation projects, ranging from furniture construction to a home's frame.
Recycling Wood
Wood used to build the houses of our grandparents will never be duplicated because these old growth forests have been so depleted that they are largely off limits to builders. But old barns, factories and homes are being recycled. The wood is being pulled from these old structures and sold as "antique wood" or "reclaimed wood." This wood is then used in everything from a timber frame home to post and beam construction, to moldings and millwork, and to antique wood furniture and antique floor planks.
Old Barn Wood Flooring
In this day and age of laminate flooring and factory cut board (that looks like the fake stuff, to be honest), barn wood offers not only class, but a touch of history. Homeowners often want to know where the wood came from: an old tobacco barn in Mississippi, a steel factory in Pennsylvania, a ranch house in Colorado. The history of the wood is almost as impressive as the wood itself. A home should not only be beautiful, but it should have a story. A home should not be unrecognizable from another a thousand miles away.
Re-Milling Antique Wood
Flooring made from antique barn wood is usually re-milled. While some people take issue with not using the wood in its original form—i.e. taking an old barn beam and using it to build a post and beam home—there are many good reasons to go ahead and re-mill. Because it has been weathered, treated and settled, reclaimed wood is a sturdy, reliable material, drier and denser than new growth wood. Because it comes from larger trees, the grain is more pronounced and cleaner. That said, if you have the chance to use a beam as is, or if you can cut it so that some of the original surface is preserved and revealed, it will add even more character to a fine wood.
Ready to start your
barn wood floor

?Find Pros
Other Uses? Doors, Cabinets, Trim, and Much More
Barn wood is a favored material of any craftsmen, builder, or architect. You will not find a furniture maker, master house carpenter, or trim specialist who says a bad thing about it. Reclaimed wood is a reliable building material that creates a terrific end product. Those are two attributes that are hard to deny and hard to turn down. This antique wood is perfect for just about any application, whether it be flooring, doors, window frames, architectural trusses, furniture or more. Old barn wood will not only look terrific, but it will add history and vitality to your home.
And next time you find yourself driving past an old, unused barn, you will certainly find yourself wondering what kinds of beams might be hiding behind those rotten doors. Or what might be hiding under the few inches of rot and grime on exposed antique wood beam. There might just be a treasure hiding under there, waiting to find another purpose for the next hundred years or so.
No Comments Yet