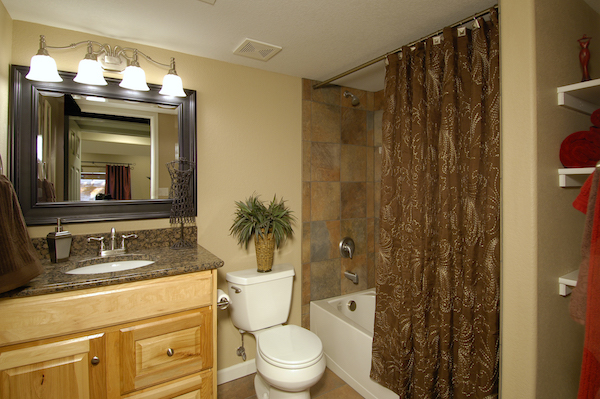 The beauty of a cellar is that it is a pre-existing space within the home. Most home additions involve new construction, which means that most money is spent on the practicalities: foundations, plumbing, electrical, siding, roofing, etc. Therefore, many homeowners look to finishing their basements since it's already built-out into the original floor plan. However, once you've finished this underground area with a wet bar, a game room or an extra bedroom, you may still be missing one crucial ingredient: a basement bathroom.
Another Addition?
Why would you need another toilet, sink or shower when you already have these installed upstairs? It's a good question because basement bathrooms aren't cheap, but they also don't cost a fortune and they are easy to build. In fact, if you were planning ahead, you may already have a small space studded out downstairs just waiting to be completed. Either way, if you invest a few thousand dollars into this particular renovation, you'll see the long-term benefits will eventually outweigh any costs:
Convenience: Not only are cellars "found spaces" for remodels (meaning you don't have to expand on your home's exterior "footprint" when you build an addition), they also come with other convenient features. For instance, since all your plumbing is already located downstairs, it's easier to hook up a toilet, sink or shower. Plus, this room is meant to be small, so it won't have to take up much room.
Resale Value: These renovations add money to your house. Buyers are only concerned about the final look of a home and therefore simple flourishes leave a big impact. Though small basement bathrooms are a quick and convenient remodel, they leave a striking and luxurious impression on people's minds.
Handiness: Do your children sleep below? Did you install a bedroom down there for guests? Is this downstairs space used as a playroom for the kids? If you spend a lot of time in this area, why create all that up-and-downstairs traffic? Having a basement bathroom with all the amenities makes out-of-town guests feel more at home. And for everyday use, having a toilet within reach is always an advantage.
Ready to start your
basement bathroom

?Find Pros
Things to Consider
Before you begin renovation, here are a few ideas you may want to take into account in order to make the project more successful:
Pump Systems: If your water lines are installed upstairs, you may need to invest in a specialized up-flush toilet system for your wastewater. These lift pumps are not authorized in all areas of the country though, so make sure to check with your local building codes beforehand.
Claustrophobia: Most of the time, this area will be very small, so make sure your initial design takes this into account. Sacrifice a tub if it makes for a more usable toilet or maybe buy a three-quarter shower for a tight fit. A pedestal sink removes the clutter that extra cabinets create. Hang a medicine cabinet above the sink so that you still have a small storage area but make sure it has a mirror to give the illusion of more space.
Contractor: As you can see, even though these spaces "pre-exist" in the home, you may still need a designer, installer, plumber and other specialists to get the job done right. When it comes to your cellar (much less a finished one) you certainly don't want to have any leakage problems, so it may be best to hire a trained contractor who specialized in this type of remodel.
No Comments Yet