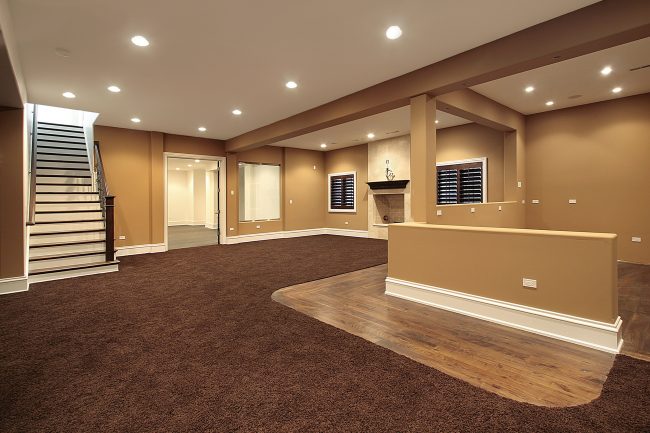 For those who have them, basements offer a unique remodeling opportunity. Unlike other areas of the home, basements are not limited to one specific purpose; where bedrooms are for sleeping, bathrooms are for washing, and kitchens are for cooking, a basement can be just about anything you can imagine. With such a versatile area comes the challenge of choosing what to do with it. While some homeowners in the past were content to use their basements for cultivating mold or raising spiders, today's homeowners are finding that a basement can do much more.
Basement Bars
Turning your cellar into a gathering area complete with a bar is one of the more classic goals for a basement remodel. Once sufficiently waterproofed and adorned with decorations that will not only look good, but will give the space a sense of individuality, basement bars often become favorite places to entertain as well as relax alone. Add a pool table, pinball machine, or a big screen TV into the mix and you've got a private hot-spot that your friends and family will be happy to occupy during the big game.
Wine Cellars
Due to the fact that basements are constructed underground, keeping the area at a constant temperature all year round is generally a lot less difficult than it is in other parts of the house. For serious collectors, turning a basement into a wine cellar is the ultimate form of remodeling. With a growing interest in understanding and appreciating wine, more and more people of different backgrounds are becoming familiar with the benefits of proper wine storage. Depending on your interest, converting part or all of your basement space into a place to store and enjoy wine can actually save you money. Some serious collectors spend plenty on off-site wine storage; by remodeling your basement to accommodate a substantial wine collection, you'll eliminate storage costs and always have every bottle on hand.
Basement Spaces for Loud Hobbies
Drinking isn't the only activity that goes on in finished basements. Homeowners across the country have found that this unique space can house any number of activities that would be inappropriate in another area of the home. With their underground construction, a little bit of soundproofing goes a long way in a cellar. This makes it a fantastic place for activities that would disturb neighbors or other household members if performed in a living room or garage. Many people have successfully turned their basements into great places for band practice, and some have even added recording studios. Woodworking tools such as lathes and power saws that would create quite a racket somewhere else can be sufficiently muffled in a finished basement. A few homeowners have even gone so far as to install a bowling lane in their soundproofed basements!
Ready to start your
basement conversion

?Find Pros
Smart Basement Conversion
However you use your basement space, it is very important to have a good plan before you begin. Some activities like woodworking or developing photographs might find a great home in a cellar, but plan on adding some extra ventilation so they can be done safely. If you're going to turn your basement into a bar, you might plan on adding a half-bath and bar sink to make operations more convenient.
Pretty much any activity you can imagine taking place in your finished basement can be made more efficient and sometimes safer with the right plan. Often, hiring a designer to help you during the planning stages can be a huge benefit. The conception of an interior designer getting paid to make things look good is an incredible understatement. With training in design concepts and floor planning, and valuable advice concerning the materials you'll be using, designers and draftsmen can help you create an effective space that can be used for whatever you like.
It is also important to consider the main purpose you will put your basement to if you plan on moving in the future. If this isn't the last home you want to live in, turning your basement into something unusual might not be the best idea in the world. While most homebuyers will be rather impressed with a basement bar, home theater, or separate basement apartment, the ones who will go gaga over an in-house tattoo parlor will be far more limited. Designing with the future in mind is a must in a successful basement remodel; with the right planning and design, however, you'll be able to create the space you want without alienating prospective homebuyers down the road!
1 Comments