| Best | Use with Caution | Avoid |
| --- | --- | --- |
| Porcelain Tile | Laminate & Engineered Woods | Carpet |
| Polished Concrete | Tile: Vinyl, Ceramic & Stone | Hardwood |
| Luxury Vinyl Plank | Lay Flat Vinyl | Peel & Stick Vinyl Plank or Tiles |
| | Bamboo | Glue Down Vinyl Sheets |
Basements, those below grade spaces filled with must and humidity, require special care for remodeling, especially flooring. Even in dry areas, cellars tend to hold more humidity, have less air movement and less natural lighting. In wet areas, they might even have occasional flooding. This guide helps you understand the best materials to use and why you should consider them for your basement floor.
Best Basement Flooring Options
The best floor covering for your basement is no covering at all. Polished and sealed concrete is waterproof, incredibly wear-resistant and cheap to install. But it doesn't fit with every décor and isn't warm to the touch. Consider a variety of other flooring materials for a refined look and feel. Consider resilient tile, bamboo or luxury vinyl plank. Understand flooring basics as part of your remodeling plan.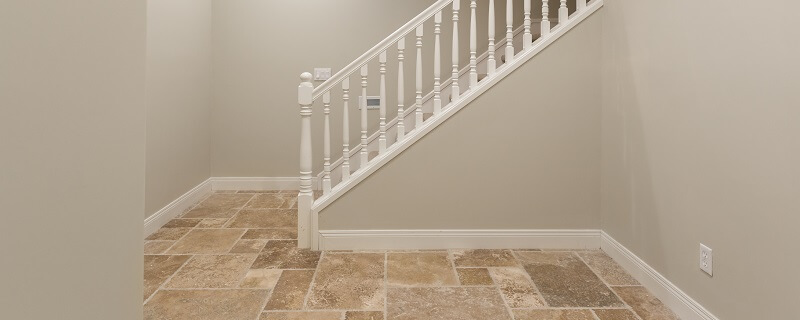 Best Flooring for Finished Basement
Finished cellars need a finished floor with the perfect flooring material. Depending on your needs:
Luxury Vinyl Plank: Best for water resistance.
Porcelain Tile: Best for durability.
Stone Tile: Best for luxury remodels.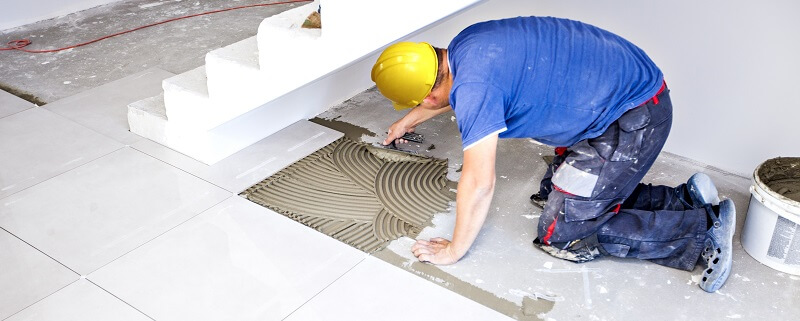 Best Tile for Basement
Travertine, stone and porcelain tiles make the top choice for below-grade installations. They are water-resistant, easy to clean and last 50 years or more with regular maintenance. Avoid glass or peel and stick vinyl tiles. Glass breaks easily while peel and stick vinyl neither sticks well nor lasts long.
Best
Stone: Travertine, Marble, Slate, Granite: Warm look and feel.
Porcelain & Ceramic: Cheap and durable.
Avoid
Glass: Waterproof but breaks easily.
Peel and Stick: Doesn't adhere well. Wears out quickly.
Carpet: Collects moisture. Rots, mold, mildew.

Best Flooring for Basement Warmth
Stone or porcelain tile with radiant heat underneath make the top choice for below-grade warmth. For dry climates with low humidity, you can also try carpet. Consider installing an under-floor heating system for optimal warmth as you walk. Radiant heating systems cost $1,800 to $5,800.
Can't decide on Flooring?
Best Vinyl Flooring for Basement
For a cheap solution to create a finished look, you can use vinyl. While it is waterproof, glue down types won't adhere to the floor well without extra glue and tends to wear out quickly.
Luxury Vinyl Plank

Excellent for a durable luxurious look
No glue needed
Long life
Looks like wood or stone

Lay flat Vinyl Sheets

Thicker
Wears longer than peel and stick
Doesn't require glue
Learn more with an intro to vinyl flooring.
Best Subfloor for a Basement
For level concrete, you typically don't need a subfloor. If you must use one, look for rubber or other waterproof materials. For older homes with cracked or uneven concrete, you'll need a different subfloor for different materials, most importantly:
Tile: Use a self-leveler to get the concrete even. For a heating underlayment, use the manufacturers recommended subfloor for the type of heater you're using.
Luxury Vinyl Plank: These almost always come with a rubber backing attached to each plank, making a subfloor unnecessary. However, you'll still want to fill cracks and level extremely uneven areas.
Wood Plank: Use a standard waterproof rubber subfloor for click together. For glue down types, you'll need to level the floor first.
Vinyl: Glue directly to the concrete.
Popular Basement Flooring Prices
The average flooring installation costs $1,500 to $4,500. Prices fluctuate with your material type.
Flooring Costs

| | |
| --- | --- |
| Carpet installation costs | $750-$2,500 |
| Vinyl floors cost | $800-$2,600 |
| Tile installation costs | $900-$2,700 |
| Polished concrete floor price | $1,500-$3,900 |
| Laminate floor price | $1,500-$4,500 |
| Stone tile install price | $900-$5,000 |
| Hardwood installs cost | $2,500-$6,800 |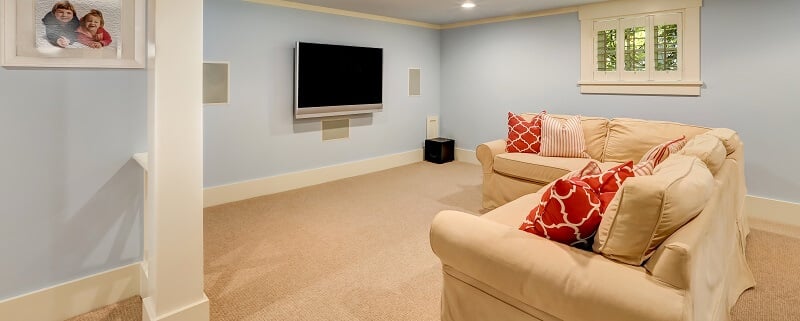 Best Carpet for Basement
Best basement carpeting is controversial. The most common mistake homeowners make is installing carpet in their cellars. Carpet will trap moisture making it susceptible to mold and mildew. But, if you (like most) want the warm feeling of carpet in your basement, consider waterproofing or large area rugs. Plan on having basement rugs or carpeting replaced every few years.
Even as moisture escapes, some of it inevitably gets absorbed by the carpet. Even upstairs, you'll probably need to replace your carpet every 10-15 years.
| Type | Best for |
| --- | --- |
| Berber Carpeting | High-end carpet installations |
| Carpet Tiles | Easily replacing small sections due to wear or water damage |
| Area Rugs | Use in wet or humid climates |
Waterproofing Basements for Carpet
If you're dead set on putting water absorbing carpet in your basement, seal it and install a dehumidifier.
Find out more about basement water and waterproofing with our resource guides:
Berber Carpet for Basement
If you must use carpet underground, use berber. Because of its uncut loop design, it holds up to wear longer. It provides a softer, more luxurious feel although this can vary from brand to brand.
Best Carpet Tiles for Basement
Carpet tiles that have built-in padding and a vapor barrier make good cellar flooring. Buy the click together variety for easy removal, cleaning and replacement in wet areas.
Compare Costs of Flooring
Best Flooring for Concrete Basement
Sealed and polished concrete make unsurpassed floors for your basement. The best interior concrete sealer is a film-forming sealant, like epoxy or acrylic. Unlike exterior sealants that penetrate the concrete with UV protection while still allowing breathability, interior types create a film over the top.
Type
Pros/Cons
Epoxy

Most durable in high traffic areas
Thickest and most durable
Yellows in UV light
Waterproofs completely

Polyurethane

Good for counters and floors
Not as thick as epoxy
Doesn't yellow in the sun

Acrylic

Best for quick projects and low traffic areas
Thinnest film
Dries quickly
Requires regular waxing
For many homeowners, concrete flooring isn't their first choice, simply the best one. The biggest concern with concrete flooring is temperature. Finished concrete floors aren't nearly as cold as outdoor, unfinished concrete, but they're not as warm as carpet, either. If you're concerned about cold floors but have a limited budget, consider area rugs.
Concrete Staining
For those that have a concrete subfloor in decent condition, concrete staining can create a smooth, finished floor. The process transforms your floor into something altogether different than your outdoor patio or sidewalk.
You can stamp patterns which make it look like granite or marble. Guests may not even realize they're walking on concrete.
Best Flooring for a Basement That Floods
If you have occasional flooding from rising water tables or other issues, you should always consider having the problem repaired. However, you might still find standing water in the cellar despite your best precautions. In that case, you'll want a floor that holds up well under flooding conditions. The top options include:
Concrete Flooring: This should be, by far, your first option. You can stain or paint them to almost any design. In almost all circumstances, concrete floors are the cheapest choice you can make.
Stone Tiling: Not every stone material is a natural choice. Use durable stones such as slate. Softer, faux stone may not hold up and tougher, natural stone is often cost-prohibitive.
Ceramic tile: Durable, cheap and incredibly water-resistant. You'll want to reseal the grout at least once a year.
NOTE: Consider fixing the problem before finishing the job. If you have a serious moisture problem, you may need to address this before laying any flooring.
Best Flooring for Wet or Damp Basements
The three top choices for damp cellars:
Polished and sealed concrete
Ceramic tile
Waterproof luxury vinyl plank
Cellars present a moisture problem that may render some flooring options nonviable. Even the driest ones have more humidity than the rest of the house.
Best Waterproof Flooring for Basements
You have three great options for waterproof floors:
Polished & Sealed Concrete
Waterproof Luxury Vinyl Plank (LVP)
Sealed Porcelain Tile
Best Way to Cover Asbestos Tile in Basement
The best way to cover asbestos tile is to encapsulate it before laying down any other flooring. To avoid serious health hazards, always hire a nearby asbestos remediation pro.
Basement Flooring to Avoid or Use Cautiously
While some materials make excellent below-grade installs, you'll want to use caution or completely avoid some.
Use Cautiously:
Cheaper vinyl sheets and tiles.
Avoid:
Glue Down Vinyl Sheet & Tile
All types of vinyl offer affordable alternatives with plentiful designs for multiple home designs. They're waterproof and great for damp areas. However, they come with some distinct drawbacks. Unless you're installing luxury vinyl plank or tile, they wear out quickly and require perfect concrete surface prep and extra glue to adhere properly to your floors.
Solid hardwood flooring
There's really no way to justify the cost of a solid hardwood floor for a below-grade installation. Engineered hardwood flooring looks and feels nearly identical to its solid hardwood counterpart and will hold up under humid and wet conditions better.
Bamboo & Engineered Wood Basement Flooring
This hardwood flooring is layered with different kinds of hardwood and often fitted with a high-density fiberboard core. The flooring is specifically engineered to withstand moisture and is thinner than solid hardwood flooring, allowing for the installation of extra insulation. Nonetheless, even engineered flooring can become warped and damaged with too much moisture.
Bamboo, unless used in a laminate or engineered wood designed to be waterproof, isn't really waterproof. It does great with spills and humidity but isn't suitable for areas prone to flooding.
Laminate
Laminate flooring is practical flooring option for damp areas with one caveat: always buy types specifically manufactured to withstand the moisture found below grade. Buying the wrong type leads to problems. This option uses a wood core and aluminum oxide surface. Although cheap, it's not the best option because it's:
Hard to repair.
Not waterproof.
Warps and damages with water easier than tile or vinyl plank.
FAQs
Do you need to put a subfloor in a basement?
You only need a subfloor in a basement for a couple of reasons:
Uneven concrete
Creaking wood planks
Heating underlayment
How do you even out a basement floor?
Use a self-leveling compound or concrete to even out your basement floor.
Is Pergo good for basements?
Pergo's line of rigid vinyl flooring products are good for basements.
Where do you start when finishing a basement?
Start with a solid design when finishing your basement. If you're unsure where to start, contact an interior designer near you or remodeling contractor in your area.
What is the best flooring to put on a concrete floor?
The best flooring for a concrete floor is to seal, stain and polish the concrete. After that, install porcelain tile or use luxury vinyl plank.
What is the best waterproof flooring for a basement?
Sealing and polishing your concrete is the best waterproof flooring for a basement. For a warmer feel, use waterproof luxury vinyl plank.
Get Help Choosing Flooring
2 Comments