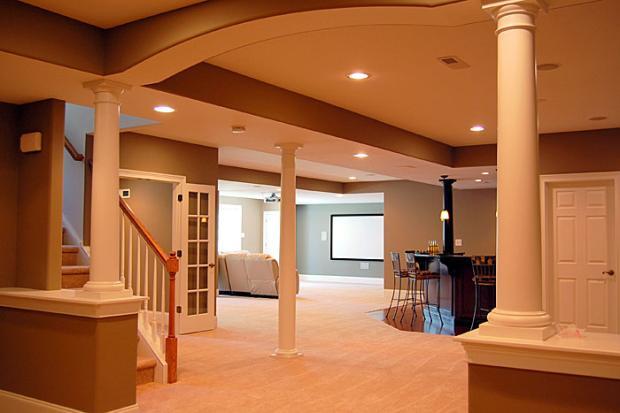 Basement remodeling is one of the most involved home remodels with a slew of possible obstacles. Eliminating moisture associated with a dank basement, creating sufficient sewage lines to remove waste water, major fixes for an aging foundation, upgrades to the electrical system, and a long list of new furnishings are just some of the biggest problems basement remodels are liable to see. Fortunately, basement remodeling contractors are experts at navigating these pitfalls. Someone who's been in the business for several years has probably seen it all. That said, there are several things you can do to help out your contractor and make sure you're not in his or her way:
Basement Remodeling Prep Steps
Basement Stairs: If you have a walls leading down into the basement rather than an open staircase, take off the handrail before the contractors begin your basement remodel. The handrail will just become something they have to contend with, lift things over, and try not to catch things on as they move things up and down the stairs. This is a small consideration that they might not even notice, but they will definitely notice if they keep running into it. This is the first thing many basement contractors do before they begin hauling things down. They will appreciate having it done by someone else.
Basement Storage: If you are like most homeowners, your basement is for storage. Even if you have a makeshift home gym or game room, there are still boxes and old things you can't quite part with in the corner or on shelves. Depending on your particular remodel, all of these things will need to be moved out of the basement contractors' path. This will most likely have to be done anyway because there will be less room for junk after the remodel. If you have a spare bedroom, these items would fit best there. If not, try to avoid taking these items to a storage facility as that will be much more work that you likely want to get into. It might be an unavoidable situation, but try to think ahead.
Give Your Basement Contractors Extra Room: Basement remodels with require contractors to run up and down the stairs many times in a given work day. Without getting to specific with an innumerable number of home layouts, just try to consider the path of your contractors from their truck to the basement and back again. If there are tables, chairs, or anything else that might be in the way, move them to a place that has no chance to interrupt their path. If you want to lay down some old towels, rags, or carpet squares to protect your floors, this is a good idea. It will also help reduce the mud that may get tracked in.
For Questions, Ask the Basement Contractor: If you think of something else and you aren't sure if you should do this, ask your basement contractor. The basement contractor is the last word on what he might need, and he can tell you definitively anything else that you can do to expedite your basement remodel.
The Cost of Basement Remodeling
Of course, before you undertake these prep steps for the construction of your new basement, you'll probably need to start with some financial planning to make sure you can reasonably cover the costs associated with basement remodeling.
If you are working with remodeling a basement that hasn't yet been finished, you could actually save in some remodeling costs, though finishing prices will need to be integrated into the overall project budget. How much does it cost to frame a basement? Consult our Basement Cost Guide.
According to data collected from homeowners who completed surface level, partial, and complete basement renovations across the country, the average cost is around 18,600. Remodeling Magazine, meanwhile, tracks basement projects that fit into an industry standard including complete basement finishing and several bells and whistles, such as a bathroom addition, wet bar, and recessed lighting. Their cost estimate is $61,011.
No Comments Yet