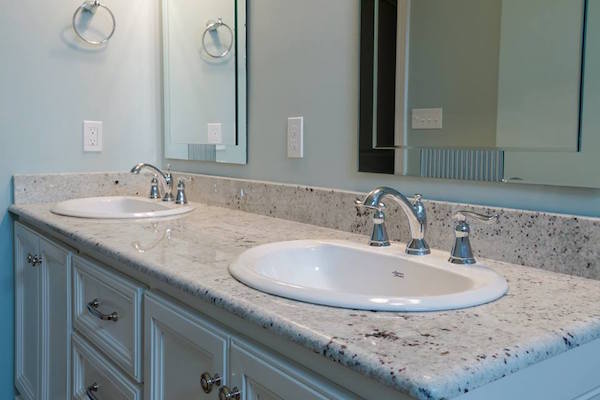 On This Page:
Replacing the countertop in your bathroom can help completely change the appearance of the room, shaping it to your changing tastes and styles in a relatively simple process that can have a big impact on the room as a whole. Sometimes, the appearance of the bathroom has become dated and the easiest way to fix it is by changing the countertop for one with a more modern style.
In other cases, it may have become stained or, depending on the material, broken. Whatever the case, when the time comes to change the countertop in the bathroom, you want an installation guide that will help you navigate the waters of choosing, preparing, and installing your new countertop.
For individuals with a reasonable amount of DIY experience, changing out the bathroom counter on your own is a relatively simple process that will only take a few hours out of your day for the installation. Others, however, may find that hiring a contractor is the best way to get the professional-looking installation you want. Whatever you decide, there are several things you need to know about the installation process.

Considerations When Installing a Bathroom Counter
You want to be sure that you give your project the proper consideration before you get started. Check out these key elements before beginning your design project.
The Materials
When you're replacing your bathroom countertop, you have your choice of several different materials. They each have their own unique pros and cons, allowing you to choose the material that will look and perform best in your bathroom.
Granite
Pros:
Granite is tough: it's scratch resistant and won't be harmed by hot curling irons or chemicals in cleaning or beauty products. Once it's installed, it's hard to hurt.
Granite doesn't require a lot of upkeep.
There are plenty of color and style options to choose from, so it's easy to find a granite countertop that fits your decor.
Cons:
Granite installation is best handled by the professionals due to the ease of damaging the slab during the installation process.
Granite countertops are more expensive than other materials.
Granite may need to be re-sealed periodically in order to avoid stains.
There is an occasional risk of chipping.
Quartz
Pros:
If it's toughness you're after, quartz is sure to meet your needs: it's a tough material that won't be harmed by regular use.
Quartz offers a wider range of colors and styles to choose from than many other materials.
Quartz is nonporous to resist stains.
Cons:
Quartz carries a very high price tag, which can lead to sticker shock for people who aren't expecting it.
Quartz can have more trouble handling heat than granite, so caution will need to be exercised with curling irons and other hot tools.
The appearance of quartz won't necessarily fit with a more traditional form of decor.
Laminate
Pros:
Laminate is a highly durable material that will hold up well to regular use.
Laminate is highly resistant to moisture, making it an excellent choice for use in a bathroom.
It is a much less expensive choice than granite or quartz.
Laminate is available in a wide range of colors and styles. In many cases, it can be made to mimic any style you can imagine.
Cons:
If your laminate is not high quality or has not been installed appropriately, high levels of humidity can cause the glue to peel away.
When laminate is damaged, it can be difficult to repair.
The edges of laminate can chip and it is prone to acquiring scratches.
Marble
Pros:
Marble is a beautiful, elegant substance that adds an air of luxury to any bathroom.
Marble is heat-resistant, making it an excellent choice for use in the bathroom.
As an easy material to work with, marble can be shaped into any design you can imagine.
Cons:
In some cases, marble can change in appearance over time, especially in conditions like bathrooms, where high humidity is an issue.
Marble is very absorbent, so it stains easily.
Marble isn't particularly sturdy, so it's easy to break, scratch, or chip.
Tile
Pros:
Tile is a very inexpensive choice that fits into almost any budget.
With a variety of colors, shapes, and designs to choose from, tile can be chosen to fit any bathroom design.
Tile is heat-resistant and isn't prone to staining.
If damage does occur to a tile or two, it's easy to replace them without needing to replace the entire counter.
Cons:
Grout can create an uneven surface.
Keeping the grout between tiles clean can be a difficult challenge. Grout also attracts stains if it isn't sealed.
Tile often requires extra time and effort to install, especially if you choose a small tile surface.
How Will It Fit with the Bathroom Design?
Take a close look at your existing bathroom design before you start choosing materials. Is it a simple, classic design? Does your bathroom have a more modern appearance? What materials have already been used in fixtures throughout the bathroom? Make sure that the material you're considering fits well with your existing decor.
Removal and Cleanup
The steps to removing your existing bathroom countertop are relatively straightforward.
Make sure the water is turned off.
Disconnect the pipes and hoses from beneath the sink. You may need a wrench or pliers to accomplish this step. Place a drip pan beneath the hoses to avoid making a mess.
Loosen or remove the caulk on the existing countertop. If it's visible on top of the countertop, it can be removed with a box cutter.
Gently lift away the countertop.
Dispose of the countertop appropriately. If it's still in good shape, you may be able to sell it to someone else taking on a DIY project.
Plumbing Issues
In some cases, plumbing may need to be removed or replaced during the remodeling process. Keep these key steps in mind.
Turn off the water before beginning. If you don't have cutoffs under the sink, you may need to turn off the water to the house.
Turn on the faucet to remove any water still in the lines before you get started.
Keep a drip pan handy to catch any water that leaks during the removal process.
Loosen the slip nut at the top of the P trap. Remove if necessary.
Disconnect the water supply lines. Make sure any water in them lands in the bucket!
Other Projects to Tackle
If you're going to be taking on other projects during the bathroom remodel, now is the ideal time to handle many of them. If you're going to be doing any of these, make it part of your current project.
Replacing the Vanity
Installing new faucets
Putting in a new mirror
Replacing the sinks
Return to Top
DIY: The Steps to Replace Your Counter
If you've decided to go the DIY route for replacing your countertop, congratulations! You've come to the right place.
The Tools You'll Need
Materials Needed
Countertop
Backsplash
Caulk
Step by Step Guide
Step 1: Add Shims If Needed
Over time, your cabinets can wear down so that they're no longer level. If your cabinets aren't level, install shims to create a flat surface for installing your new countertop.
Step Two: Run Caulk Around the Edges
Follow the top edge of the cabinet where the countertop will rest when it's installed.
Step Three: Put the Countertop in Place
If you're using a heavy material, like granite or marble, it can be helpful to have an extra set of hands available to make lifting it into place easier. Make sure it's positioned exactly where you need it. If your countertop is in multiple pieces, put each one on separately.
Step Four: Put On the Backsplash
If you'll be installing a backsplash with your countertop, squeeze caulk along the edge of the backsplash and press it into place.
Step Five: Seal
You'll need to seal the countertop into place with a layer of caulk around the edges. A light layer is all that's needed in order to ensure a firm installation.
Step Six: Put the Plumbing Back Into Place
Make sure that the hot and cold water are connected appropriately. Turn the water back on.
Professional Countertop Installation
The DIY route isn't for everyone. If you'll be hiring a contractor to take care of your bathroom renovation project, make sure you know how to handle those initial meetings and decide whether or not you're dealing with the professional who is right for you.
The Cost
Professional installation of your bathroom countertop can come with a high price tag. That means you need to know what's coming going in. Your cost of installation may vary by the materials used.
Laminate: $3,000-$5,000
Tile: $500-$3,000 depending on the type of tile chosen
Granite: $5,000-$8,000
Marble: $8,000-$12,000
Quartz: $9,000-$12,000
Questions to Ask
There are several questions that you should expect when you sit down with a professional contractor to discuss installing your countertop.
What materials are you interested in using?
Are you planning to update the vanity as well, or will the countertop need to fit with the existing vanity?
What does the existing bathroom look like? How will the new installation fit with your existing decor?
What size is your existing countertop?
Will you be adding a new faucet along with your countertop?
How much experience do you have installing this particular type of countertop?
Are you licensed and registered with the state?
Do you have insurance?
Is your price an estimate or a fixed cost?
Conclusion
Choosing the right method and materials for your countertop installation is a critical part of the renovation process. Whether you choose to do it yourself or prefer to have a professional contractor come in to do the work for you, you're sure to experience a high degree of satisfaction with your new project.
Return to Top
1 Comments