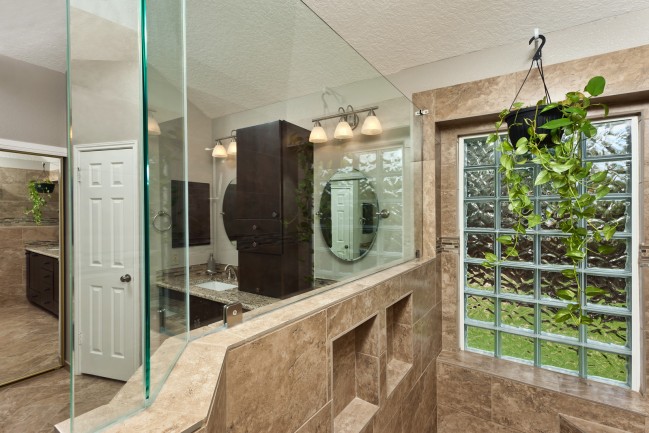 On This Page:
Let's face it. A lot can happen in a bathroom — and the last thing you want is damaged drywall. To save yourself time (and some serious headaches), address all bathroom wall issues as quickly as possible.

Drywall Repair
In the modern home, most walls are made of drywall. Drywall is a gypsum plaster that is pressed between two thick sheets of paper to create panels. Because of its moisture resistance, a special type of drywall called cement board is often used in bathrooms. While this type of drywall is resistant to moisture, it's not completely immune.
Drywall can be damaged in other ways as well — many homeowners know the frustration of finding a doorknob-shaped hole in their bathroom wall.
If you have a hole in your drywall, there are a few things to consider when handling the repair:
Size of the hole
Location of the hole
Level of skill required
Time required
The possibility of dealing with hazardous mold or dust particles
Size Matters
To repair a small hole in your drywall, putty and a putty knife are all you need. While these repairs will not stand up to repeated abuse, they do offer a cosmetically pleasing solution to very small holes.
For holes of four inches or less, you may be able to make repairs with a ready-made drywall patch kit (which can be purchased at most home improvement stores). But, it's important to note that after patches are made, sanding the patch smooth before repainting is important.
For larger holes, it's necessary to cut around the damaged area and patch with a new piece of drywall. The larger the area of damage, the more labor-intensive the repair becomes.
Location
The location of the hole is another factor to consider. For instance, if the hole is in a high traffic area, it may be a better option to use the same method as you would use for a large hole.
It's also important to remember that there are components behind your drywall that you will need to be careful not to damage in the process. In a bathroom, there are pipes and electrical wires behind your walls that are important to avoid as you work.
Skill and Time
If the hole is in a highly visible place or if you feel that you do not have the time or skill level to handle fixing the drywall yourself, it may be advisable to hire a professional.
A professional drywall contractor will measure, order and hang your drywall. Also, a pro will know exactly how to tape and seal any joints found in the drywall before painting. And if you're throwing away old drywall, be sure to contact a pro for removal.
Water Damage
In most cases, the reason for a bathroom wall repair is water damage — which is particularly common around the tub and shower area.
How It Happens
In some cases, water damage may be fairly light (usually caused by something as simple as water spray escaping around a faulty shower curtain). In other cases, water damage may be caused by major leaks in the liner, grout along tiling or the caulking around tub enclosures.
Signs of Damage
One sign of water damage is blistering of the paint on the wall. An additional sign might be persistent mold or mildew in a particular area regularly exposed to water. If you have a tiled bathroom wall, you may notice tiles coming loose from the wall or grout becoming abnormally discolored.
The Cost of Water Damage
Costs for repairing water damage vary according to the severity and location of the damage.  The first thing you must do is find the water damage at its source (consider hiring a plumber). The average cost of hiring a plumber is around $280, assuming that the leak is reasonably easy to access and repair.
Once you have addressed your plumbing issue, you can work on correcting the wall issues.
Peeling, blistering paint: You may be able to accomplish this repair on your own. Scrape off the cracked paint and inspect the area for damage. Remove any damaged material, making sure to get rid of any mold in the process. Patch, sand and paint as needed. The total cost for this project (paint, sandpaper, drywall patching kit) will be around $50.
Small drywall repair: If you need to repair a small section of wall (less than 10 inches), the cost will be $65 to $110 for a professional (depending on your location).
Medium drywall repair: In general, if the section of your wall that needs a repair is larger than a piece of paper, expect to pay $120 to $300 for a professional repair.
Large area drywall repair: If you need to repair an entire wall, the labor can range from $1 to $3 per square foot (with materials adding around 50 cents per square foot to your overall price). Most homeowners spend between $270 and $735 for a complete wall repair.
Why to Hire a Professional
Repairing or replacing drywall is a learned skill. While it is possible to perform small repairs with moderate success, in most cases the better option is to hire a drywall contractor. Here's why:
Contractors will get the job done quickly.
Contractors will have the tools and supplies necessary to complete the job correctly.
Using a licensed and insured contractor protects your assets.
Many contractors offer guarantees of client satisfaction.
Contractors will complete the work as neatly as possible (and clean up afterward).
Broken Wall Tiles
Another repair to leave to a professional is replacing cracked, broken or loose tile. If the backer wall behind your tile is damaged, the tile must be removed in order to repair the wall. Tile replacement is a painstaking job that requires a measure of finesse.
Once you have removed your tile, it's necessary to scrape off all the remaining grout, caulk, mastic and drywall paper. Once the backer wall has been repaired and treated and prepped for tile, it's time to reset. Because you want your patchwork to be invisible, setting tile involves matching the existing design pattern, as well as matching the grout material and line widths to the existing design.
Regrouting
In many cases, it's preferable to regrout the entire surface area surrounding your repaired patch to ensure that the area looks consistent with the rest of the installed tile. Depending on the size of your tiled area this can be quite labor-intensive.
A professional will be able to complete the job more quickly because he or she will have the right tools and expertise. Expect to pay $25 to $35 per square foot for a professional job.
Conclusion
Regardless of whether you're scraping off a little paint or replacing large sections of drywall, most homeowners agree that working with a pro is the right way to go. With a fully licensed, bonded and insured professional, you can rest assured that your wall repair will be seamless and last for years to come.
No Comments Yet