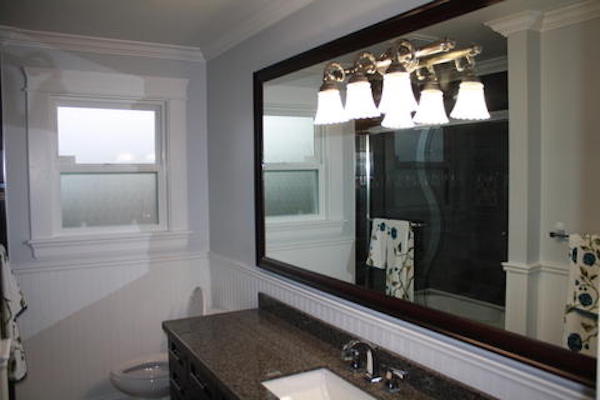 One of the most enjoyable experiences resulting from remodeling your bathroom comes from soaking in the tub when the work is finally completed. One of the most enjoyable aspects of soaking in the tub is experiencing the natural light and warmth of the sun streaming in from a well-placed and creatively designed window system.
Gone are the days when bathroom windows were small, opaque vents placed high on a wall. Today's design-conscious homeowners are calling for open, spacious areas that bring "nature" inside. Jetted tubs surrounded by custom designed bay windows are the ultimate in luxurious bathroom window design. Master bathrooms may feature "French Doors" to enter the master bedroom and/or enter to an outside spa or sauna.
1. Accommodate Your Lifestyle
If you've planned an exercise area into the floor plan of your bathroom remodel, it's a good idea to also plan a number of venting windows to allow for plenty of fresh air while exercising. If your bath remodel is actually a spa enclosure, ventilation can come in the form of a high bank of awning windows that can be electronically operated. If you would like to read more on bathroom ventilation options, click this link to read about bathroom exhaust fans.
2. Select a Complementary Window Style
If you're remodeling a smaller bathroom or guest bath, you can achieve excellent results by including an accent window in an angular shape such as an oval or octagon or perhaps an arch over a double-hung 3×4 window. Garden windows help add more dimension to a smaller bathroom while giving your indoor plants a place to thrive.
Try to avoid placing windows where direct sunlight will strike your favorite grooming mirror, however. Southern and western light tend to be more direct and may cause bright interior colors to appear too intense, whereas eastern and northern sunlight may make cooler colors appear dull.
3. Choose from Dozens of Privacy Solutions
Design ideas are as endless and as unique as individual homeowners. Equally as numerous are creative ways of achieving privacy within those designs. All sorts of blinds, shutters and interior and exterior screen systems in various materials, colors and styles are available to achieve privacy and that special one-of-a-kind look. There are different obscure glass patterns to choose from as well as tinted glass in an array of colors.
Click here if you want to install new, stylish bathroom windows.
4. Allow for More Natural Light
Skylights and roof-windows offer another approach for using glass for light and ventilation in a bath remodel. For safety reasons, skylights are tempered, as other windows in the bath may need to be (check with local building codes). Skylights offer the opportunity to achieve maximum light in a small area. The main concern most homeowners have is leakage; however, this is usually due to shortcuts taken in the installation as opposed to any defect in the product.
Ready to start your
bathroom window

?Find Pros
5. Select Windows with the Greatest Energy Efficiency
With larger glass areas, energy efficiency and comfort become major concerns. Higher efficiency glass that incorporates low-E2 glass and argon gas has become the norm.
"Warm-Edge technology" is also being introduced by different manufacturers of dual pane windows. Traditionally, an aluminum spacer is used to separate the two panes of glass. Tests have shown that aluminum spacers actually conduct heat through the glass thereby decreasing its energy efficiency and creating an area around the perimeter of the window where condensation may form.
As is true with any window remodeling project, your best prospect for a quality job is to start with a quality product and have it professionally installed by a knowledgeable licensed contractor who offers an extended product and labor warranty.
No Comments Yet