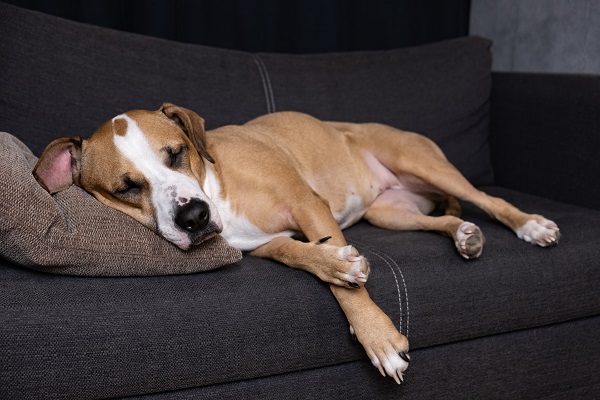 If you have a pet at home, choosing the best material for your upholstery is essential. Given the costs of professional cleaning or of upholstery and repair, you really want to get it right the first time. This means you should put durability on the top of your list. But you don't have to give up on style or color, there are many great upholstery materials to choose from.
On This Page:
Best Upholstery Material for Pets
In general, the best material whether you have a dog or a cat, is microfiber. Also known as microsuede, this synthetic material is a pet-lovers dream. It's easy to clean, hard to scratch or rip, and lasts a long time. You can vacuum hairs without damaging the material, or even just use a lint brush, and most stains can be treated with mild soap and warm water, plus its synthetic nature means it comes in many colors and styles.
Best Couch Fabric for Dogs
Many dog owners prefer leather over synthetic fabrics. Real leather, not man-made, is hard to stain, easy to clean, does not collect much pet hair and is a very stylish choice. The only downside with leather is it tends to be expensive and it is not scratch resistant. So, if your dog scratches or chews on furniture, leather might not be a good choice.
Get Furniture Upholstery Quotes
Heavy weight, tight woven fabrics like canvas or denim also make a great alternative for dogs if leather and microfiber are not options.
Best Couch Fabric for Cats
The best upholstery material for cats is microfiber. Besides hair, cat owners also face the issue of scratching which makes leather a poor choice as it could puncture. Microfiber can withstand your cat's claws, is stain resistant and so easy to clean. More so, you can just vacuum it, which will take care of allergens if you're having friends over who are allergic to cats.
If you can't find a microfiber couch you like, consider looking at outdoor furniture. It is made to withstand sun, rain and other elements. You might be surprised how well it looks indoors.
Things to Consider
When buying a new couch or sofa, or reupholstering your favorite one, it's good to consider how your pets behave around the house. If you have a dog, for example, perhaps it sheds a lot of hair, or maybe you have a puppy who's still potty-training. If so, those might be your main concerns.
Cat people, however, should consider scratching as well as hair. So, you are going to be looking for materials that will be easy to clean, hard to stain, and scratch resistant. Meaning as much as we like them, you should probably avoid silks and suedes. As a pet lover, you're really looking for something more durable.
Cleaning and Repair
Even though both microfiber and leather are easy to clean on your own, it's worth considering a professional cleaning service every now and then to make sure you're getting the most out of your furniture. Here's an easy way to calculate the costs of professional furniture cleaning.
If you already have a couch or sofa you like, but you would like to make it pet-proof, consider hiring a reupholstering service. It's very cost-effective way to make your furniture pet-resistant instead of buying a new piece.
Speak With a Furniture Upholsterer
No Comments Yet