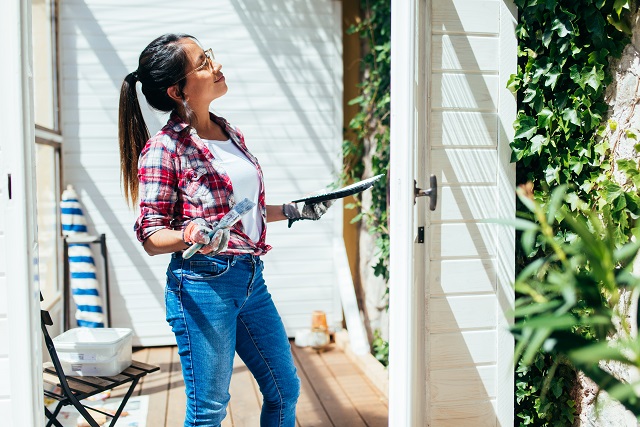 Choosing the best exterior paint for your home may seem like a daunting task. With different paint types and finishes, it's important to understand the characteristics of each to find the best outdoor house paint for the surface you need to cover. Our guide helps you choose the best exterior house paint that will look great while protecting your home from moisture and temperature changes.
On This Page:
How to Choose Exterior Paint
Regardless of base type and finish, there are certain characteristics to look for when choosing best exterior house paint. Taking these into consideration will help ensure the curb appeal and durability of your paint job:
Hiding Power: Paints with better pigment provide superior surface coverage. They require fewer coats and less thickness in application.
Color Retention: This refers to the paint's ability to retain its pigment over time and exposure.
Chalking Resistance: As the binder begins to break down, some paints start to show a white chalky powder on the surface.
Blister Resistance: To keep excess moisture from damaging paint layer, choose a blister-resistant paint that keeps moisture away from the surface.
Quality exterior a paint makes a big difference on the appearance of your house and can also affect the price of your project. The cost of painting a home exterior typically ranges between $1,700 and $4,000.
Types of Exterior Paint
There are two basic types of exterior paint: oil-based and water-based. Each paint type has its own characteristics and it is important to understand them to choose the best exterior paint for your home.
Oil-Based
Also known as solvent-based or alkyd
Stands up well to the elements
Dries to create a smooth, solid coating
Takes 8-24 hours to dry
Superior surface penetration
Good adhesion and stain-blocking
Water-Based
Also known as latex
Expands and contracts with temperature changes
Doesn't trap moisture, crack or peel
Takes 1-6 hours to dry
Applies well over oil-based paint
Cleans with soap and water
Wondering how much paint you will need for your home exterior? Use our paint calculator to make sure you have enough material for your exterior paint project.
Paint Finishes
Paint finishes vary in their amount of sheen. The lower the sheen, the less light reflection and stain-resistance.
Here are the pros and cons of each finish, to help you find the best outdoor house paint for your home:
Gloss
Gloss finish cleans easily, resists scuffs, and repels water. On the other hand, it shows surface imperfections, so keep that in mind when using gloss.
Semi-Gloss
Semi-gloss finish is durable and easy to clean. However, it also shows surface imperfections, which can be a major con depending on what you're planning to use it on.
Satin
The major pro of satin finish is that it makes for very easy cleaning. But it can show surface imperfections as with gloss and semi-gloss, and touch-ups will stand out.
Flat
Flat finish can hide imperfections of your surface and is easy to touch up. As cons, this finish is less resistant to scuffs, doesn't clean easily, and shows water spots.
Best Exterior Paint by Surface
Because your home exteriors vary in surfaces and characteristics, you are likely to need a different type of exterior paint for each area. These are the best exterior paints for the different areas of your home:
Gutter
Oil is better for metals that can rust. It's best if used with a galvanized metal primer.
Floor
100% acrylic latex is most weather-resistant and works great on garage, porch, deck, or concrete floors.
Front Door
Oil and latex formulations work great with the use of a primer. A glossy finish is best for exterior trim paint for high-traffic areas.
Siding
Both oil and latex are great options. Choose the type that works best for your regional climate.
Masonry
Latex is the best exterior paint for stucco, concrete, and cement. Use with a bonding primer.
Once you have chosen the best exterior paint for your house, find a painting contractor to give your home the beautiful look you envision.
FAQs
Is primer necessary for exterior painting?
Primer is a base coat for paint. It smooths out porous surfaces that absorb water, moisture, and oil for better adhesion and cleaner application.
Is it better to roll or spray exterior house paint?
Spray painting is best for brick siding and other heavily textured surfaces. Spray coating may also be faster, potentially saving you time and money on labor. Using a roller applies a much thicker coating, but may not get into nooks and crannies as well. It also allows you to be more precise on the edges, which could look overpainted with spray.
How many coats of paint does the exterior of a house need?
For a prepped and primed surface, you should only need two coats of paint to cover the exterior of your home.
No Comments Yet