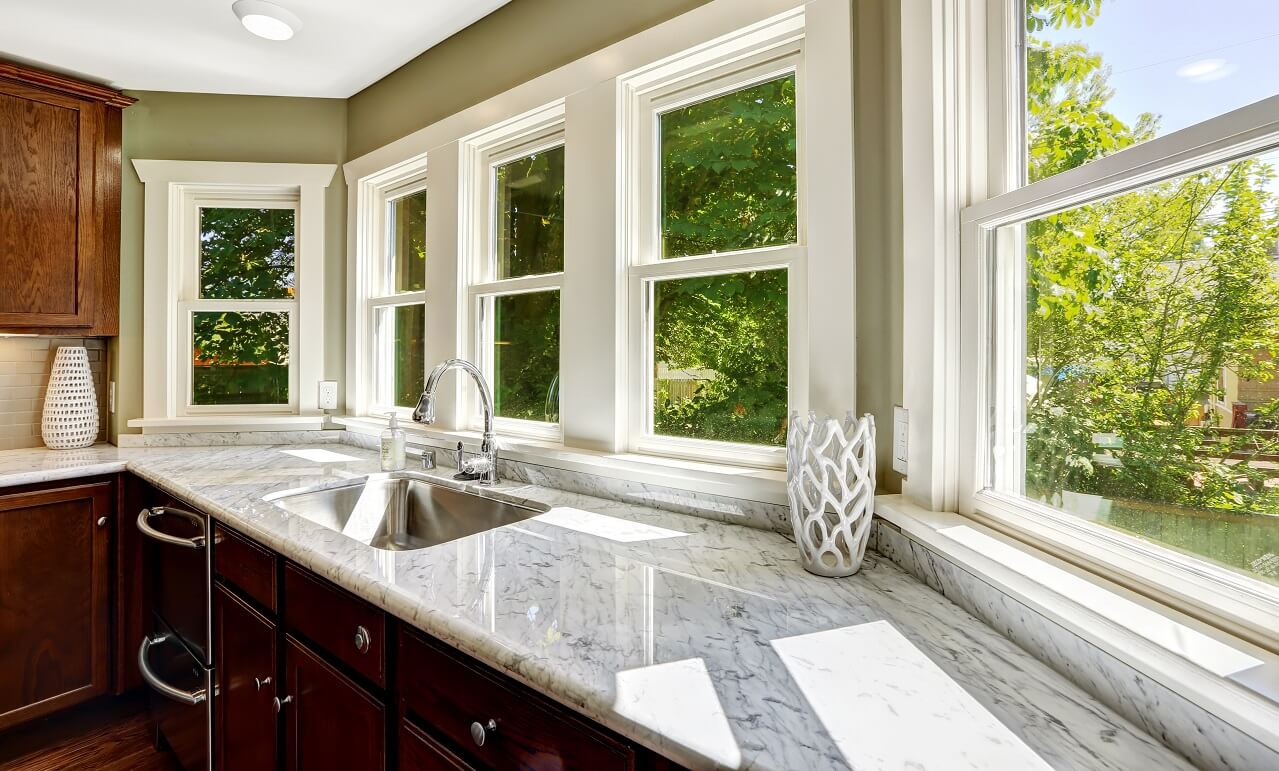 Marble Countertop: ©Iriana Shiyan – stock.adobe.com
Although granite counters are an extremely popular choice, they may not work in every situation or appeal to everyone. If granite just doesn't feel like the right fit for your home or budget, finding attractive and high-value alternatives can seem difficult. Fortunately, there are plenty of other choices that offer beauty, durability, and a great return on your investment.
Check out these nine popular granite alternative countertops to find the one that fits your style and budget.
On Page:
1. Marble
Marble countertops cost $1,000 to $10,000 depending on your location and the size of your kitchen. Marble countertops create an inviting and timeless look, whether you choose clean, classic white marble or one of the dozens of other colors available.
The natural mineral deposits and impurities in this stone give rise to streaks, specks, and unusual patterns, which ensure that your surface looks utterly unique.
Cost
$125-$200 per square foot
Appearance
White with unique streaks, specks and patterns
Pros
Unique, high-end look
Cons

Soft and porous

Easy to scratch and stain

Maintenance

High maintenance–seal annually

Lifespan
100+ years
Softer and more porous than granite.
More prone to scratching, etching, or staining.
Appearance will change slightly over time.
Clean up spills quickly and treat the surface ever year with a special sealer.
2. Quartz & Engineered Stone
If you love the idea of marble countertops but want an option that is a little more uniform or low-maintenance, choose engineered quartz. Quartz countertops cost anywhere from $1,000 to $4,000 or more.
Cost
$50-$150 per square foot
Appearance
Wide range of colors and patterns
Pros

Lower cost than granite

Health friendly with no VOCs

Cons

Less heat-tolerant than granite

More expensive than laminate and tile

Maintenance
Low maintenance–no sealing required
Lifespan
100+ years
Consider a few more points:
Explore the differences between granite vs. quartz countertops before making a decision.
Caesarstone and Silestone, like all quartz counters, are a mix of quartz and resin that creates a strong, nonporous surface.
Health-friendly option, since they do not release harmful byproducts or worsen allergies.
3. Wood
To many people, wood offers a beauty that other materials, whether natural or engineered, simply can't rival. Traditional wood countertops can add immediate warmth to your kitchen or elegance to your bathrooms. If you are willing to put in a little extra work, wood can add value and timeless beauty to your home. Installing wood countertops costs $2,000 to $4,500.
Cost
$35-$200 per square foot
Appearance
Warm, wood grains in a variety of colors
Pros
Most types are cheap and easy to install
Cons

Unless epoxy sealed, very high maintenance

Prone to scratches and burns

Maintenance

Clean and oil every 3-6 months. Sand out scratches as needed

Lifespan
100+ years
Wood offers a surface that is:
Warm to the touch.
Quiet to work on.
Weathered and only improves with time.
Prone to drying. Oil two or three times per year to prevent drying.
4. Tile
Tile countertops are an appealing option for more creatively-inclined homeowners because they allow for full customization of color and pattern. Ceramic or porcelain tile also creates a polished, classic look that will stand the test of time with proper care and maintenance.
| | |
| --- | --- |
| Cost | $5-$30 per square foot |
| Appearance | Extremely wide selection of colors, textures and sizes |
| Pros | Cheap materials, good for DIY |
| Cons | Grout lines and uneven surfaces |
| Maintenance | High maintenance–reseal grout every year |
| Lifespan | 20+ years with proper maintenance |
Installing tile countertops costs $3,000 to $5,000.
Scrubbing the grout between the tiles to remove food particles and prevent staining is essential, and this task can be time-consuming.
Grout usually needs to be resealed every year. Aggressive cleaning can harm the tile finish, while excessive force can cause chips or cracks. However, with caution and proper care, tile can offer a unique and beautiful look for years.
5. Stainless Steel
Stainless steel counters create a sleek, clean, and highly modern feeling. These modern metal designs turn your kitchen into a culinary focal point that is sure to satisfy any home chef. They're incredibly durable and match almost any décor. Installing stainless steel counters costs $4,000 to $11,300.
Cost

$75-$150 per square foot

Most expensive option

Appearance

Modern stainless or black stainless appearance

industrial look

Pros
Extremely durable and easy to clean
Cons
Dents and scratches easily
Maintenance
Very low to zero maintenance beside cleaning
Lifespan
200+ years
6. Concrete
Concrete is another highly functional and attractive material. It's incredibly heavy and usually needs additional supports. It combines the modern look of stainless steel with the natural attractiveness of stone surfaces. Installing concrete countertops costs $5,000 to $10,000.
Cost
$70-$150 per square foot
Appearance

Ultra-modern with a wide variety of finishes and colors

Completely customizable shapes and thicknesses

Pros

Durable with built in sinks as an option

Highly customizable

Cons

Heavy and requires professional installation

Without sealants, concrete is porous and will absorb liquids

Maintenance
Regular sealing with epoxy or concrete sealant to avoid stains
Lifespan
50+ years
7. Laminate
Laminate counters come in a wide range of quality, styles and colors. Cheap versions sit at the back of most big box stores while high definition granite look-alikes come custom from the manufacturer. Laminate countertop installation costs $800 to $1,700.
Cost
$25-$50 per square foot
Appearance
Almost any pattern and color available from wood to stone looks
Pros

Inexpensive option with overlays instead of new installs available.

Wide range of styles

Easy to cover with new laminate or epoxy
Cons

Not the most aesthetically pleasing

Not as durable as stone

Shortest counter lifespan

Easy to damage with heat, cuts and impacts

Maintenance

Low maintenance

Can be coated with epoxy for extended durability

Lifespan
15-25 years
8. Recycled and Sintered Stone
Sintered stone is a used composite of stone, glass, porcelain, ceramic, silica and sometimes other minerals. Costs vary widely.
Cost
$30-$80 per square foot
Appearance
Depends on the source materials used
Pros

Environmentally friendly and very durable

Resistant to scratching, heat, bacteria and stains

Cons
Doesn't look like granite
Maintenance

Low-maintenance

May need resealing with clear epoxy

Lifespan
30+ years
9. Soapstone
Soapstone, a quarried stone with a high concentration of talc, makes a great countertop surface. Though it's slightly softer than granite, it doesn't require sealing. It's denser than most other natural stones. It comes in various shades of gray with blueish or greenish hues. Soapstone installation costs $1,500 to $2,000 for a 30-square-foot slab.
Cost
$70-$120 per square foot
Appearance
Blueish or greenish grays
Pros
>Very durable and hard quarried stone

High heat resistance

Cons

Doesn't look like granite and is slightly softer

Cuts, scratches and chips easier than other natural or engineered stones

Maintenance

Low maintenance

No sealing required besides mineral oil

Lifespan
100+ years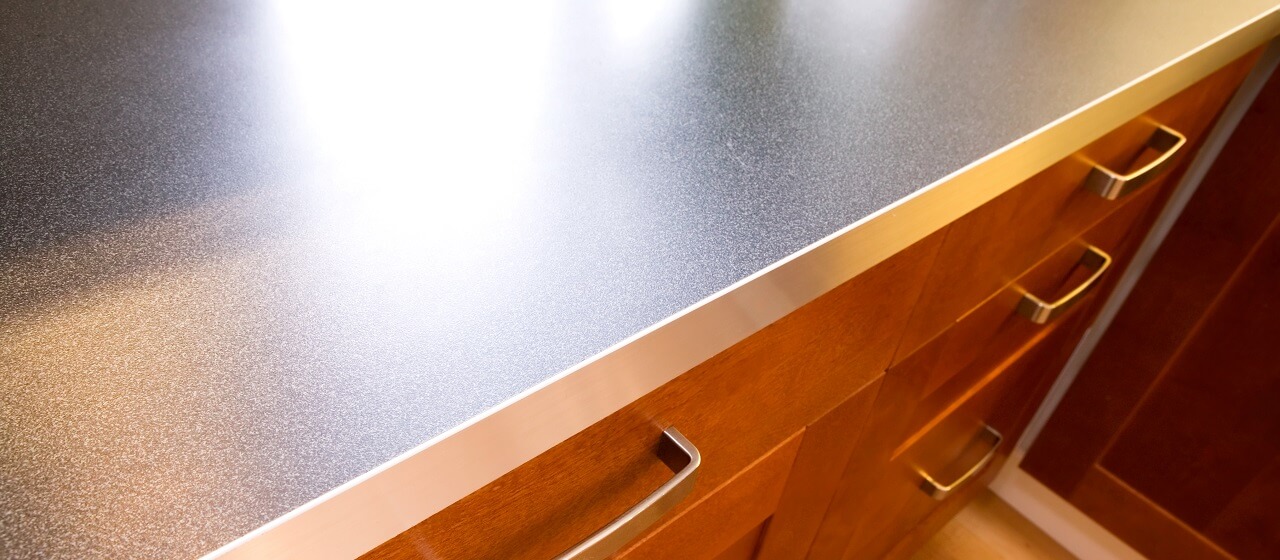 ©Tyler Olson – stock.adobe.com
Cheap Kitchen Countertop Alternatives
| Material | Cheap to Expensive (Per Square Foot)* |
| --- | --- |
| Laminate | $25-$65 |
| Solid Surface | $35-$70 |
| Granite | $40-$100 |
| Marble/Quartz/Engineered Stone | $50-$90 |
| Wood | $50-$100 |
| Soapstone | $50-$100 |
| Stainless Steel | $65-$150 |
*Material cost only. Labor costs run $35 to $100 per square foot, regardless of the type of material you choose.
For an even cheaper makeover, try an epoxy kit applied by a professional. They're durable and you can customize them to fit your home, even make them look like granite. Regardless of the type of material you choose, countertop installation costs total an average of $2,000 to $4,000.
Countertops That Look Like Granite
Due to granites popularity, most countertop types and brands include options that mimic the look of granite.
Quartz and marble often have their own unique look. However, since they are often engineered, they can mimic almost any look.
Laminates can copy any look of any surface.
Get a granite look without the granite countertop cost using a colored epoxy kit to cover any type of surface.
Lightweight Countertop Material Alternatives
If you're looking to shed weight, ditch stone or engineered stone alternatives. The options remaining include:
Put this over engineered wood or reinforced plywood.
Stainless Steel. Works just like laminate, covering a wood substrate.
Solid Wood. Butcher block styles tend to weight at a fraction of any stone style.
Cheap Countertop Alternative Considerations & ROI
The return on your investment in new countertops depends heavily on your location, home style, neighborhood value and the material you choose. But there are other things to consider before starting your project.
Long-Term Planning: When choosing your non-granite surface to spend money on & install, it is important to consider what you want in the long-term. Are you hoping to add value to a home that you may be selling soon, or are you trying to choose a timeless look that you will love for years?
Lifestyle Considerations: It is also smart to make concessions about your lifestyle. For instance, if you have young children, or if cleaning isn't your strong suit, you may get a better value by focusing on functionality and durability rather than appearance or trendiness.
With the many choices available today, finding the right countertop can be challenging, but with some research and thought, it can be done. Considering these six options can be a great starting point, since they are all difficult to go wrong with if you want a granite alternative that still offers the same level of versatility, functionality, and aesthetic appeal.
FAQs
What's an inexpensive granite option?
Buying granite tile or overlays can save you up to 50% off a new installation. But it's not always cheaper. Talk to a professional installer for options and costs.
What's the best imitation granite alternative for DIYers?
An epoxy coating kit is the best imitation granite alternative for a DIYer.
What substitute is better than granite for durability?
Engineered stone countertops have better durability than most granite.
What's the best quartz alternative?
Granite, marble and engineered solid surface stone are the best quartz alternatives as far as durability and cost.
What's a good countertop that looks like marble?
Epoxy countertops make great marble replacements. They can be made to look similar and are highly durable.
Is soapstone cheaper than granite?
Soapstone, costing $2,700 to $4,200, costs about the same as granite.
What is a composite granite countertop?
Composite granite countertops are a type of engineered stone, typically made from 90% quartz and 10% resin.
No Comments Yet