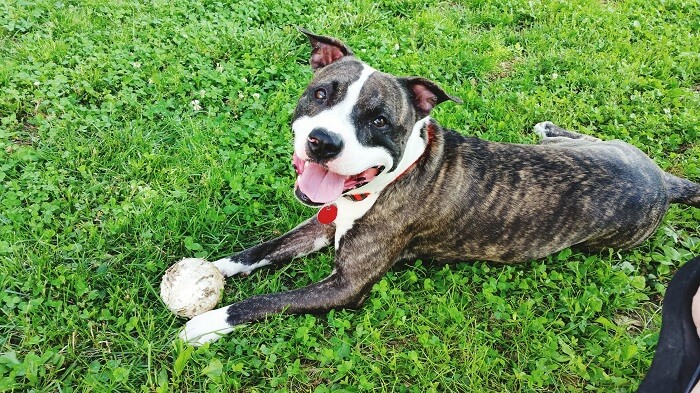 Man's best friend doesn't have to be your lawn's worst enemy. If you are in the process of choosing the type of seed or sod to put down and have a dog or may adopt one in the future, you should consider the best type grass for dogs. Our guide can help you find the most durable grass for dogs, that can play as rough as your pup and stays fresh.
​
On This Page:
Best Grasses for Dogs
Best Grass for Dogs
| Type | Advantages |
| --- | --- |
| Fescue | Uses diluted urine as a fertilizer |
| Kentucky Bluegrass | Rapid growth rate |
| Perennial Ryegrass | Deep root development |
Best for Dog Urine
Fescue and perennial ryegrass are the most resistant to dog urine. In fact, when diluted, urine acts as a fertilizer for these types of hardy grasses.
Most Durable Grass for Dogs
With its quick growth, Kentucky Bluegrass is a tough grass for dogs who do a lot of running around. This grass for high traffic backyard dogs will recover fast and grows back healthy.
Best Grass for Dogs that Like to Dig
If you can't keep your dog from digging in the lawn, grasses with deep root systems like the Perennial Ryegrass can sometimes discourage these behaviors. They also grow back and recover fairly quickly.
How to Maintain Your Grass & Prevent Damage
Provide your grass proper maintenance
Reseed regularly
Neutralize the acidity of dog urine with Calcium Hydroxide, better known as lime
Put in a grass seed that works well with your climate
Even the best lawn for dogs will struggle if you don't follow these basic maintenance rules. The cost to reseed your lawn can vary, but is worth the expense if you want to care for your grass and your dog. Find lawn maintenance companies near you to effortlessly keep a beautiful lawn in your home.
For more cost information, read our guides sod installation costs, rock or mulch delivery rates or find an artificial grass installer near you.
Ready to start your
Lawn Seeding or Sod Installation

?Find Pros
Tips for Dog Owners
Don't let dogs play on wet grass, as this is when your lawn is most delicate
Encourage your dog to enjoy the full yard for even wear and tear
Train your dog to pee and poop in the same spot to limit your maintenance work
Dilute the pee and pick up the poop to keep your grass healthier
FAQs
What type of grass is most resistant to dog urine?
Ryegrass and Fescue are most resistant. Kentucky Bluegrass and Bermuda are most sensitive.
How do you grow grass with dogs?
Make sure your dog's pH is not too acidic
Hydrate your dog to decrease urine concentration
Create a potty area
Choose a hardy grass
Give your lawn maintenance
What kind of grass is best for dogs to eat?
The best grains for sprouted dog grass are oats, wheat, rye and barley. They provide a safe, toxin-free supplement.
Ready to start your
Lawn Seeding or Sod Installation

?Find Pros
No Comments Yet