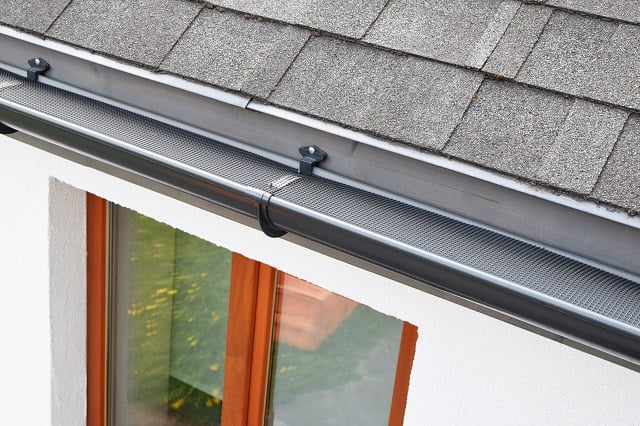 There are four kinds of gutter guards. Fine mesh and surface tension gutter guards are best for homes surrounded by pine needles since they're durable and have small holes. Screen and sponge types are best for metal roofs and leaves from other types of trees.
On This Page:
Best Gutter Leaf Guards by Type
| Type | Best because it's: |
| --- | --- |
| Fine mesh | Easy to clean, long-lasting |
| Screen | Affordable, easy to install |
| Sponge | Easy to clean, easy to install |
| Surface tension | Long-lasting, low-maintenance |
Gutter guards are a great way to save time cleaning your gutters. These handy devices cover all types of gutters to prevent debris from clogging them up. While you can install gutter guards yourself, it is probably a good idea to instead hire a gutter contractor especially to protect your gutters in case they're under warranty.
Best Gutter Guards for Pine Needles
A pesky invader that can build up and become a fire hazard, pine needles are not only annoying but can be dangerous. They are especially troublesome to clean from gutters. For that reason, you need to carefully consider what type of gutter leaf guard you install if you have pine or other conifer trees around your house. For help installing gutter protection, look at gutter guard installation services near you.
Surface Tension
Surface tension gutter guards are made of a solid piece that dips down into the gutter, allowing debris to fall right off and water to drip into the gutter. Although they are the most expensive type of gutter guard, they also last the longest. If installed properly, surface tension gutter guards should require little to no maintenance. This kind of gutter guard does not work with all shingles.
Fine Mesh
Fine mesh gutter guards allow debris to flow right over your gutter, although particulates like shingle sediment will still get stuck in them. They only need occasional blowing or brushing to be cleaned. Fine mesh gutter guards are easy to install and simple to clean. They are compatible with most types of shingles, including those that can't be lifted for installation. The strongest brands of fine mesh gutter guards resist damage from branches and ice.
Best Gutter Guards for Metal Roofs
Homes with metal roofs don't have shingles to place gutter guards under. While this might seem troublesome, there are specially-designed gutter guards for metal roofs. Research the cost of gutter guards in your area when deciding to install them.
Screen
Screen gutter guards work well to keep out large debris, like leaves. However, the holes in this kind of gutter guard are too big to prevent pine needles and seeds from entering. They are suitable for most kinds of shingle roofs.
Screen gutter guards must be cleaned regularly, which may be difficult. You may also need to clean the underlying gutter sometimes since small debris can accumulate inside. Due to the size of their holes, they can be damaged by ice and winds.
Sponge
Sponge gutter guards fit in the gutter itself, making them invisible from the curb. This kind of gutter guard has tiny holes that fine matter like pollen might get stuck in. For that reason, sponge gutter guards have to be cleaned regularly. They can be ripped by branches and heavy snowfall.
No Comments Yet