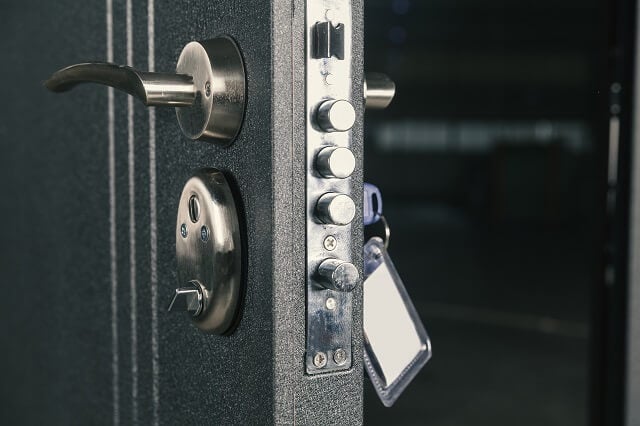 The best house door locks keep burglars away to ensure the safety of your property. About 64% of burglaries are usually due to forcible entries. So, whether you're buying new locks for a new home or replacing old locks, it's vital to find one that secures your home.
Apart from the level of security a lock offers, also pay attention to aesthetics. You want an option that complements your existing finishing and qualities. Here is a guide for the best door locks.
On This Page:
1. Cam Locks
A cam lock is one of the simplest locks, and it was invested in 1985. It has a metal plate (cam) that rotates 90 to 80 degrees to lock or unlock the door. Cam locks are available in manual or electric options. Manual options use a flat key as explained above, while an electronic one uses a combination dial code.
Pros
Cons
· Small and simple designs
· Inexpensive options
· Easy to break-in
· You can lose the keys
2. Knob and Lever Locks
Knob and lever locks are the best internal door locks, though it's not uncommon to find them on front doors. A standard lock has a pair of knobs/levers, one on each side of the door. One or both of the knobs can be keyed. Others have an interior thumb turn, instead of a keyhole. Lock repair for these locks is easy when damaged.
Pros
Cons
· Sleek designs look modern
· Classic look
· Inexpensive options
· Hard to operate for kids or sick family members
· Keys can be lost
· Easy to pick
3. Padlocks
Padlocks are portable locks, and they feature a shackle, which is used to secure a door. They're one of the most common door locks, and they come in different options, including laminated, lockout, combination, fingerprint, and high-security locks. Some are even weather-resistant to work fine outdoors.
Pros
Cons
· Traditional padlocks are cheap
· Easy to replace
· No installation necessary
· Easy to be picked
· You can easily get locked out
Ready to start your
Door Lock Installation

?Find Pros
4. Mortise Locks
As one of the best commercial door locks, a mortise lock is usually heavy-duty, and it's made up of many different parts, such as escutcheon trim plates and the mortise lock body. It also has both inside and outside levers. The lock usually comes unassembled, so you have to assemble it on your door during installation.
Pros
Cons
· Hard to force open compared to traditional cylindrical locks
· Available in different size for every door size
· Aesthetically appealing
· Requires drilling of the door
· Replacement is costly
5. Deadbolt Locks
Deadbolt locks are perfect for your exterior doors. They are challenging to pick, making them one of the best for security. They're usually installed separately from your knob or handle lock. There are two main types of deadbolt locks: Single-cylinder (one exterior keyhole) and double-cylinder (two keyholes) locks.
Pros
Cons
· Withstands common break-in methods
· Metal construction for durability
· Locks with a thumb turn mechanism are easy to be picked
· Some require the door to be drilled
6. Smart Locks
These are modern locks commonly found in smart homes, and they come with intriguing features and capabilities, such as voice control, remote control, and sensor technology. You can connect them to your Wi-Fi network, allowing you to control the lock using an app on your phone. Since they're keyless, smart locks are hard to pick, and you can connect them to other smart home products for improved security.
Pros
Cons
· They offer convenience
· Easily monitor the lock using your phone
· It's costly
· It can be hacked
7. Keyless Locks
Unlike smart locks, keyless locks use combination codes or feature keypads for typing in the lock code. They don't connect to your network or smartphone, and they can be electric or non-electric. Some even feature an alarm, which is triggered after multiple wrong password attempts.
Pros
Cons
· No more keeping your keys under the mat
· Quite convenient
· They're somewhat costly
· Require to change the code regularly
FAQ
What is the safest lock for a front door?
Deadbolt locks and keyless locks are some of the safest options as they're hard to pick. You can also go with smart locks since they alert you when someone tampers with your lock.
Are electronic door locks worth it?
Electronic doors offer convenience and they're some of the best house door locks. You don't need to worry about misplacing or losing your keys. However, they're not stronger like regular locks.
What is the hardest door lock to pick?
Among the common door hardware, deadbolt locks are hard to pick, making them the best house door locks. Also, smart and keyless locks don't have keys, so it's hard to pick them too.
Ready to start your
Door Lock Installation

?Find Pros
No Comments Yet