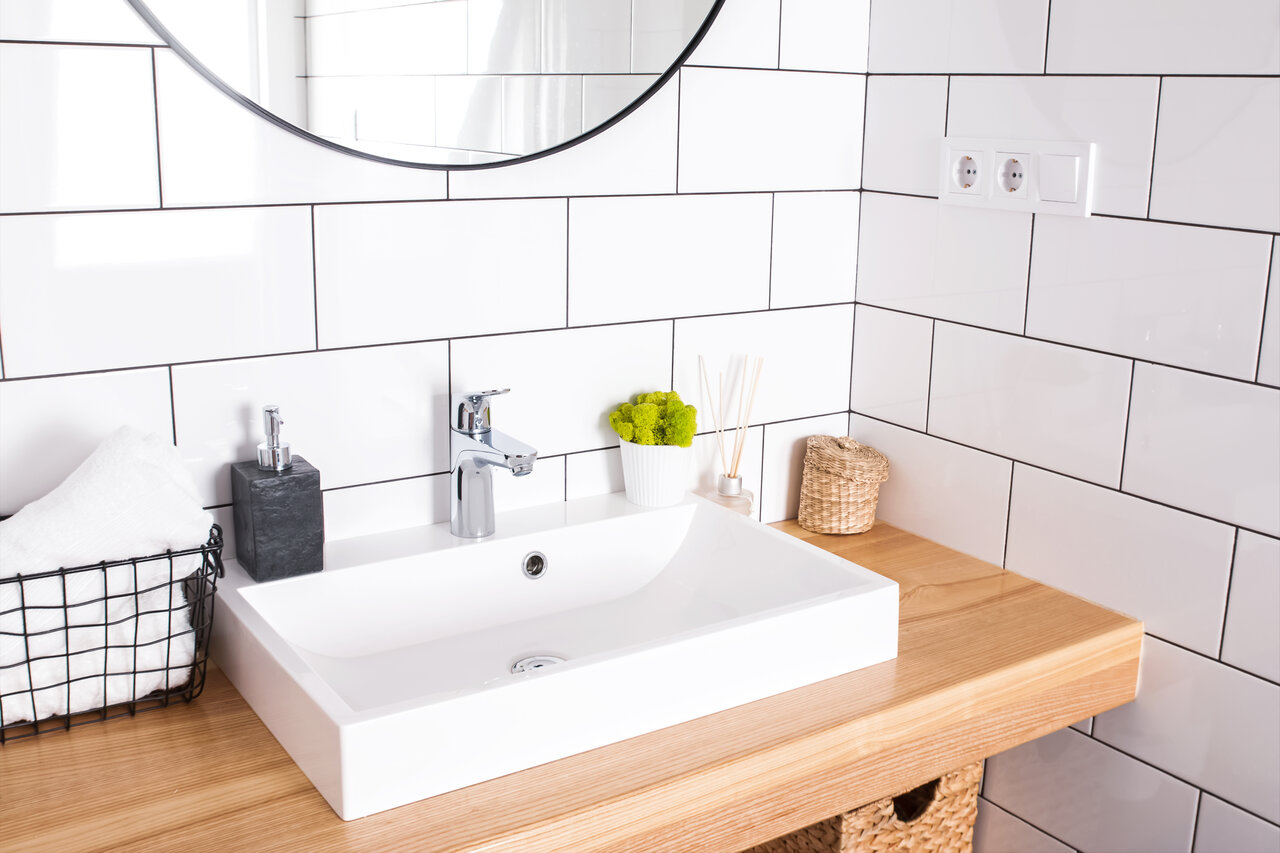 Sinks are an essential of every home bathroom and kitchen. Aside from being functional, the best sinks also elevate your home. They complete your interior design with practicality and elegance. Our guide helps you find the top sink style to match your taste and the best sink brands that suit your needs.
On This Page:
Best Bathroom Sink Styles
The bathroom is a space for grooming and self-care. Whether you spend hours in there or only have time for the basics, you need a sink that's designed for everyday life. These are the most popular bathroom sink styles and their characteristics:
Self-Rimming
These traditional sinks feature a rolled and finished edge over your countertop. They're usually made of porcelain and paired with silver faucets.
Pros
Cons

Easy to install and replace
Classic look

Grime builds up around lip
Less modern look
Undermount
Undermount bathroom are set underneath your bathroom countertop. The best undermount sinks feature a flushed look that goes well with contemporary decor.
Pros
Cons

Easy to clean
Modern appearance

Some don't work with laminate countertops
Vessel
Vessel sinks feature a basin that sits on top of your bathroom counter. With a sleek design, they're a great solution for small counter top sinks. They come in a wide range materials to match your contemporary decor.
Pros
Cons

No overflow drain
Require special faucets
Pedestal
With a handsome design, pedestal bathroom sinks feel regal. They cut the need for a counter, so your bathroom is more functional. The best pedestal sink makes your bathroom feel less cluttered.
Pros
Cons

They take up little floor space
Easy to clean around

Limited space around basin
No storage
Wall-Mounted
For a minimalist approach, wall-mounted bathroom sinks attach to the wall and stand freely in any size space.
Pros
Cons

Free up floor space
No cleaning underneath

Don't hide clutter
No storage
Vanity
Mounted into a cabinet, the best vanity sinks add a classic look to any bathroom. Choose the vanity size that works for your space and matches your style.
Pros
Cons

Hide clutter
Provide storage

Bulky
Require more cleaning
Installing a vanity costs between $300 and $3,800. You can build a custom vanity or simply install a pre-made piece. The scope of your project determines the price.
Top Bathroom Sink Brands
These are some of the characteristics of the top bathroom sink brands:
Brand
Characteristics
Kohler
Clean design
Easy to install
Aquaterior
Diverse selection
Affordable
American Standard
Traditional design
Durable
Nantucket Sinks
High-end
Wide range of prices
Native Trails
Sustainable
Sophisticated design
To install or replace your own bathroom sink, choose your favorite model but remember to consider your home plumbing.
If plumbing issues are a concern, avoid the DIY route. The cost of a professional sink installation ranges between $210 and $560.
Best Kitchen Sink Styles
Sinks are one of the most hard-working features of your kitchen. But this doesn't mean they can't be stylish. Today's best workstation sinks are appealing and functional. They match your home's style and make every day cooking easier:
Self-Rimming
Self-rimming sinks are a tried and tested style. They extend above the countertop surface and look great in any kitchen. Popular materials are stainless steel, porcelain or granite.
Pros
Cons

Simple installation
Lower cost

Water build-up around lip
More surface to clean
Undermount
Installed below the countertop, undermount kitchen sinks are trendy for their seamless appearance. They work with solid countertops such as granite, marble or composite.
| Pros | Cons |
| --- | --- |
| | |
Integrated
Integrated sinks offer the smoothest look for your kitchen. They're the best sink for quartz countertops that look sleek and stylish. Marble and natural stone are other popular materials for these sink styles.
Pros
Cons

Easy clean up
High-end appeal

Expensive
Must replace entire piece
Apron
Apron sinks deliver a chic country look that's upscale. Available in a wide range of materials, the best farm sinks look great in porcelain, stainless steel or copper.
Pros
Cons

Prone to dripping
Expensive
Prep
Complement your main kitchen washing station with a prep sink. These convenient add-ons provide a space to wash your food before cooking. They keep grease away from food and free up your dish washing space.
| Pros | Cons |
| --- | --- |
| | |
Find the best sink installers in your area to update the look of your kitchen and compare quotes.
Top Kitchen Sink Brands
These are the top kitchen sink brands in the market:
Brand
Characteristics
KRAUS
Functional
Modern design
Blanco
Clean lines
Variety in styles
SINKOLOGY
Best copper models
Luxury feel
HOUZER
Wide range of prices
Varied shapes and sizes
Kohler
Affordable
Diverse selection
FAQs
How do I choose a good kitchen sink?
When choosing a kitchen sink, consider your space and needs. Make sure your plumbing is compatible with the sink style and that it offers enough room.
What's the easiest kitchen sink to keep clean?
Stainless steel sinks are anti-stains. They don't hold on to food leftovers which prevents the accumulation of bacteria.
What's the most durable bathroom sink material?
Porcelain is the most durable bathroom sink material. These sinks can last 50 to 100 years. They're extra strong and resistant to heat and chemicals.
No Comments Yet