The most addictive movies tend to have a pinch of wish-fulfillment in them. Not wish-fulfillment of the heroine or hero – but of the viewer, who gets to live vicariously through the characters.
Sometimes it's a fast car you'd love to race, a romance you'd want to experience, or a dream destination you long to visit.
Often that vicarious enjoyment is a bit more down-to-earth and homely. Such is the case with the dream kitchens in our favorite movie characters' homes.
We decided to make that magic more accessible by recreating seven of our favorite film kitchens.
Amélie Poulain's kitchen (Amélie)
There are few films as sickly sweet as Le fabuleux destin d'Amélie Poulain. Who can resist that Christmassy palette of greens and reds?
Archetypal in its simplicity, Amélie's kitchen pairs design classics with modern conveniences. The hard-edged fixtures and fittings accompanied by the round corners of her accessories and furniture is stark, but never too much. The secret? A bold color scheme paired with the simplicity of the checkered design holds it all together.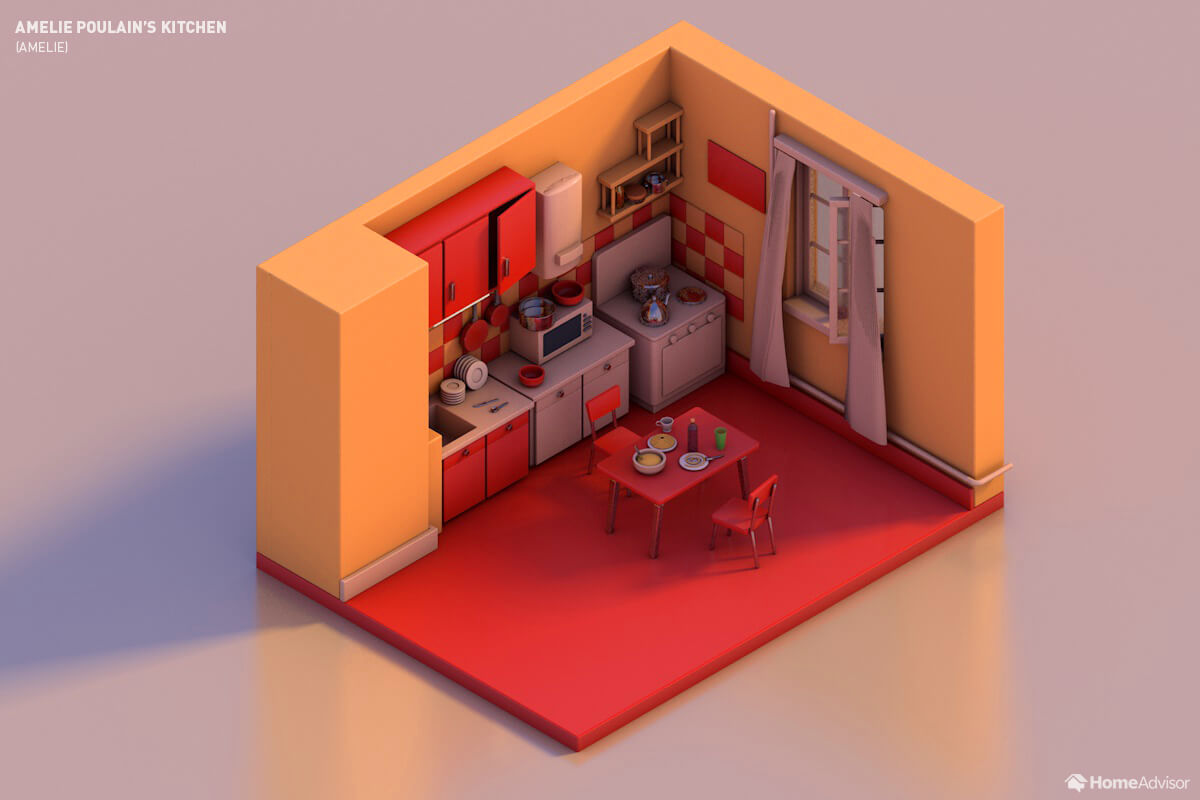 Holly Golightly's kitchen (Breakfast at Tiffany's)
Blake Edwards' movie captured the burgeoning style revolution of the early 1960s, and it all begins in Holly's kitchen.
The stark monochrome set is lifted by splashes of Day-Glo color in Holly's utensils. It feels like ingredient by ingredient, the elegance of the 1950s is giving way to the pop art spectacle of the swinging sixties.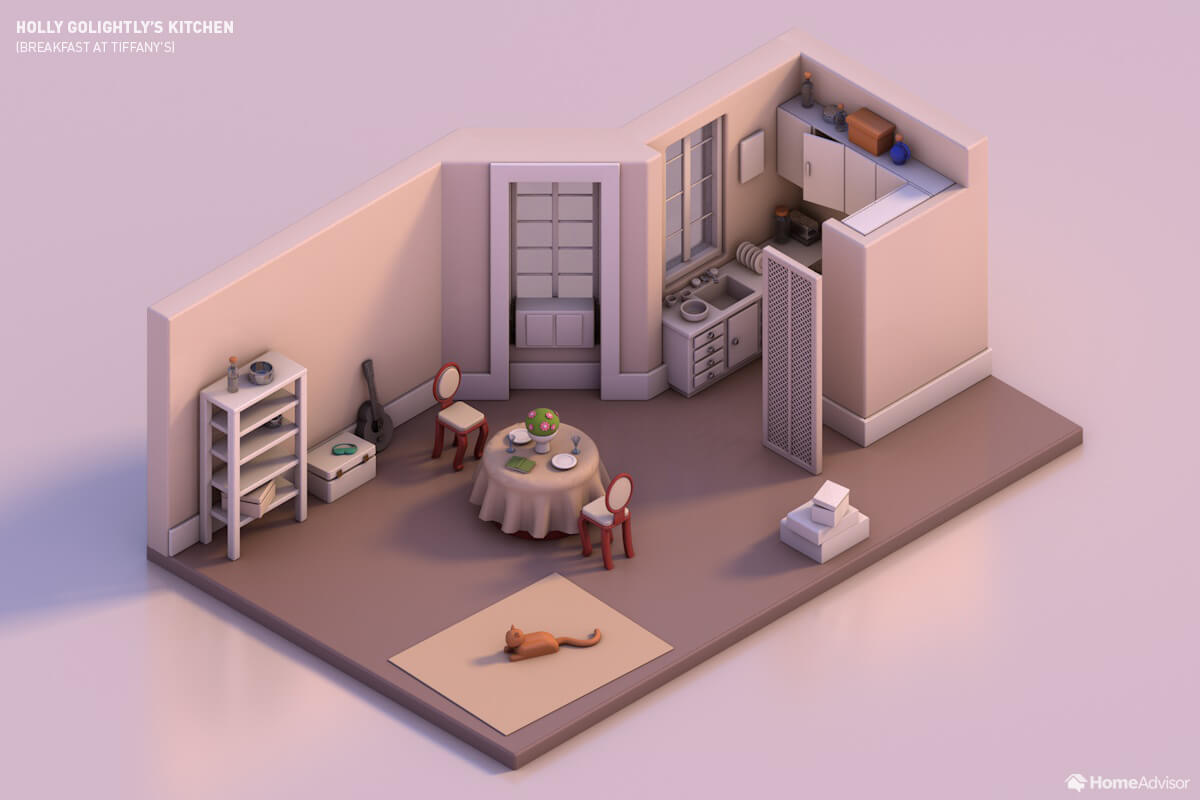 Charlotte York's kitchen (Sex and the City 2)
Here we've bypassed the kitchen of main character Carrie, in favor of Charlotte's sublimely spotless, pure-white kitchen.
It might not be the most practical place if you're cleaning up after a brood who love to bake. But the huge kitchen island and large range cooker certainly give you more than enough room for a tray of muffins or two.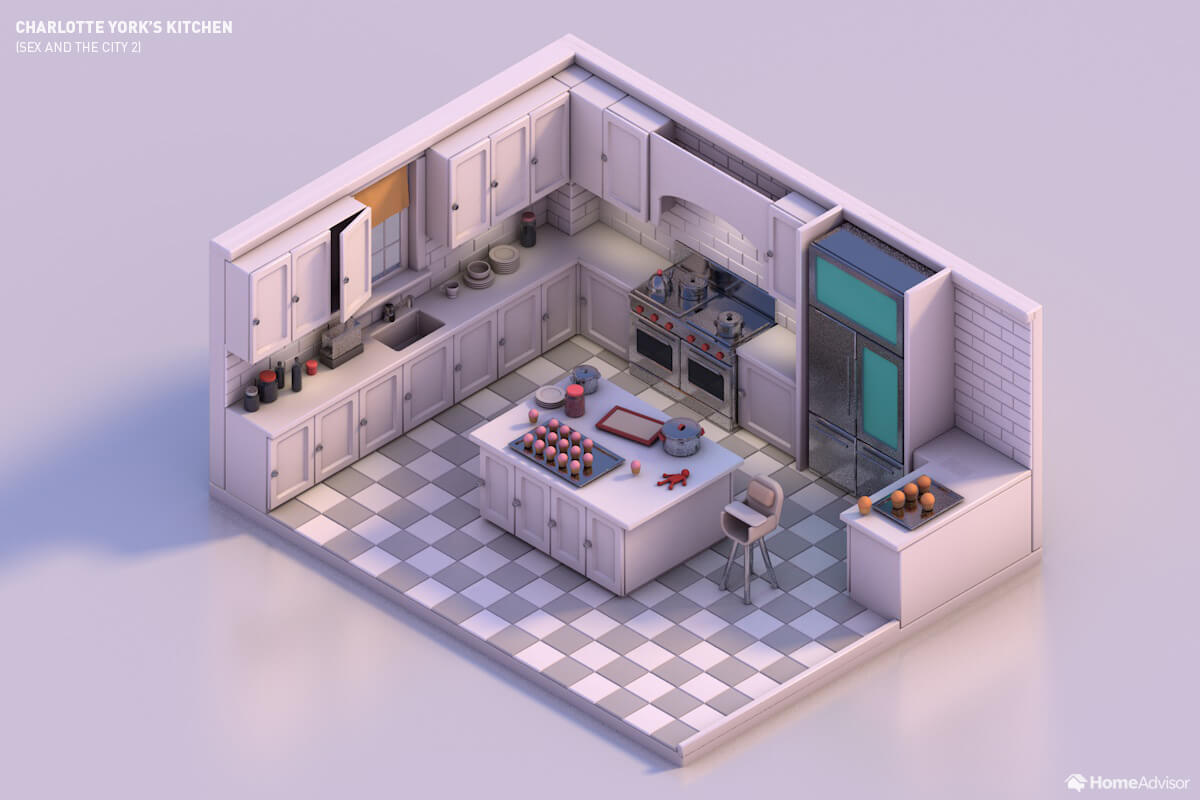 The Dunnes' kitchen (Gone Girl)
Cooking by gaslight? The Dunne family kitchen was the scene for deceit and betrayal in David Fincher's twist-turning 2014 thriller. But its open-plan sprawl is a cooking space to die for.
A palette of wood shades, key lighting, and emphasis on symmetry add to its stylishly and stand-offish effect that's more chilling than cool.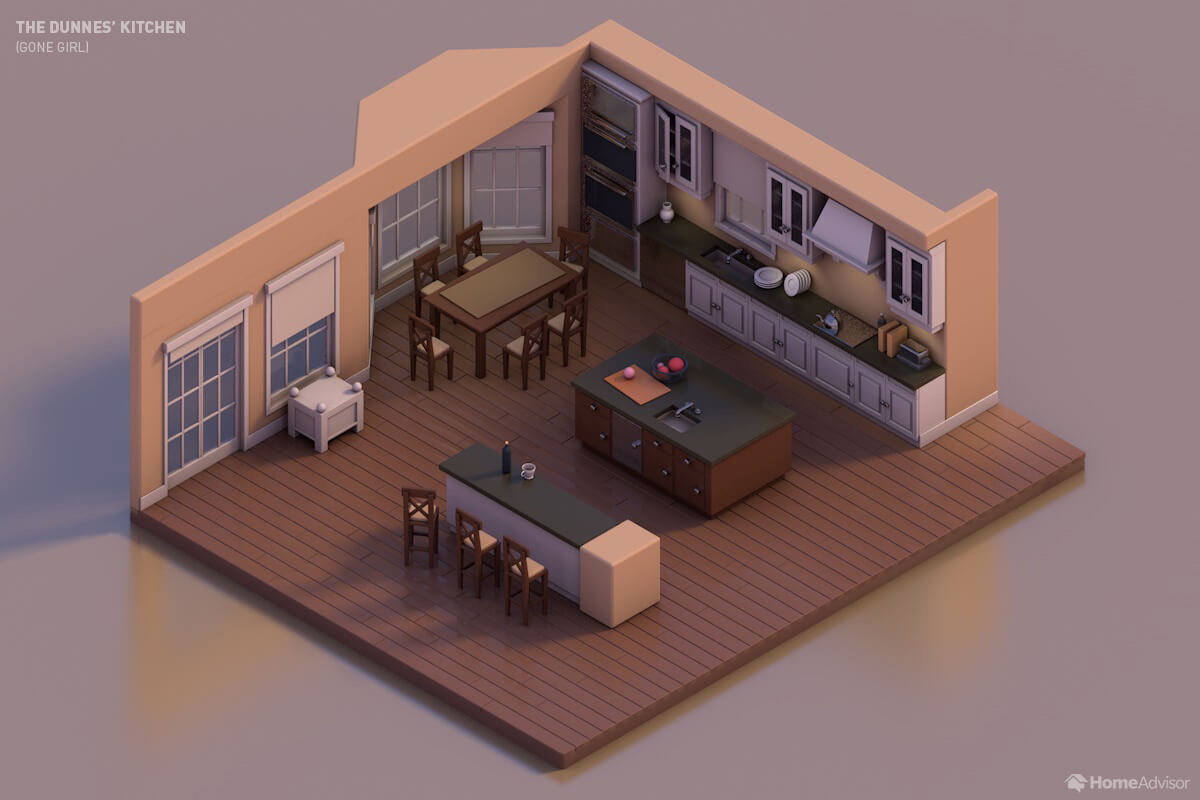 The Owens' family kitchen (Practical Magic)
The Owens really cast a spell by combining the best elements of much that we've already seen: hand-painted white fittings mixed with bare wood furniture and geometric patterns.
What makes it unique is its folksy look, achieved with free-standing cabinets, painted brick, and streetlamp-style lighting. Now, if you can only figure out where to keep your broom…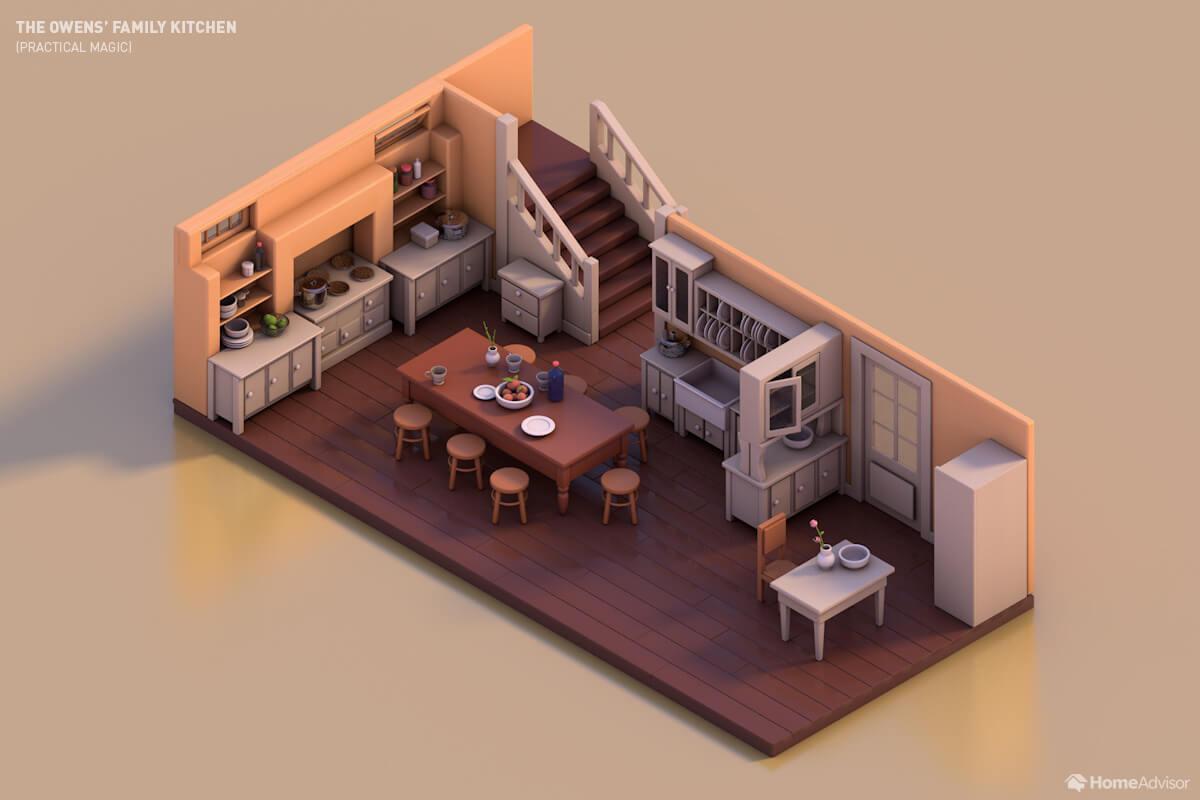 Erica Barry's kitchen (Something's Gotta Give)
Several of these kitchens revolve around breakfast bars, but Erica (a Golden Globe-winning performance from Diane Keaton) has a kitchen island you could live on for months.
The size of the counter aside, Erica has added life to her kitchen. The addition of a fruit bowl, fresh flowers, and homegrown herbs warm up a room that could've felt a little sterile with all that polished steel.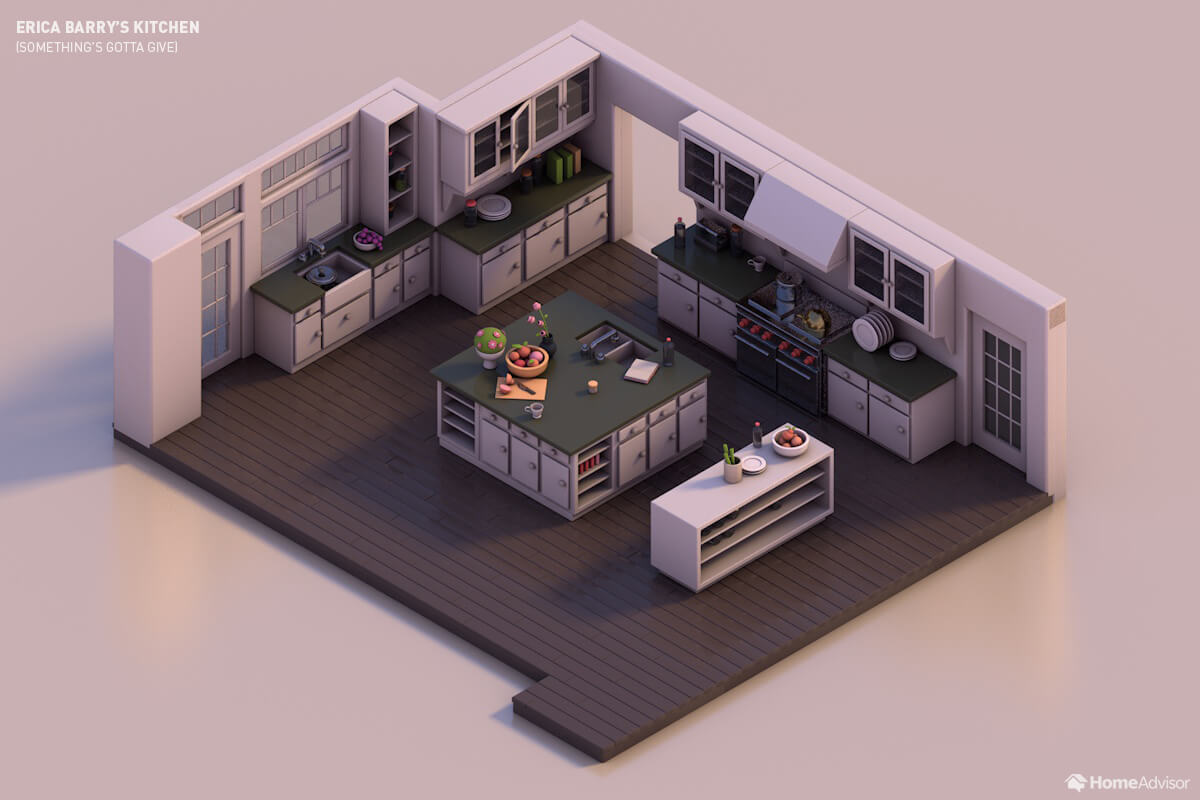 Uncle Owen and Aunt Beru's kitchen (Star Wars – A New Hope)
What's rocky on the outside, space-age on the inside, and isn't flame retardant? It's Luke Skywalker's family kitchen.
George Lucas caught our imagination with the little details of domestic life in a galaxy far, far away before wowing us with space battles and exploding planets. Calling to mind the interiors of Japan's famous Nagakin Tower, Aunt Beru's kitchen was stylish, simple and easy to clean. And just look at that shelving!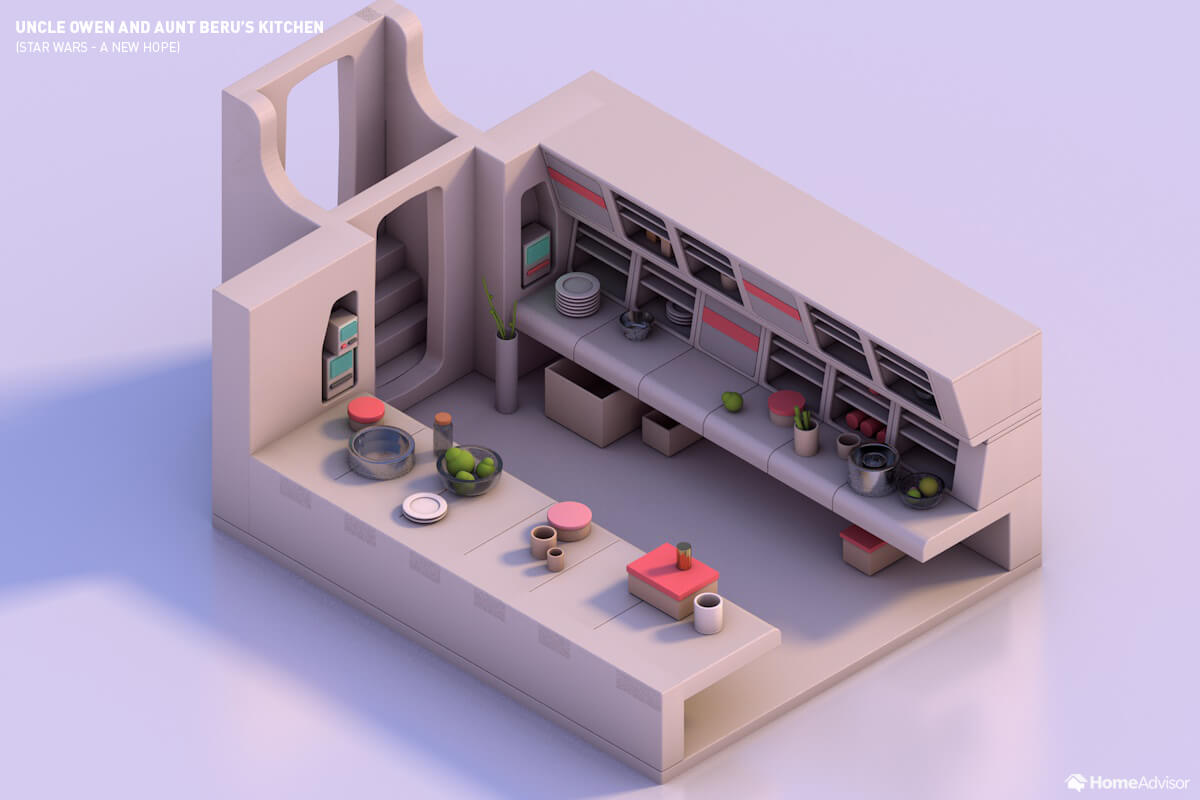 What direction do you plan to take your kitchen in: retro kitsch, scene-of-the-crime, or a space-age bachelor pad?
Sources:
Sims, Amanda. (2016). 13 of the Best Movie Set Kitchens of All Times.food52.com
Harth, Stephanie. (2015). 10 all-time best movie kitchens.domino.com
Nine Homes. (2018). Incredible Hollywood movie kitchens as memorable as the films.homes.nine.com.au
Rock & Co. (2017). Famous Movie Kitchens.rockandco.com
Tonelli, Lucia. (2018). 23 Of Our All-Time Favorite Hollywood Kitchens. elledecor.com
Wookieepedia. (2018). Lars Kitchen. starwars.wikia.com
1 Comments