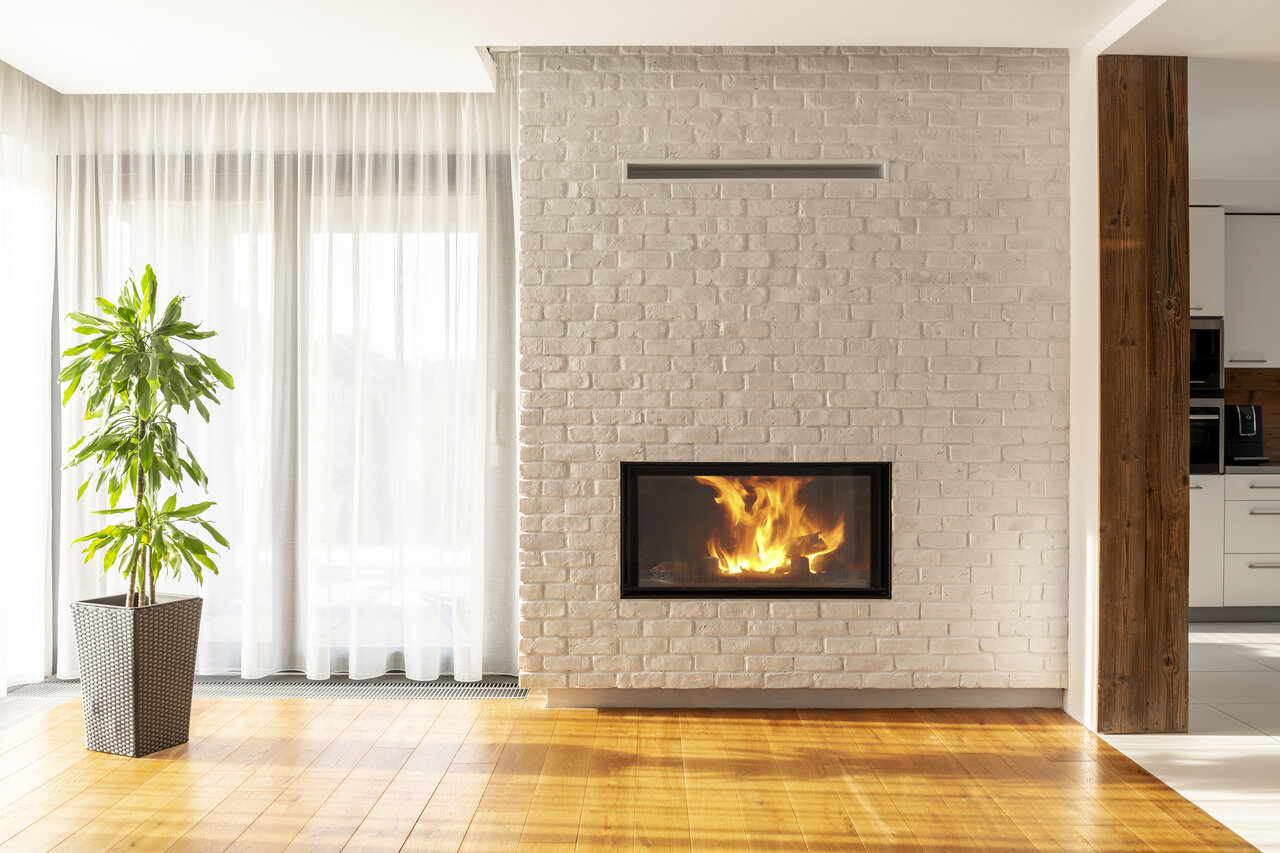 The fireplace is the heart of a home. The reunion place where all the family gathers around. And it's important to keep it looking pristine with a new coat of paint occasionally. This is an easy home improvement project that needs a few hours to complete and adds a great deal of value to your home. Our guide features the best paint for brick fireplaces to stay looking great season after season.
On This Page:
Best Types of Brick Fireplace Paint
You can easily bring your whole living room to life just by choosing the best paint for fireplace from our list. Whether you want to bring some playful and unexpected colors or just highlight the brim and fire of the burning logs, we have all the info you need to find the best paint for the job. These are the best types of brick fireplace paint in the market.
Primer
Primer is the base coat of your painting job. For many, it's the crucial step needed to get the most vibrant and even colors possible. Make sure you prepare and clean your brick surface before applying. A soapy water brushing will remove dust, ashes and mildew and dry quickly. This is recommended if you want the best paint for whitewashing brick.
Pros
Cons

Seals the surface
Helps the paint bond better

Extra layer of work
Need more materials
Acrylic
Acrylic paints are designed to be used both indoors and outdoors. If you have your fireplace in a patio, you can use acrylic to renovate it.
Pros
Cons

Great range of colors
Better color retention

Needs replacement sooner
Needs Primer
Latex
This is the most popular and best way to paint brick fireplace projects. It's recommended for interior projects thanks to its expansive coverage and even application.
Pros
Cons

Needs less coats
Works both inside and outside

Rubbery feel
Needs special prep
Sheen
The reflective quality of your paint is called sheen. The popular options are eggshell, semi-gloss, and glossy. The lower the sheen the easier to apply and the less imperfections that will show. Semi-gloss paint might be too reflective in a bright room and takes more work to apply. The benefit is less work cleaning and lower likelihood of staining.
If you are not sure what is the best option for you, consider a consultation with a local painter to get sound advice.

Color
There are many color schemes that will make your fireplace shine. It all boils down to personal taste. But there are some proven guidelines that can help you achieve a specific effect. Don't forget that the best way to paint fireplace brick is to follow your vision and have fun.
Color
Effect
White

Modern Look
Highlights the area

Black

Dramatic feel
Stages the fire

Whitewash

Rustic vibe
Natural brick color bleed
Painting a brick fireplace is a great experience that can truly give your home a makeover with a limited investment.
FAQs
How often should I paint my fireplace?
Depending on frequency of use and level of maintenance, you should retouch your fireplace every year. Ideally, you want to clean it up and give it another coat of paint at the beginning of summer.
How should I clean my fireplace?
After every use, make sure you clean remaining ashes and burnt logs. Then sweep the base and clean the walls with a soapy water solution to prevent smoke from staining the paint job. You might want to get a soft medium brush, sponges and a towel to dry excess water.
How do you prepare your brick fireplace for painting?
The most important thing to do is to make sure there is no dirt, dust, oil or any other substance that will prevent the paint from bonding or sealing the brick. If there are significant crack or holes, using plaster to cover them and smooth them out. This will assure the primer and paint set properly over the surface.
No Comments Yet