Staining wood is not an easy as painting. It could be messy and time-consuming task that requires some experience to achieve good results. But with our helpful tips, this guide gives you the info you need to get the ideal roller or brush for your next DIY wood staining job.
On This Page:
Best Roller for Staining Decks
The best roller for stain should have a high-quality foam cover. This material can hold enough stain to cover large surface areas, which is crucial to the staining process. You'll be able to complete the job more easily if you can spread the stain or paint with each pass.
Roller Cover
The roller cover or sleeve is a critical tool to get the job done. A good roller cover allows you to finish your project in less time, with no mess and an even coat of color.
Polyethylene fibers and foam are the best material for roller covers. They absorb more stain and minimize splatter.
4-inch length roller covers work well on detailing and small areas. For larger areas, use the 9-inch roller to speed up the process.
Ready to start your
deck staining job

?Find Pros
Nap
If you're staining rough or texturized surfaces, it's best to choose a nap size of 3/8-inch to 1/2-inch. For plain and smooth surfaces, choose a 1/4-inch and 3/16-inch nap. If your surface is even smoother, stay with 3/8-inch nap to hold a good amount of stain and help spread it out quickly while avoiding drying up.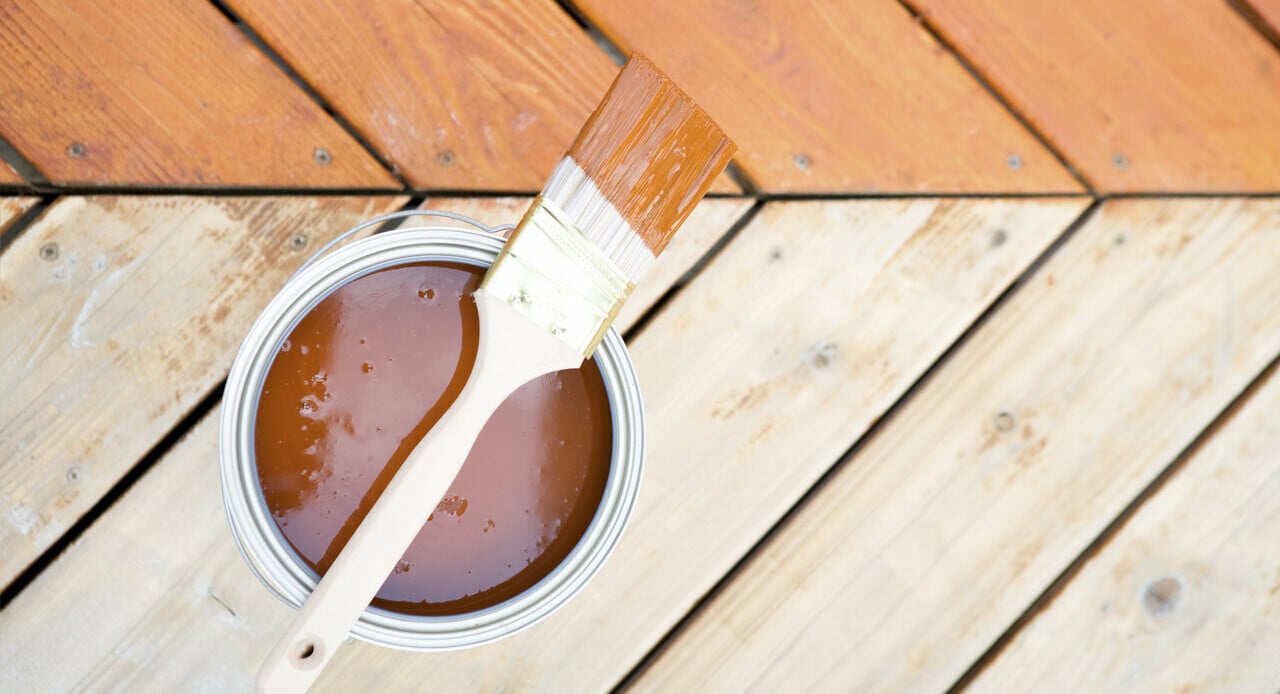 Accessories
Organize yourself better with appropriate trays, pole, handle, cloths and sponges that make the stain job easier. A sturdy tray is a must-have to achieve a thin and even coating.
Pole extensions are also nice to have. Since handles usually have a standard thread, even the common painter stick works well and helps avoid awkward bending while you paint. All of these accessories are important to prevent splatters, leakage and hard-to-clean messes. This aspect makes many DIYs think twice before embarking on deck or fence staining jobs.
Best Roller for Staining Fences
The best roller for fence stains should be light enough for you to swipe up and down constantly with no effort. A 4-inch roller is light enough for this repetitive movement while also providing good coverage on fence boards.
When staining fences, it's best to pair your roller with a 3/8-inch nap cover that holds a good amount of stain. For corners and gaps, use a 2 ½-inch brush for easier detailing. And for best results, put clothes down on the floor to avoid stain splatters and use a sturdy tray.
FAQs
Can I wipe stain instead of brushing or rolling?
Wiping stain is a good alternative. When using this method, just be sure to pay attention to your cleanliness and uneven coloring. Some professionals wipe instead of brush but, in these cases, they have one or two assistants cleaning and wiping the excess stain with large clothes.
It is better to paint or stain wood?
There are cons and pros to each. Stain penetrates better in the wood and protects it longer. Paint is cheaper at the beginning but needs more maintenance over time. Stain is more expensive at the beginning, but you save more during prep and later on maintenance. And while paint allows you to customize with colors, stains also have some hues and solid color options.
Do I need to hire a professional to stain instead of doing the job myself?
Staining is a messy job that requires experience to achieve the best results. If you feel you'd be better off with professional help, you can always hire a professional deck or fence staining pro near you.
Ready to start your
deck staining job

?Find Pros
No Comments Yet