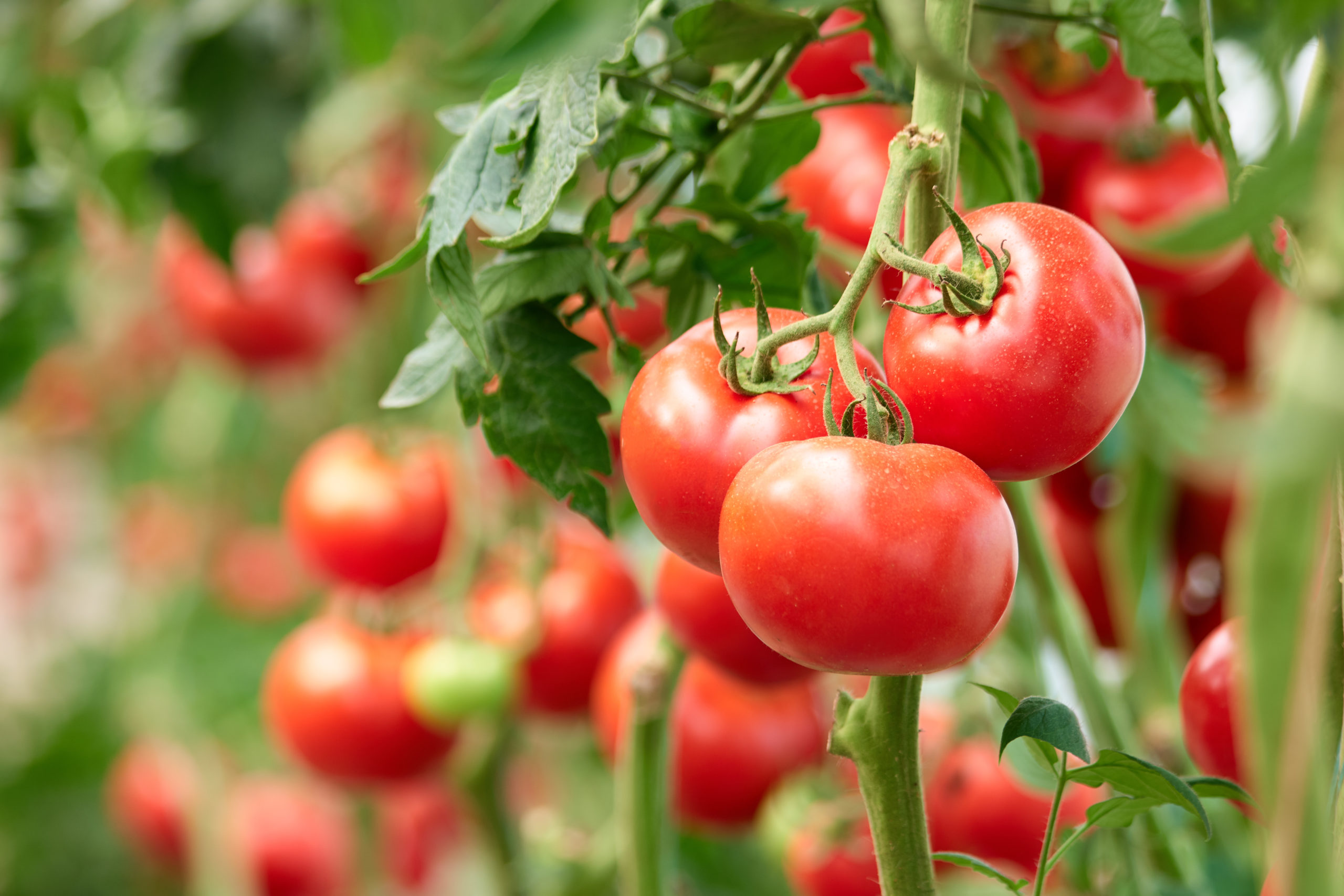 HomeAdvisor's Best Tomato Plants Guide lays out a number of rewarding tomato cultivars that are appropriate for gardeners of varying knowledge levels. Six tomato varieties, picked for their yield, use, and level of maintenance required, are the best for growing in gardens. Those varieties are bing cherry, black cherry, hundreds and thousands, Juliet, Maskotka, and tumbler tomatoes. Nine smaller types of tomatoes are most apt for growing on patios: Balconi red, BushSteak, celebrity, cherry cascade, New Yorker, patio princess, sweet 100, tumbling Tom, and window box roma tomatoes.
On This Page:
Best Garden Tomatoes
| Variety | Best for |
| --- | --- |
| Bing Cherry | Easy to care for, drought resistance |
| Black Cherry | High yield, salad tomato |
| Hundreds and Thousands | Acidic flavor, salad or sauce tomato |
| Juliet | Disease resistance, sauce tomato |
| Maskotka | Cracking resistance, snacking tomato |
| Tumbler | Compact size, sunny climates |
Tomatoes can be successfully cultivated in a variety of settings since they grow on vines. The most common place to grow tomatoes is in a garden.
Best Cherry Tomato Plants
Cherry tomatoes are considerably smaller than regular tomatoes. Although minuscule in size, cherry tomatoes have just as many uses and cultivars as other tomatoes! For ideal plant care, do your research on the best tomato gardening practices.
Black cherrytomatoes are a high-yield heirloom tomato which needs support to grow. They are quite round and taste great in salads.
Bing cherry tomatoes are easy to care for and are particularly drought-resistant. This sweet and juicy tomato variety is appropriate even for new tomato gardeners.
Juliet tomatoes, though somewhat closer to grape tomatoes, are resistant to many diseases. Often made into sauces, Juliet tomatoes have thicker skin than that of a cherry tomato.
Get Help From a Landscaping Pro
Best Hanging Tomato Plants
Many types of tomatoes suitable for growing while hanging are on the smaller side. Those listed here are no exception.
Maskotka tomatoes cascade over containers and resist cracking. Producing great amounts of sweet, bright cherry tomatoes, Maskotka tomatoes do not grow well in extreme temperatures.
Though tumbler cherry tomatoes do not grow as large as Maskotka tomatoes, they do yield nearly as many fruits. These dark red cherry tomatoes grow best in direct sunlight.
Hundreds and thousands tomato plants also produce many small fruits, which are not nearly as sweet as true cherry tomatoes. They are delicious straight from the vine, or in salads or sauces.
Get Help Landscaping Your Garden
Best Patio Tomatoes
| Variety | Best for |
| --- | --- |
| Balconi Red | Compact plant size, sweet flavor |
| BushSteak | Large tomato, quick to produce fruit |
| Celebrity | Disease resistance, rich flavor |
| Cherry Cascade | Juicy tomato, high yield |
| New Yorker | Cool climates, canning tomato |
| Patio Princess | Compact plant size, high yield |
| Sweet 100 | Heat resistance, high yield |
| Tumbling Tom | Sweet flavor, high yield |
| Window Box Roma | Small tomato, many uses |
Though some tomato cultivars need lots of room to grow, others do just fine in smaller spaces. Ponder on the types listed below when choosing which to grow on your patio.
Best Tomatoes for Containers
A small plant size is arguably the most desirable trait of a tomato successfully grown in a container. In this article, containers include planter boxes and oddly-shaped vessels, but not pots.
BushSteak tomatoes grow no more than two feet tall, and bear fruit quickly. These hardy plants make up for what they lack in height in the size of their tomatoes.
With slightly larger plants than BushSteak tomatoes, window box roma tomatoes grow smaller fruit. Window box roma tomatoes are sweet and suitable for snacking, salads, and sauces.
Sweet 100 tomatoes give high yields of cherry tomatoes and are resistant to heat. However, they require large containers and careful pruning.
Best Tomatoes to Grow in Pots
Since some containers are larger than the average pot, even more compact tomato cultivars are best for growing in pots. If you need help growing your potted tomatoes, hire a gardening service professionals for knowledgeable assistance.
Aptly named, patio princess tomatoes indeed grow well on patios. Reaching a maximum height of about two feet, patio princess tomatoes produce many round fruits.
About twice the size of patio princess tomato plants are those of the celebrity tomato. A sturdy, disease-resistant variety, celebrity tomatoes have a rich flavor.
New Yorker tomatoes are quick to bloom, and flourish well in cooler climates. Produced in high yields, bright red New Yorker tomatoes are ideal for canning.
Best Tomatoes to Grow Upside Down
Similar to hanging tomatoes, tomatoes that are grown upside down tend to be on the smaller side. They may grow from trellises, cages, or suspended containers, among other arrangements. If those vessels seem difficult to set up, look up the cost of installing landscaping professionally.
Tumbling Tom tomatoes are a trailing variety which is easy to grow. Large quantities of sweetly flavored fruit grow from one plant.
Another trailing type of tomato which bears slightly smaller fruits is the cherry cascade tomato. Cherry cascade tomatoes are juicy and can grow in high yields.
Rather rare among those varieties of tomatoes best for growing upside down, Balconi red tomatoes are not a trailing type. Balconi red tomatoes can grow in especially small containers and are an exceptionally sweet variety!
Consult With a Landscaping Pro

---
No Comments Yet
You can be the first to comment!