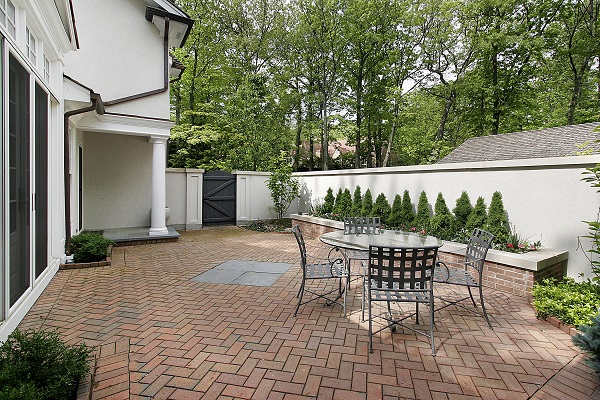 A well designed and built paver will invite you, your family, and your friends to hang out and make it an unforgettable night on the patio. It can also boost your home's curb appeal, or make your pool deck the place to be. So when choosing the best type of paver, you should look for a material that is both good looking and long lasting
On This Page:
Best Pavers for Patio
Concrete and brick are two of the most popular patio paver options for homeowners. For your patio you want a paver material that withstands the elements while looking great.
Concrete
If you live in a warm, dry climate, you should consider concrete. Cement is easy to install and is fairly cheap, so it might be the best paver for your patio if those are your main concerns.
However, if you live in an area that is colder, and gets a lot of rain or snow, concrete can crack and will have moisture residue left over if not power-washed often. And even though in recent years there have been many developments in cement to make it look better, it still has more of a low-end, brutalist look.
Brick
Brick is a versatile choice and can elevate a plain backyard to a classic hangout space. Since you can lay brick in many forms, you have a lot of design options, even though it's not available in many colors.
The cost to install a brick paver patio depends on the type of material you choose. It might be costly, but it is important to have a professional install your brick, as it is no easy task. Also, make sure to take care of any issues that could lead to unevenness in the ground before bricklaying. Hiring a local brick paver installer can help reduce costs.
Find Paver Patio Pros Near You
Best Pavers for Driveway
There are two options for the best pavers for driveways, concrete and cobblestone. Concrete is easy to install, cheap and versatile, but can crack or stain in cold weathers. Cobblestone is more expensive but will last much longer, is low maintenance, and can be laid in many different designs. Either of these is a great choice, so you should consider personal taste and the overall design of you home to choose the best paver for your driveway.
A good-looking driveway can boost the value of your home and is well worth its cost. Since it's going to get a lot of traffic, look for durable materials. First, however, you should decide if you want an impervious driveway, which is the traditional choice, or a permeable paver driveway, that can withstand water and cooler temperatures but can only be laid in certain patterns.
Find Paver Driveway Pros Near You
Return to Top
Best Pavers for Pool Deck
For your pool deck, there are two main options: flagstone and travertine. You want to make sure you are using a material that has enough traction to avoid slips and falls. Your paver should also be durable enough to withstand the water and any pool cleaning chemicals while looking great. Choosing the best paver for your pool deck will come down to personal choice and the design of your pool.
Flagstone
Flagstone is versatile, comes in many colors, and is visually stunning. It is also textured, which helps with traction – important around a pool. And since it is natural stone, each piece is unique and has a custom-made feel. The cost for flagstone installation depends on the exact type of stone you choose, so it's worth planning ahead and ordering enough materials.
Travertine
Travertine is also a natural stone and an eco-friendly choice. These types of pavers are very common in outdoor patios and pool decks and will give your pool a classic look. Travertine also insulates heat, which can help when you go in and out of the pool during those warm months. The cost to install a travertine paver might be high if your pool deck requires a lot of costume design. If that's the case, consider travertine tile, which is thinner and cheaper.
Get Quotes From Local Paver Pros
No Comments Yet