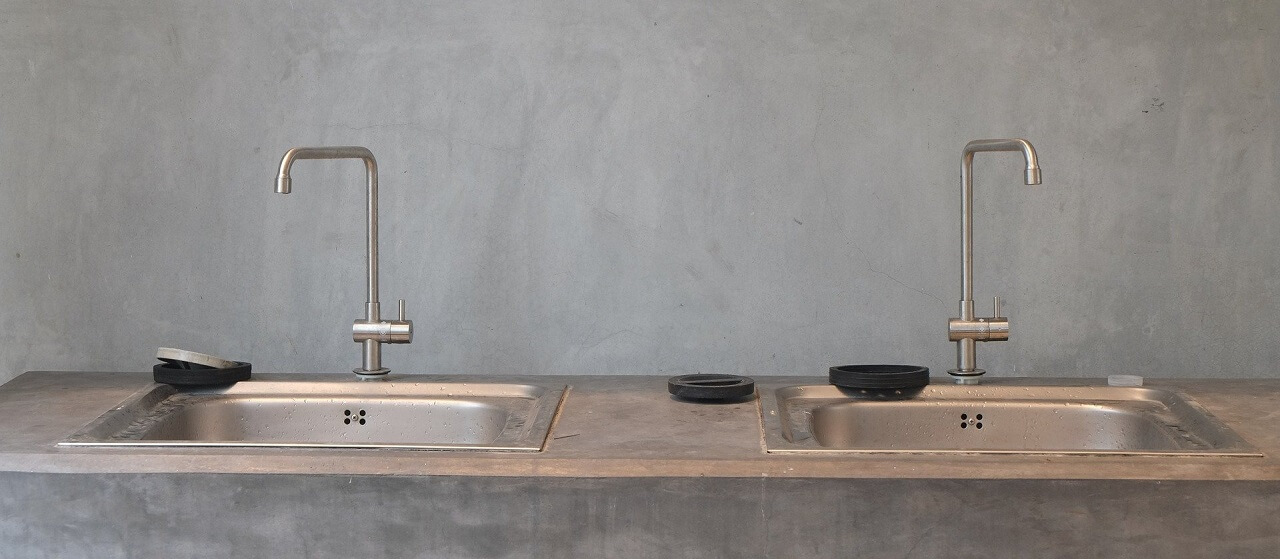 Every home could use extra space for cleaning tasks. Make everyday chores easier with the best utility sink to fit your needs and lifestyle. For the modern craftsperson or today's busy family manager, a well-designed utility sink is essential. Choose the style and material that helps you work faster and keeps your space looking great.
On This Page:
How to Choose the Best Utility Sink
Since utility sinks come in many styles, sizes and materials, it's important to consider what you plan to use it for. Most styles have the following features either built-in or as an option. Features to consider when choosing a utility sink should depend on your intended use. Features include:
Depth: Choose the depth of your utility sink based on the tasks you'll use it for.
Double Basin: When you need one side to wash and another to rinse or dry, a double basin saves time.
Sloped Bottom: Sloped bottoms on your utility sink keep water flowing down the drain.
Sound Dampening: If you prefer to work in a quiet environment, choose a model that absorbs sound.
Utility Sink Styles
There are five different installation styles for utility sinks. Depending on your sink's location and the chores your to-do list, there's a right style for your home:
1. Drop-In
Installed to fit into a countertop, drop-in styles are the best utility sink for laundry rooms. The lip of the sink peeks over the edges and the basin sits below the counter. This setup offers storage space for your supplies and keeps your room organized.
Pros
Cons

Easy installation
Work well with most countertops

Grime builds up around lip
Less modern look
A drop-in sink is an easy solution to your everyday needs. Learn more about them and keep things simple.
2. Undermount
Undermount utility sinks sit completely underneath your counter. They create a flush, seamless look with no edges. Their contemporary design also provides storage space underneath the counter.
Pros
Cons

Easy clean up
Modern look

Some don't work with laminate countertops
3. Wall-Mounted
With the base directly on the floor, wall-mounted utility sinks ditch the countertop. Installation of these compact sinks is straightforward, if you have a secure wall.
Pros
Cons

Good for small spaces
Affordable

Don't hide clutter
No storage
4. Floor-Standing
The best utility sinks for garages are floor standing. With four legs that hold a large tub, these sturdy designs are meant for heavy use.
Pros
Cons

Don't hide clutter
No storage
Even heavy-duty sinks need TLC sometimes. For clogs, leaks or drips find sink repair services near you and keep your sink's functionality.
5. Portable
Installing a faucet costs between $150 and $350. But if you need to move your sink around, a portable design is best for you. These movable options usually connect to a hose for convenient transportability.
Pros
Cons

No plumbing required
Lightweight

No faucet
Material may not withstand heat
Ready to start your
Sink Installation

?Find Pros
Types of Utility Sink Materials
Utility sinks come in a variety of materials, each with their own characteristics. Understanding each type of material is key to choosing the right sink for you:
Utility Sink Costs by Material

| Type | Cost |
| --- | --- |
| Acrylic | $50 – $600 |
| Stainless Steel | $200 – $1,000 |
| Enameled Cast Iron | $350 – $2,500 |
1. Acrylic
Price: $50-$600
Highlight: Tough, durable and almost impervious to chemical reactions. Excellent for use in bathrooms, garages and utility rooms. It's not as durable as stainless steel or cast iron and doesn't come with the high-end look of those options, making it unsuitable for kitchens.
2. Stainless Steel
Price: $200-$1,000
Highlight: Durable material that, while it dents easily, holds up to extensive and heavy use. Excellent in areas that require easy cleaning and sanitizing, like kitchens. Although durable, it can react to some chemicals, like bleach, which clouds its appearance.
3. Enameled Cast Iron
Price: $350-$2,500
Highlight: Extremely durable and built for extreme wear and tear. Easy to clean and excellent in all styles and uses. Although an excellent choice for almost any application, the high price often makes acrylic or stainless a better choice.
Best Utility Sink for Every Room
| | |
| --- | --- |
| Laundry Room | Acrylic or Cast Iron Floor or Wall Mount |
| Kitchen | Stainless Steel or Cast Iron Drop-in or Undermount |
| Garage | Stainless Steel or Acrylic Floor Mount |
| Utility Room | Acrylic Basin or Drop-in |
Best Utility Sink for a Laundry Room
Choose an acrylic material for laundry rooms because bleach can hurt stainless steel. Style depends entirely on the space you have and what you'll use it for. If you're thinking of soaking large things like blankets, you'll want a large floor or wall mounted style.
Best Utility Sink Options for Your Kitchen
Utility sinks in your kitchen should match your main sink in both style and material. So, if you have a drop-in stainless steel sink, your smaller utility sink should match it.
Best Utility Sink for a Garage
Stainless steel and acrylics make the best utility sink for a garage. Both stainless steel and acrylic tubs can take heavy abuse from garage use, although stainless may dent. Dents in stainless steel are typically only cosmetic and don't affect function.
Best Sink for a Utility Room
Utility room sinks often have small wall mounted or floor mounted sinks. You'll find the best material and style for this area depends heavily on what you'll use it for. For example, if you're going to rinse and hang a mop, you'll want a larger acrylic sink.
FAQs
What are the uses of a utility sink?
Utility sinks are great for heavy-duty tasks. They come in handy for washing large items or clothes. Many people use them for bathing their pets, dyeing their hair or rinsing off paint.
What's the best faucet for my utility sink?
Choose a utility sink faucet that serves your needs and matches other fixtures around your home. Consider the spouts and valves that'll make your job easier and offer the durability you need.
Can I add a cabinet to a floor-mounted utility sink?
If the sink is still accessible for repairs, you can hire a contractor to install a vanity around your floor-mounted utility sink.
Ready to start your
Sink Installation

?Find Pros
No Comments Yet