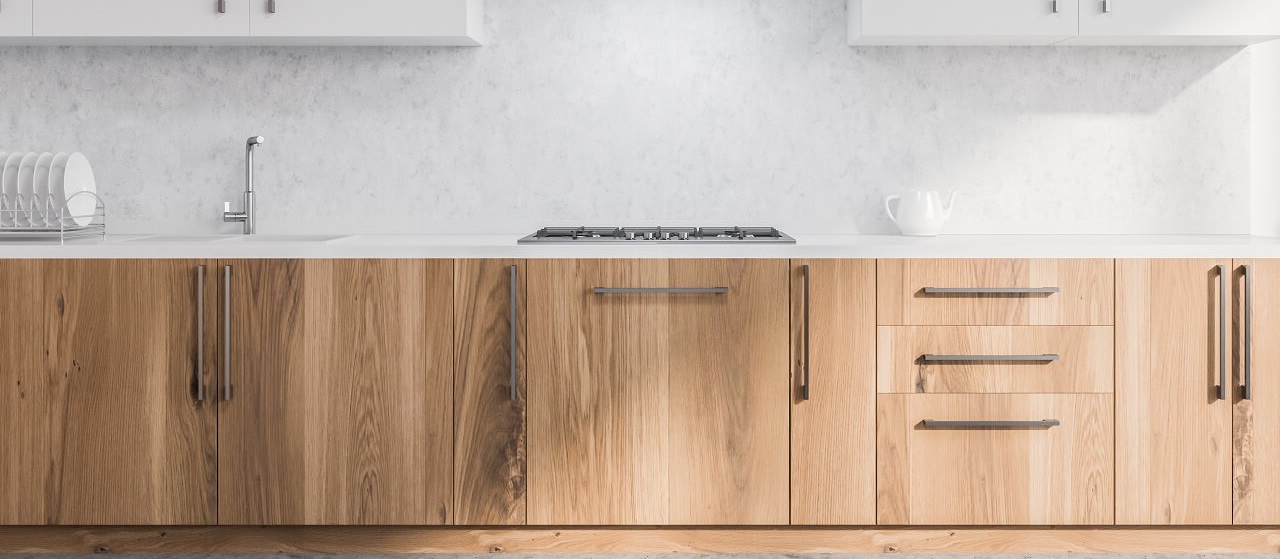 Though you may not realize it, cabinets are among the most used items in your home. This is why they need to be durable and also aesthetically pleasing. Use our guide to help you change or repair the cabinets in your kitchen or bathrooms and find the best woods to match your sense of style and keep you within your budget.
On This Page:
How to Choose the Best Wood for Cabinets
Choosing the best wood for your home cabinets often comes down to simply one of taste. However, standards in furniture grade plywood with hardwood veneers and hardwood supports make a great choice no matter what the situation.
Consider these factors when choosing a wood type for your cabinets:
Design: You'll want it to match the design of your current home. For resale reasons, you'll want a consistent design theme throughout your home.
Durability: You'll want to find a durable material, like hardwoods, for high traffic areas like a kitchen.
Location: Bathrooms need woods that withstand moisture or are adequately sealed. Offices can use any type.
Budget: Try to purchase woods that match the quality of other materials in your home.
Best Wood for Cabinets
Cabinets made out of hardwood veneers with high grade plywood are the most durable for kitchens and bathrooms.
Upgrading your home cabinets with a durable investment that adds value to your home. Make your remodel a success with the best wood for cabinets and the best cabinet contractor near you.
1. Red Oak
Red Oak is the most commonly used and the best wood for kitchen cabinets. Its complex grain patterns make it a naturally beautiful best wood for stained cabinets, while its medium price makes it an attractive option to homeowners.
Pros:
Commonly available
Classic hardwood
Dent resistant
Cons:
Difficult to paint
Expensive compared to most hardwoods
Red oak cabinets cost $300 to $1,700 each. They're a common variety that lends itself well to contemporary home designs. It's also extremely durable.
2. Poplar
Soft and economical, poplar is a light wood that is less durable than others but provides an inexpensive alternative. Add character and soft tones to your home with the straight grain and uniform texture of poplar. Some consider it one of the best woods for painted cabinet doors.
Pros:
Easy to stain
Moderately inexpensive
Extremely common
Cons:
Dents easily
Not the best natural appearance
Requires a durable finish
Poplar cabinets cost $100 to $1,000. You can find these premade or from custom cabinet makers. Since it's the most commonly available hardwood, it's a little cheaper than other types.
3. Maple
With a naturally creamy color, this solid hardwood is naturally scratch and dent resistant. With its fine, smooth grain maple is the best wood for painted cabinets. It also looks great when stained or glazed.
Pros:
Popular and common
Durable
Excellent ROI
Cons:
Expensive
Hard to paint correctly (better to stain)
Not as durable as oak, hickory or mahogany
Maple cabinets cost $250 to $1,500 each, depending on the size. An extremely popular cabinet material, you'll often find it combined with birch paneling for the sides or back.
4. Mahogany
Mahogany is a luxurious hard wood that is considered among the best wood for cabinet doors. This top of the line lumber is the best wood for stained cabinets, where it shows off its natural beauty and rich colors.
Pros:
Beautiful aesthetic
Extremely durable
Distinct look
Cons:
Expensive
Tough to fix
Hard to paint
Mahogany cabinets cost $300 to $2,000 each. It shouldn't surprise you to find a set of $50,000 cabinets in a home with a larger kitchen.
5. Plywood
Cabinet grade plywood consists of glued and laminated wood that varies in cost and appearance. Ranging from AA to E, plywood offers a range of prices that is good in quality and durability. Most high-grade plywood has more durability than many hardwoods. For excellent structure and design, choose a plywood with a hardwood veneer.
Pros:
Extremely strong
Durable
Won't warp
Cons:
Not a solid hardwood
Difficult to repair
More expensive than MDF
Plywood cabinets cost 20% to 50% more than MDF. A hybrid of hardwood and plywood make up most high-end cabinetry.
Remodel your kitchen or bathroom, get a cabinet installation cost estimate, and find the best cabinet contractors near you for an easy and successful project.
Ready to start your
Wood Cabinet Build

?Find Pros
Best Wood by Cabinet Part
Best Wood for Cabinet Drawers
Drawer construction often requires a combination of woods: one for the outside construction and another for the drawer bottom. The stability and durability of maple make it an excellent option for the box, while plywood is great for the inside.
Best Wood to use for Cabinet Doors
Hardwoods such as mahogany and oak are best for cabinet doors. Paint grade hard maple is ideal if you plan to add color to your cabinets.
Wood for a Bathroom Vanity
Solid oak vanities are the strongest materials. This includes birch, maple and oak.
Best Wood for Cabinets Per Room
| | |
| --- | --- |
| Office | Laminates and Plywood |
| Bathroom | Engineered and Sealed Wood |
| Kitchen | Design Matched |
What Is the Best Wood for Office Cabinets?
Furniture grade plywood makes excellent cabinets for offices. They resist warping and are extremely strong for use with heavy objects. But always choose something that will match what you already have.
Consider these key factors:
Design
Durability
Resale value
What Is the Best Wood for Bathroom Cabinets?
Bathroom cabinets require careful consideration, as they are in constant contact with water. Look for these characteristics in the best wood for bathroom cabinets:
Moisture resistance
Strength
Ability to paint or stain
Oak and maple wood are good options for bathroom cabinets, especially when sealed and painted.
What Is the Best Wood for Kitchen Cabinets?
For kitchens, there is no "best wood" to choose. Here, personal preference, design and budget all determine which wood you choose. Maple, oak, hickory, furniture grade plywood, engineered wood and even some softwoods work. You'll want to match your home's quality and design to meet the expected ROI of 70%. Kitchens are one of the largest selling factors in a home.
Consider these factors:
Durability for constant use
Design
ROI
Ready to start your
Wood Cabinet Build

?Find Pros
No Comments Yet