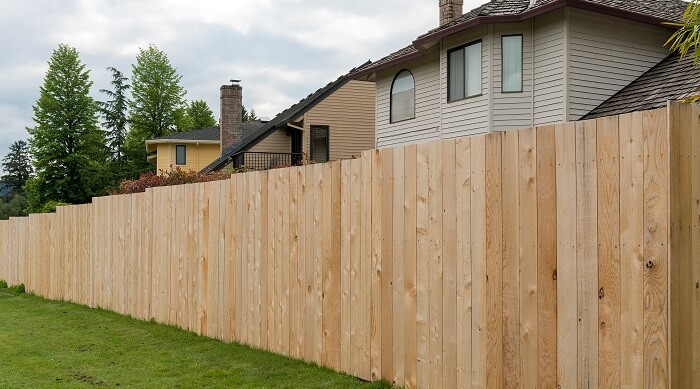 Fences enhance the beauty of your home, increase your property value, and create a sense of privacy. Find the best wood for your fence and consider the look that you want as well as your budget. Learn more about each type of wood and decide on the style that works best for you with our handy guide.
On This Page:
Best Wood for Fences
Wood is categorized as hardwoods or softwoods. Hardwoods come from trees with broad leaves that fall in the autumn. They are traditionally for furniture but are among the best woods for horizontal fences due to their durability and the aesthetics of their natural grain.
Softwoods like pine, cedar, cypress and redwood come from evergreens. Because they work well for construction, these are the best types of wood for fence posts. Their natural resin prevents termites and molding.
| Type | Pros | Cons |
| --- | --- | --- |
| Hardwoods | Durable High-end look | Expensive |
| Softwoods | More affordable Termite-resistant | Less durable |
Best Wood for Vertical Fences
Vertical fences are a traditional staple of American homes. Find the best wood for a picket fence or the best wood for a privacy fence among a variety of options that match your budget and sense of style.
1. Pine
The most affordable of all, pine is among the best woods for picket fences because it is also durable. Use it for picket or prefabricated fences and treat it with insecticidal preservatives to keep bugs away. Stain pine wood with a water repellent and prevent rotting.
2. Cedar
The natural oils in cedar repel insects. Treat it with paint and wood stains to keep it from turning gray in color, increase the lifespan of this wood, and preserve its natural beauty. This mid-price wood is among the best wood for fence panels.
3. Cypress
Naturally insect-repellent and durable, cypress is the best wood for outdoor fences. It is naturally rot-resistant and has a longer lifespan than others. It grows naturally in the South, which makes it pricier due to transportation costs.
4. Redwood
The most high-end and best wood for vertical fences is the redwood. Its beauty and quality make it the most durable solution for visually appealing privacy fences in your home. Stain your redwood to resist insects and rotting.
Get Help Choosing Wood for a Fence
Best Wood for Horizontal Fences
Build a contemporary, stylish enclosure for your home with a horizontal fence. Build it with hardwoods and ensure that your construction lasts longer and has a more high-end look.
1. Ipe
Imported from Brazil, this is the best wood for horizontal fences because of its superior durability and undeniable beauty. It requires little maintenance and ages well, so many people choose not to stain it. It is more expensive than most, but worth it to many homeowners. Source yours from responsibly harvested forests and make sure it includes an FSC-certified wood stamp.
2. Balau
This tropical hardwood is characterized by its beautiful colors and excellent value. It is durable and reliable, naturally resistant to insects and molding, and is moderately priced.
Find local fence contractors to install a beautiful fence in your home and maintain your sense of privacy.
Repair your fence with a local fencing professional and maintain the beauty of your home.
FAQs
What type of wood fence lasts the longest?
Each type of wood has a different lifespan. Cedar is the longest lasting and has a durability of 15 to 30 years depending on care and maintenance.
What is the best material for fencing?
Cedar, redwood, and pine are popular fencing materials. Each type has its own benefits and all 3 are among the best fencing materials.
How much should a wooden fence cost?
Installing a wooden fence can range between $1,600 and $4,000, depending on the materials and cost of labor. Use the fencing cost estimator to find out how much your home improvement project costs.
Consult With Local Fence Builders Near You
No Comments Yet