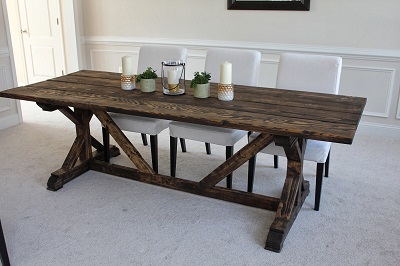 Eating your meals at a hand-crafted table is a one-of-a-kind experience that feels nourishing and refined. Choose the best wood for your tabletop and consider three main factors: durability, grain, and cost. Use our guide to find the wood that checks all the boxes and create the beautiful table that you envisioned.
On This Page:
Best Wood for Tabletops:
Building a large or small table with the best materials possible and create a solid and aesthetic construction for your home. These are the best tabletop woods available:
Type
Characteristics
Maple

One of the hardest woods
Straight, closed grain
Medium Cost

Oak

Hard-wearing and heavy
Open grain
Medium Cost

Walnut

Strong and very durable
Open grain
High Cost

Hickory

One of the hardest woods
Contrasting grain
Medium Cost
Talk to Local Furniture Makers
Maple
For a hardwood that is durable, maple is the best wood for paint. With its straight, closed grain maple takes paint very well and is also moisture resistant. This makes it one of the best woods for kitchen tables that will get a lot of use.
Oak
Oak is a heavy, hard-wearing wood that is perfect for frequent use. Its open grain is beautiful, making it one of the best woods for coffee tables that are stained and kept indoors. It is a medium-cost wood that has low durability and poor insect resistance.
Walnut
Craft a stunning table with the beauty and durability of walnut. This handsome wood is best for dining tables, with their impressive open grain and natural luster. Though expensive, walnut delivers a long-lasting high-end look.
Hickory
Best for farmhouse tables, hickory is a rustic-looking hardwood that lasts decades. Its lovely light color and contrasting wood grain warm up any indoor area.
Craft custom furniture and use our cost guide to get an estimate of the cost to build furniture. And if you want to make your own furniture but don't have the tools or skills, find a furniture maker near you and make your dream project happen.
Find Furniture Makers in Your Area
Best Wood for Outdoor Tables:
Pine is the best wood for picnic tables that live outdoors. It is:
Inexpensive
perfect for tables that get a lot of wear and tear
features an even closed grain
takes paint and stain well
Best Wood for Live Edge Tables:
With lengths up to 20 feet, cherry slabs make the best wood for live edge tables:
reddish brown color
ages beautifully
easy wood to work with
straight grain, uniform and smooth texture
great workability
easy to cut, carve and mould
moderately strong and durable
Restore your beautiful vintage furniture with wood furniture restoration services near you and bring back the original beauty of your furnishings. Wondering how much it will cost? Use our handy estimator and calculate the cost to refurnish furniture.
FAQs
What kind of wood is used for kitchen tables?
Walnut, maple, oak and cherry are among the favorite types of wood for kitchen tables.
What is the best wood for live edge table?
The most popular woods for live edge tables are cherry, walnut and redwood.
Is pine a good wood for tables?
Depending on the purpose, pine can be a good choice for furniture. Though not as durable as others, it is still a strong wood that works great for rustic styles and outdoor tables.
Speak With a Custom Furniture Maker
No Comments Yet