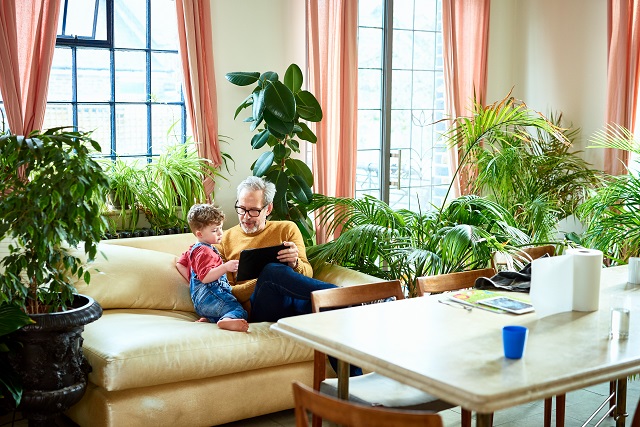 Humans have always been one with nature. That's why we love sunsets and mountain views and the sound of waves crashing on a beach. For a long time, our homes supported this connection to the natural world, but technology, population growth, and other forces of modernity are making it harder to sustain.
Enter biophilic architecture, living spaces that connect occupants more closely to nature. "People are craving natural elements in their homes and workspaces to create balance," says Laurence Carr, a New York City-based interior designer and nominee of the 2019 ASID Design for Humanity Award.
Whether you're planning a major remodel or just looking for ways to make your home more positive, healthful and relaxing, incorporating a bit of biophilia will help get it done.
What exactly is biophilic architecture and biophilic design?
Biophilia is buzzing now, but it originated in a 1984 book by Edward O. Wilson, an American biologist who believed that humans have a deep psychological connection to other living organisms. Biophilic design is the idea that "the presence of natural, outdoor elements like plant life provide measurable benefits to our mental and physical well-being," says Carr.
In short, nature is life-affirming, through its power to reduce stress, speed up healing, and promote overall wellness. "There is more and more science to explain how people are psychologically and physiologically responding to experiences with nature," says Bill Browning, co-founder Terrapin Bright Green, a design firm in New York City dedicated to environmental strategies.
As the population continues to grow and urbanize, the benefits of nature are becoming increasingly important to the built environment, including homes. "Designers, in particular, have been quick to recognize the possibilities for transforming environments to encourage positive psychological effects," says Sarah Barnard, a Los Angeles interior designer who specializes in creating calming restorative environments that support physical, emotional, and mental well-being.
Five ways to practice biophilic design, at any budget
We asked these and other leading designers and architects for the best ways to bring biophilia home. Here are five strategies to consider.
#1 Create visual connections to nature
Studies show that exposure to nature can lower blood pressure, reduce stress levels, and stimulate pleasure receptors in the brain. And the positive effects hold even when people see the same view of nature over and over, according a report co-authored by Browning called 14 Patterns of Biophilic Design,
The visual connection to nature can be achieved in the home with large expanses of glass or large windows. Twenty minutes of daily visual connection is ideal, so nature views work best in rooms that you use a lot, like a kitchen or family room. You don't need a mountain vista outside for the strategy to work. A small landscaped area is enough nature, especially if it offers a diversity of wildlife. Talk to a local landscape professional for more ideas.
While not as effective as the real thing, simulated views of nature have some benefit. You might try a false window or skylight, basically a backlit panel with a realistic view of nature printed on it.
"Utilizing vacant wall space to display transcendent artwork is another option," says Barnard. "The art can be literal interpretations of nature or pieces that spark a memory or connection to outdoor spaces like an abstract painting with lush greens or a vivid poppy red." The average cost to hire an interior designer or decorator is $6,000.
House plants are another easy way to bring nature indoors. "Touching and smelling plants can reduce physiological and psychological stress and elevate mood," says Carr, who looks for species known to optimize air quality in our indoor spaces, like the Mass Cane, a popular variety of Dracaenas with vibrant foliage. "Even the potting soil works to nourish us through 'outdoorphins,' which release cytokines that act as natural antidepressants," she adds.
#2 Use natural (or naturalistic) materials
Is a glass wall out of your budget? Not to worry. "When natural views are not readily accessible, there are many materials and objects available that reflect and reference nature," says Barnard. For a recent home near the ocean, she installed a set of hand-carved American Walnut sconces that were designed to evoke striated sea coral. "The ocean-inspired silhouette embraces organic elements, even when the home is distant from nature," she explains.
Browning recommends the use of "fabrics, carpet, and wallpaper that have biomorphic patterns," for example rounded and irregular shapes that evoke plant life and other living forms. This can be an affordable biophilia design strategy, with the average cost to install wallpaper being around $500.
A fresh paint job is another chance to practice biophilia. "Choose an outdoor-inspired color palette," says Carr. She likes calming hues, especially blues or colors with a blue base, with accents of verdant green, "for example an accent table in Farrow and Ball's Folly Green, to support balance and harmony." Find local painters to help with the project.
#3 Incorporate sound
We all know how relaxing the sound of nature can be, say from a flowing river or crackling fire. Research shows these sounds also improve concentration, energy, and motivation. Incorporating water elements in and around the home is one of best ways to harness sound. The average cost to install a built-in backyard water fountain or waterfall is $2,500. But there are many less expensive solutions, such as a hanging fountain that attaches to a fence or wall, for as little as $150.
Another affordable choice is installing a birdbath in the backyard, to encourage both birdsong and the sound of splashing water.
Technology also makes it easy and inexpensive to bring nature sounds into your home. It's as simple as asking your smart speaker to play forest sounds or ocean sounds or just about any natural auditory experience you can think of.
#4 Play around with light and air
There's nothing less natural than an environment with perfectly even temperature and light. That's why outdated office buildings often feel depressing. Subtle changes in temperature and light mimic the natural world, reducing boredom and stimulating concentration.
Simply getting into the habit of opening windows when the weather is conducive is a great start to this strategy. "Letting natural light and fresh air into your home is the simplest way to invite nature into your interiors," says Barnard. You might also install motorized shades and program them to go up and down at certain times of day, varying natural light levels. The shades will also curb energy costs by either reducing or increasing solar heat gain, depending on the season.
Technology can help again here, in the form of smart light controls that mimic circadian rhythms, turning bright during the day and glowing softer as the overnight hours approach. Look for a local smart home integrator about creating this experience in your home.
#5 Create areas of refuge
In nature, places of safety and security, allowing the mind and body to rest and recover. Think of the edge of the woods, as a refuge from weather and predators. The same feelings can be achieved in the home, for example through the creation of a cozy window seat or alcove bed. Outdoor refuges are also effective, especially if they carry an element of mystery or surprise, as with an unexpected treehouse, garden folly, or other outdoor structure. Find a landscape architect or designer in your area who can help with the project.
How to get started
Biophilic design is still new, but more and more professionals are versed in it. When assembling your team for a major home remodel, look for architects and interior designers with LEED and WELL accreditations. They'll have education in environmentally friendly and sustainable practices that inherently tie into biophilic design.
No Comments Yet