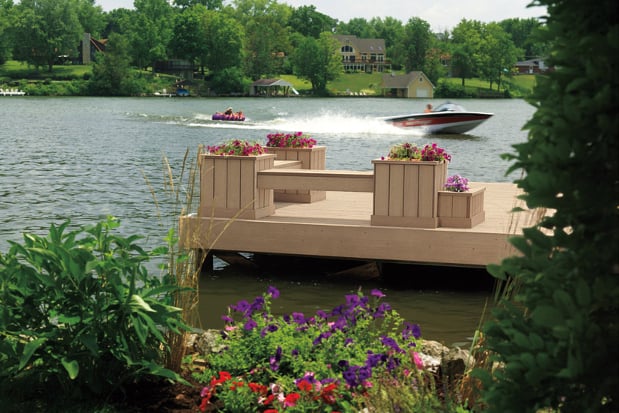 When the summer sun heats things up, it's time to find temporary relief. But when you get tired of the pool and the kid's are bored by the sprinkler, it's time to hit the local lake. And after sitting on a fish-infested shore or a rocky beach, it may be time to buy a boat. That's the fun part: purchasing a vessel, hooking it to a trailer, hitching it to your truck. But when you get to the lake, there is one necessary piece of equipment you may be lacking: a boat dock. If you use a yacht everyday, you may be able to afford a public waterfront, but most of us have to haul our pontoons back and forth then wait in line at a communal port when a personal pier would be so much easier. Or, if you live near a lake and use your speedboat everyday, a permanent water dock is an absolute must.
Boat Dock Design: Shapes and Sizes
The first question to ask when investing in a boat dock is "How much will it be used?" This will determine if you need a portable or stationary model. Then ask, "How will it be used?" The dimensions of your vessel will determine the pier's size and shape, and they come in many different forms (T, L, I, or U shapes) to accommodate your portage needs. Here are common models to keep in mind:
Stationary: If you live next to a lake, you'll definitely want stability. A stationary pier is planted into the shore, moored to the ground, and suspended several feet above the water. You could get a flush-top model so no poles or supports poke through the surface which allows for more space and less hazards. Or a sundeck pier (a double-decker) could be erected for entertaining large groups; plus, they're great for shores with steep inclines.
Wheeled: These transportable jetties are great for hauling. They can roll to any shoreline and wheel into the water for quick entry. The wheels fill and temporarily anchor the pier in place, but it can just as easily be pulled up and moved to deeper water when needed.
Floating: These harbors fall in between permanent and temporary since they're attached to the shore but buoy in the water, making them great for lakes with fluctuating tidal levels. However, floating models can also be anchored out in the lake to act as a floating platform for swimmers (and a gangway could be attached to form a connecting bridge).
Accessories: No water dock is complete without a ladder, a mechanical lift, or a slip. Other ideas include guardrails to protect the kids, tires to save your ship from bumps and bruises, a roof system to block the sun, benches to take a load off, and a locker to keep your life vests and valuables safe while you're away.
How much does boat lift cost to add to your dock? Generally between $5,000 – $7,000, though this number can vary depending on many factors. Consult with a dock installation professional for an accurate cost figure.

Ready to start your
Dock Building Project

?Find Pros
Boat Dock Construction
Now that you have a boat dock design in mind, you have to think about the body of water. Do you cruise on a lake or river? Does it have a rocky or sandy bottom? Is it shallow or deep? Does the tide change often? Is the current strong? All these factors determine the structural makeup of your boat dock construction. Frames can be constructed of concrete, treated wood, or metal. And decks are often available in wood, aluminum, or vinyl. Wooden boat deck construction is most often cedar, given this wood's light weight, ability to float, and ease of installation. Aluminum can be used in more extreme conditions since it won't rust, splinter, rot, crack, warp, or rust. Metal is flexible with the current yet durable against the elements, though the decking may get very hot in the sun. Vinyl is slip-resistant and needs no painting or waterproofing, but it may erode overtime. And concrete, since it's so sturdy, expensive, and time-consuming, is often reserved only for commercial boat dock construction.
Boat Dock Repair and Installation
Boat dock installation is not a viable DIY project. True, there are a number of reasonable boat dock installation kits that can streamline the process or enable knowledgeable DIYers to efficiently install a dock that will last for several years. Yet, for overall quality and for a long-term solution, investing in site-oriented boat dock installation is generally best. And, if boat dock installation is best handled by a professional contractor, boat dock repair is a must for professional expertise and troubleshooting….
Nothing causes more wear and tear than moisture; therefore a pier will ultimately need some assistance. If you hire a professional for your boat dock installation, you may cut down on unnecessary boat dock repair, especially when it comes to specialized construction and proper anchoring. Plus, these experts can give advice about which model works best for you. However, eventually you may suffer a bent frame, a cracked plank, broken floats and bumpers, dry rot, or other damaged caused by ice, age, or simple waterlogging. If so, boat dock repair is a project for specialized contractors with the prerequisite skills for the job in order to ensure your family's safety and a guaranteed long-term fix.
No Comments Yet