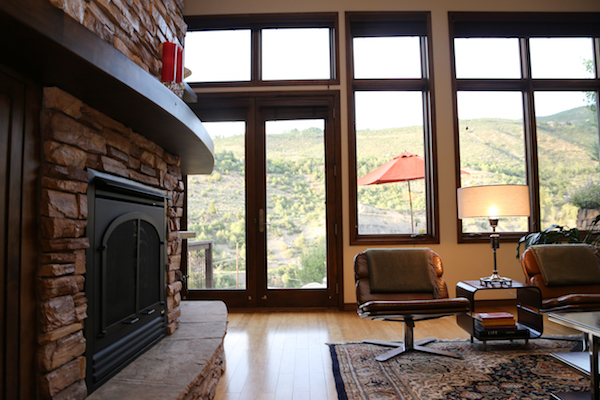 Everyone enjoys the snap, crackle, and pop of a fire, especially on those cold winter evenings. They emanate romance, ambience, and, of course, warmth. But though there are lots of modern designs with elegant construction, nothing beats the rustic look of a brick fireplace. Not only does their handmade appearance recreate a touch of the past, it also gives a room a sense of scale. Today, hearths are often built into a corner or blend in with the wall and its surroundings, but the boldness of brick can help accent a room and become a beautiful fixture in itself. So if you're in the market for a new installation or simply want to remodel what you already own, here are a few tips about brick.
Diverse Designs
When people think of a brick fireplace they sometimes envision a grandiose mantle, a giant hearth, and an overwhelming sense of size. But though they can be majestic they don't have to always feel imposing. Often these hearths only use brick-blocks as a subtle emphasis along with other constructional components. But if you want to be unique, there are many interesting ways you can control the design of a new brick fireplace. A lot of it has to do with location. Why shove it up against a wall? Instead, angle it in a corner or possibly place it in the middle of the room as a centerpiece. Maybe even put it in a wall between two rooms, creating a double-view of the fire: it not only gives multiple areas access to the flames, it's also an interesting architectural accent. Plus, they can be large or small, come in any tone or shade, and of course they can be wood burning, gas, or both.
Fireside Facelift
Though they're durable, non-porous, and perfect for holding in the heat, brick fireplaces can also be expensive. A new one can run about $1,000-2,000 so if you don't want to rip out your old unit and build again, think about a remodel. Refacing your fa&ccedil:ade can be a cheap and easy way to refurbish the look of a room. A popular route is paint, though you must be sure it's heat resistant otherwise it'll blister and peel. Plus, paint is easily dirtied and can sometimes remove the interesting texture of a stone surface by making it appear flat and waxy. But you can also highlight the brickwork by surrounding it with sheetrock or other stone installations. Maybe add a new mantle or some wood paneling to create an interesting contrast. Or switch things up: highlight the existing structure by using other varieties of brick or maybe even salvaged wood for a little flavor. But once again, make sure all materials are fire-rated to avoid any hazardous threats.
Ready to start your
brick fireplace

?Find Pros
Outdoor Brick Fireplace
Though subtlety is often the goal, these structures can sometimes be large and in charge. So with the wrong combination of size, style, and color they can occasionally make a space look dark and small due to their grandness. Therefore, a good place to put one is right outside. An outdoor brick fireplace is a great exterior investment: they enhance your landscaping, are accessible all year long, and installing a gas-powered brick fireplace still works outdoors. Plus, their tough design is ideal for winter weather so they're great for cooking or roasting marshmallows. Just make sure they're made from materials that can withstand the elements and avoid rust. Also, they should be able to resist soot, grease, and oil absorption. They're still a big investment, so protect them with a sealer to evade discoloration and take care of repairs immediately. Restoration and replacement can be just as expensive as buying new, so constant upkeep is vital.
Brick Fireplace Repair
When installing a new unit make sure it's put in an appropriate location, has optimal air control, and is energy efficient. They're not just made of randomly stacked stones: it is detailed work that utilizes advanced engineering skills in order to exploit the heat safely. So it's smart to hire a pro even if you buy them off the shelves ready-made or invest in an insert: it's not worth the risk to your home and family to do it yourself. Also, these pros have plans and designs to choose from if you want it customized. However, the investment doesn't end there. Get your hearth inspected once a year (especially before winter). And anytime you see flaking or a crack in the mortar, call a contractor or chimney sweep before it gets worse. Other common brick fireplace repairs involve sagging chimneys, liner replacement (review chimney liner installation costs), fractures in the firebox, water leakage, or a bird's nest in your flue. Plus, if you ever smell gas, see smoke enter the room, or witness sparks flying, call in the experts who can diagnose and take care of the brick fireplace repair.
No Comments Yet