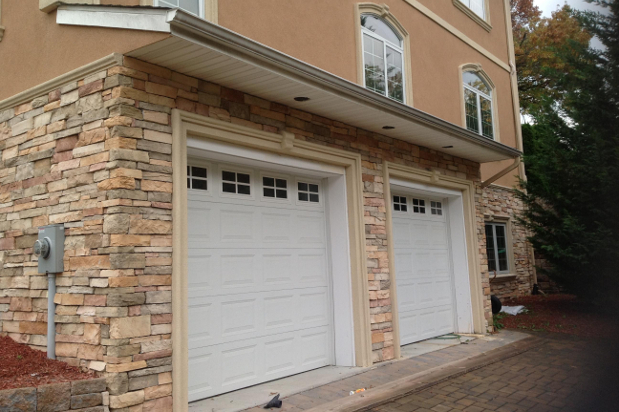 Also referred to as masons, these specialists aren't just laborers hired to lay down blocks over mortar. If you've ever seen them at work on TV, it looks like a simple, repetitive job, but that doesn't do these tradesmen justice. A lot of math, geometry, and physics is involved since brick is such a heavy material and requires special fortification. Therefore, most bricklayers have an extensive education at a vocational school specializing in masonry and then have a long apprenticeship with a contractor for years (mixing mortar, building scaffolding, observing brickwork, etc.) before being allowed take on a job alone. From there, many become supervisors for contractors, but since they can usually apply their knowledge to any kind of stone work, most go on to start their own businesses.
Multiple Missions
A bricklayer often builds walls and exteriors, but they're qualified to accomplish much more. They can also construct or repair chimneys and fireplaces, lay down flooring or patios, and install partitions and archways. Oftentimes, the words "brick layer" is a generic term for all masons, whether they deal with cinderblocks, natural stone, concrete, or other materials. So when hiring these professionals, make sure you're specific about your needs so they can properly prepare. It makes a difference if they're erecting a simple garden wall in your backyard or if they're designing, building, and fortifying a brick barbecue. Plus, small projects sometimes take longer and cost more than large ones. For instance, a one-of-a-kind hearth made from natural stone is going to require a lot of skill and expensive materials as opposed to a big, block porch that could be completed within a day. So before hiring a bricklayer, make sure they're fully informed about the nature of the project in order to avoid future problems and unexpected expenses.
Walling It Up
Of course, the main job of most brick layers is repairing and installing stone or block walls. Most of the time, following an architect's plans, they'll measure the area and then lay down the first row (or concourse). This initial footprint is essential to the rest of the structure and must be carefully stacked, positioned, and leveled, so often plumb lines or laser levels are employed throughout the project. Working from the outside corners inward, the concourses are then gently stacked and packed with mortar (to make the project go faster, an apprentice is usually on staff at all times mixing a constant supply). But these artisans are truly artists: for instance, no house has the same dimensions so they'll always have to cut on-site with special tools. So once again, before hiring, you'll want to inform a bricklayer of the type of wall they'll be building or repairing (retaining, load bearing, protective, decorative), the material it's constructed out of (limestone, brick, concrete block), its dimensions, its location (interior, exterior, landscaping), the lay of the land (sloping, flat, rocky, vegetation, clay or sandy soil), and if any site preparation, demolition, or drainage systems will be required before the project begins.
Brick Layer: The Lay of the Line
An important matter to discuss with your mason is how you'll want the finished product to appear. There's several ways the concourses can be laid, each coming with their own costs, skills, and timelines. If you simply want the block dry stacked, the job won't cost much beyond the materials since it's the cement walls which will hold the blocks in place (sometimes they're qualified to finish this project as well, though it calls for more skill, longer hours, and therefore higher costs). If mortar is desired, the project will take a bit more time and technique. And if you want decorative or interlocking blocks (with or without mortar) the job will require the skill of a specialist who'll charge a pretty penny.
Routine Repair
Brickwork is heavy and needs specific fortifications, so the quality and training behind each installation is essential, and the materials themselves are never cheap (masons typically charge by the block, so the price stacks up quickly). Therefore, these structures are a true investment and require proper maintenance. If the masonry starts to loosen, chip, or flake, or if the walls begin to lean, leak, sag, or crack, you'll need to call for immediate repairs. Give the contractor an idea of the damage and the size of the area they're working with so they can properly diagnose the problem (for instance, if it sags, you're dealing with soil and drainage difficulties). Plus, if they're prepared for the repair they can work more efficiently and give you an accurate estimate of the project.
No Comments Yet