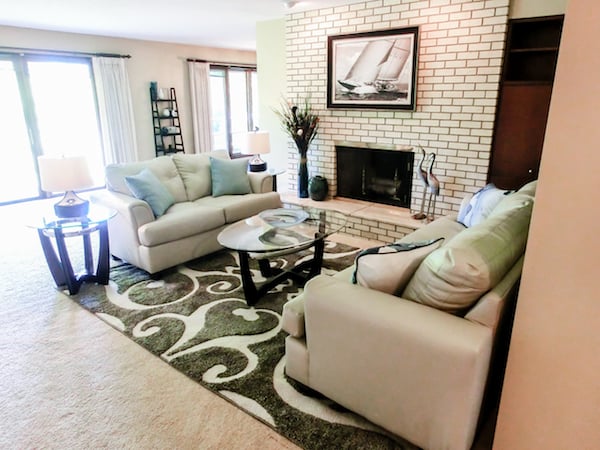 Just because your remodeling budget is small doesn't mean you have to give up your big remodeling ideas. You can still have the perfect new kitchen, bathroom, or basement–you just have to choose your options carefully. Follow these insider tips to realize a dream remodel or addition on a realistic budget.
1. Use laminate flooring instead of hardwood
Hardwood flooring is very popular, but it can also be quite expensive. To save money on new flooring, but to preserve the look of hardwood flooring, consider installing laminate wood flooring. Laminate is easy to install because, unlike conventional solid wood, it's pre-finished and may be glued down or applied over a thin foam paid laid on the subfloor. Some types are even adhesive-backed.
Another laminate flooring option that has become very popular is the grouted tile look. And, you never have to worry about the "grout" looking dingy.
2. Don't replace, refinish
If your cabinets are in good condition, consider refinishing rather than replacing them. This cost-effective measure provides a whole new look in your kitchen or bathroom without the major expense. Changing the hardware can also update your cabinets at a very small cost.
If your appliances still work well, but you can't stand the avocado green you can also refinish these in a new color. If you have mismatched appliances, refinishing is also an economical way to create an updated, unifying look.
3. Choose neutral colors
When selecting your appliances, cabinets or countertops, choose neutral colors such as almond or white. These are much less expensive than custom colors and add better resale value.
4. Install laminate countertops
Laminate countertops are the least expensive option, but like laminate flooring, come in a wide variety of styles to mimic the look of natural stone or other solid surfacing. A decorative edge in a solid surface material adds a decorative, inexpensive touch.
Ready to start your
Remodeling Project

?Find Pros
5. Choose chrome for plumbing fixtures
While there is today a demand for designer faucets and other plumbing fixtures, chrome is still the least expensive material of choice for those that are on a budget. Another popular trend is to combine chrome with another finish, such as nickel or brass, to make your fixture budget stretch farther.
Also, look for a faucet (or other fixture) with a lifetime warranty, which will save you money later as well.
6. Choose fiberglass for bathtub enclosures
Use one-piece fiberglass unit or three-piece fiberglass wall panels instead of ceramic tile. You will not only save on the material, but also on labor costs as fiberglass installation is a much faster process.
7. Use pre-finished decorative trim
Many companies sell pre-finished decorative trim. Pre-finished means a contractor will not need to paint or stain the trim, avoiding the additional cost of labor.
8. Order pre-hung doors
Here's another great way to save on labor costs. Pre-hung doors are actually hinged and installed into the frame before the door ever leaves the shop, which means the entire unit simply needs to be installed in the entry opening, a less time-consuming task.
9. Hang hollow-core doors
Another cost-saving door measure: order hollow-core rather than solid doors, which are much more expensive. However, hollow-core doors should only be hung inside a home as they will not be very secure as exterior doors.
10. Install a direct vent gas fireplace
If you'd like to install a fireplace, but you're on a budget, the direct vent gas fireplace is the way to go. A direct vent gas fireplace uses two pipes that lead directly to the outside. One pipe uses combustion air from the outside while the other vents the exhaust gas. You save money because no chimney flue is required, no additional piping is necessary and the roof is never penetrated.
However, be aware that direct vent gas fireplaces cannot be installed underneath or too close to an operating window to ensure proper ventilation.
Ready to start your
Remodeling Project

?Find Pros
No Comments Yet