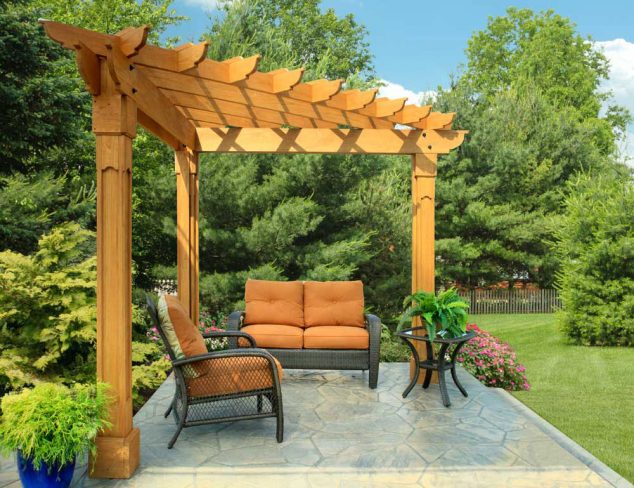 You already know that an arbor, pergola or trellis is a great way to add a shaded sitting area to your outdoor space. Here's what you need to know about the factors that will affect how much it'll cost.
Size. The more square footage you intend to cover with your structure, the more the costs will be. Bigger spaces require more materials and more time to build, all of which will contribute to a higher price.
Type of structure. Many people don't know the difference between an arbor, pergola or trellis. An arbor is a structure covered by latticework that gives shade to a seating area or for an entryway to a garden or yard. A pergola is a larger space than an arbor, and has four open walls and typically a lattice roof. A trellis is a flat, latticed surface that is used on the sides of an arbor or pergola. A trellis can also form its own structure. The size difference puts pergolas on the higher end of the range for the cost to build an arbor, pergola or trellis. Arbors are on the lower end of that spectrum. Trellises can be bought in prefabricated kits, which can help to bring the cost to build an arbor, pergola or trellis down compared to doing a custom build. You can also buy panels and cut them down to size for what you need, which can help keep the cost to build an arbor, pergola or trellis down.
Materials. The type of wood you choose for your project will have an impact on the construction costs. There is a wide spectrum of woods to choose from, and there is generally something for every budget. Make sure to talk to a professional about which wood species will work best for your conditions.
Concrete footing. To ensure the stability of your pergola or arbor it's important that you place the support beams in concrete. Thankfully, this actually doesn't add too much to the.
Details. After spending all the time and energy to build your new pergola or arbor, you're going to want to make sure it can withstand everything Mother Nature throws at it. You're also going to want to add a few decorative touches. How much these final touches cost depends on how much you want to spend!
Need to find a pro for your arbor, pergola or trellis?
Find Pros
---
No Comments Yet
You can be the first to comment!