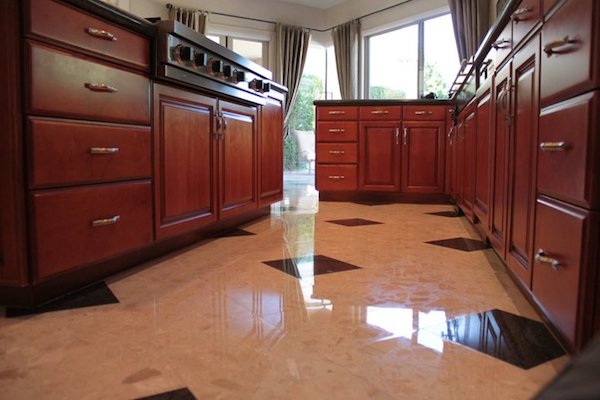 The cost of cabinet hardware can be perplexing to homeowners. Many are shocked to learn that the knobs and pulls they fall in love with cost more than the cabinets they'll be attached to. What makes them so expensive? The short answer probably goes like this: hand-crafted artistry, free market demand, and the cost of the material—roughly in this order.
Interestingly, these three same factors come into play when determining the cost of an engagement ring (although not in the same order). To take the metaphor one step further, much like a wedding, the larger cost and budget for a kitchen remodel can make cabinet hardware feel like a negligible cost at the outset. If you take the time to look at an itemized list of expenses, you may see hardware consuming an unexpectedly high percentage of the total cost. Rare and ornate cabinet hardware for a large set of kitchen cabinets can cost $10,000 to $20,000, or the entire cost of your neighbor's low-budget kitchen remodel.
So, How Much Should You Spend on Cabinet Hardware?
Not three month's salary, we can tell you that. Still, this question can be just as difficult to answer for many homeowners. After all, you certainly could spend three month's salary if you wanted. Moreover, while you don't want to blow your budget on this seemingly minor detail, the importance of knobs and pulls is consistently underestimated when it comes to the look of your cabinets and your kitchen as a whole. Feel free to speak with a cabinetry professional if you're uncertain about how to begin or where to look for the best hardware for your cabinets.
Ready to start your
cabinet hardware

?Find Pros
Often, the cheapest hardware you can find will cost no more than $100 total for your kitchen cabinets. These simple-looking pulls may work for your kitchen, especially for a kitchen with a sleek/contemporary/urban design that emphasizes simple lines and low maintenance. Don't be fooled into thinking these exorbitantly priced knobs and pulls are necessarily leaps and bounds better. At the same time, by being willing to spend $10-$25 per knob or pull, you can exponentially expand the decorative options for your kitchen. That said, these beautiful but economical pieces of cabinet hardware are still mass-produced and won't confer any sense of distinctiveness to your kitchen.
Cost Guidelines for Various Cabinet Hardware Materials
Keep in mind, while looking at these prices that many cabinet knobs and pulls use a combination of materials. Ceramic and metal combinations are a lot more popular than just ceramic. Some of these more elaborate combinations will reflect the price of the metal, rather than the ceramic. This is also far from a comprehensive list. Cabinet knobs can be made from virtually any reasonably hard material.
Glass— $3-25
Crystal— $3-$75
Ceramic— $1-$15
Resin— $3-$10
Stone— $3-$50
Wood— $1-$10
Plastic— $1-$5
Brass— $1-$200
Bronze— $1-$200
Copper— $1-$200
Iron— $1-$200
The Setting is More Important than the Metal
With an engagement ring, you know that choosing a platinum band is going to cost more than white gold. This is not true (at least not as true) with different metals and cabinet hardware. The wide range of metal for cabinet knobs and pulls has more to do with the difficulty of molding the metal into the proper form than the cost of the metal itself. This means that the cost of an intricately designed pull that has thin, curved accents and multiple contours is going to be more expensive. You'll also see a noticeable jump in price for pieces that must be individually fabricated, rather than mass-produced with a mold.
Ready to start your
cabinet hardware

?Find Pros
Something Old, Something New
You might think that the most expensive cabinet hardware is made from gold and other precious metals. True, diamond-encrusted hardware is exorbitantly expensive, but the most expensive cabinet hardware tends to be antique. The classic economics of limited supply and high demand makes the cost of antique cabinet hardware artificially inflated, much in the same way as a diamond ring or a gallon of gas. In fact, the demand for an authentic antique is so high that many manufacturers actually produce antique cabinet hardware replicas.
On the other hand, authentic antique cabinet hardware is the best way to ensure that your kitchen is truly one-of-a-kind and visually stunning at the same time. Antique hardware can also be accented with precious metals and jewels and can be valued at tens of thousands of dollars, especially if they're connected with a historically significant period or a famous estate. To this end, if you've got the money, you've got the money. For we mere mortals, however, another way of appropriating the look and ambiance of antique and replica cabinet hardware is to take a look again at more expensive, but still reasonably priced, metal. Weathered copper and bronze, for example, will have an established, nostalgic feel for a fraction of the cost of true antique hardware.
No Comments Yet