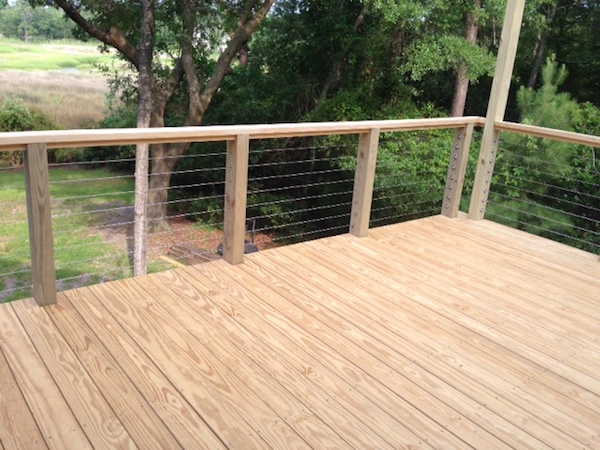 Banisters are installed around areas of the home for a variety of reasons. They act as a supportive handrail for staircases, provide a bit of privacy around a patio, and supply some security measures on high-rise decks. So though they are often seen as ornamental or decorative, they also have a slew of practical purposes. However, traditional wooden banisters, rails, and fences come with several problems: they're expensive, can easy damage over time, and they also obstruct the view. Though people often say good fences make for good neighbors, sometimes these cumbersome barriers can completely block you off from your surroundings. As an alternative that speaks to these issues, cable rails are a great solution.
Cable Railing Design
Cable railing is typically designed with several equally-spaced vertical posts, which are then connected through a series of horizontal wires. The wires themselves are usually made of 316 stainless steel rebar that is held tight between the poles by compression components. All the hardware stretching the lines is hidden within the posts in order to create a modern, clean look to the area. But just because it looks simple and exposed, these wire banisters are actually quite sturdy. The top handrail and wire are strong enough to hold the weight of several adults, allowing people to lean against them without worry. Plus, the metal pieces are made to stand up against outdoor elements. They won't rot, crack, or weather like wood, which makes these items particularly suited to wet areas of the country, especially around seaports, pools, beach properties, or rainy climates.
Indoor Reinforcements
Cable rails don't just belong on the outside, though. The reason people put them outdoors is because of their ability to open up a view. If you live near a beach, mountain, city skyline, or a lake, cable rail installation provides safety without hampering the scenery. However, the elegant simplicity of cable rails has recently arrived indoors, replacing conventional staircase and hallway banisters. Their long, sleek lines create both an aesthetic repetition to an interior while opening up the space so it appears larger. Plus, this trick of the eye can save you lots of money: the hardware and installation doesn't cost much compared to wooden products. They also come in any style (Asian, Classical, custom design) and can be retrofitted into preexisting posts and handrails as well.
Cable and Rail Fencing
Although rail fencing can provide boundaries to your adjoined decks and patios, they also have a few other benefits. One, they won't need any maintenance: no more staining, painting, or repairing broken boards. Two, wooden fences give you privacy, but they can also feel claustrophobic, intimidating, and can isolate you from your neighbors. And although glass-panel banisters provide transparent views, they tend to be expensive, are easy to smudge, and remain vulnerable to cracks. Finally, rail fencing is a great opportunity to get creative with your backyard fencing: Intertwine plants, such as vines or ivy, through the rungs to add a bit of nature to their modern style. Or maybe install them along walkways and sidewalks around the property to help corral the kids or lend assistance to elderly family members.
Cautionary Tales about Cable Rails
Though strong and inflexible, these banisters are still open and exposed, so make sure they're installed by professionals who can ensure they pass building codes. And if you have kids or pets, you may want to take special precautions. For instance, metal wires are thin and hard to manipulate, but kids may be able to use the steel ropes as a ladder. Therefore, remove nearby furniture, never leave kids unattended outside, and make sure the spacing intervals are closely knit. Also, pets could find a way to slip underneath the bottom rung, so for staircases and high-rise decks you may want to put plexi-panels along the bottom or stretch X-shaped figures between the posts to tighten up the gaps. Also, unless you live on a farm or ranch or take these added measures to tighten gaps, rail fencing isn't good for security, perimeter fencing. When cable fences are placed along the perimeter, anybody and anything could easily slip through the opening.
1 Comments