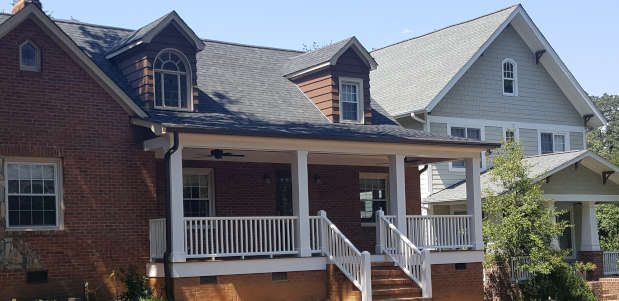 The short answer is yes, the long answer involves whether you should and if you should do it yourself. Depending on the state of your current wood finish and how big your porch is you may be looking at a huge project, especially if you don't have the right tools and equipment. The first thing you'll need to do is remove the old layers of finish, all the way down to the bare wood. For all but the smallest of porches, this almost always means something more than a stripper and sand paper. You can try it if you want, but once you've spent an hour to remove a two foot by two foot section, you'll probably realize there's a better way.
The DIY Route
If you're going to take this project on yourself, you'll want to get some equipment that will make the job easier to manage. A chemical stripper will soften your layers of finish to make them easier to remove. In fact, quality strippers will require nothing more than a strong garden hose to wash the finish away. For lower quality products, you may need a pressure washer to do the job. The added benefit of stripping your finish in this manner is that it will allow you to remove finish even from the hidden places that your hand tools could never reach. This process will leave your porch with a fuzzy residue that must be sanded off. You need to let your porch dry out for two or three days to make this work. A power sander will make things easiest, but even sandpaper will work if you have a little extra time and energy. Make sure you use sandpaper that's at least 80-grit for the best results.
Hiring a Porch Refinishing Professional
If you don't already have this equipment and chemical stripper, it might not cost that much more money to just have a professional come out and do the job. He or she will certainly have the equipment to do the job in a timely, efficient, and professional manner. Plus, they may be able to apply an industrial coating of porch refinishing product that requires more finesse than its residential counterparts.
Ready to start your
Porch Repair Project

?Find Pros
If you're reluctant to hire a contractor, you might also consider talking to your neighbors about their porches and decks. If your porch is peeling because of weather conditions, there's a good chance these neighbors are having similar problems. Refinishing a wood porch and a deck is essentially the same project. You may be able to go in together with the necessary equipment to defer a lot of the cost. If you want to make neighbor of the year, you might buy the equipment and lend it out to your neighbors in exchange for dinner or a case of beer.
Replace an Old Porch
There are several reasons your porch may be peeling. Weather conditions are a big one. Poor surface preparation is another, and don't make the same mistake twice. Before you apply your new wood staining finish, your wood should be completely dry, clean, and free from debris. Otherwise, your new finish is liable to quickly meet the same fate as the old finish. On the other hand, your finish may be peeling as a result of a deterioration of the wood itself. If this is this case or if your porch has seen too many winters in general, it's probably time to start thinking about replacing the porch altogether. Refinishing it may make it look better than it does now, but it's not a miracle process, either, and is likely to be short-lived.
No Comments Yet