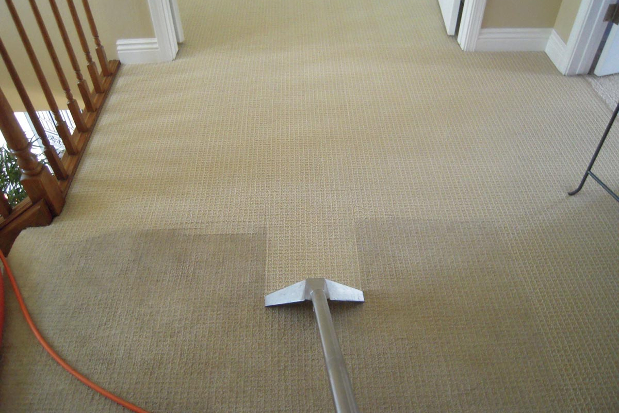 There's no way around it: Busy households attract dirt. Kids and pets are especially good at bringing the great outdoors back indoors when they get home from playing in the yard. Even in the quietest homes, dust and cooking residue can accumulate, dulling the colors of your carpets. Buying or renting carpet cleaning equipment is one alternative to professional home carpet cleaning services. Diligent, weekly vacuuming is not. Even the most pampered, shoe-free, pet-free, kid-free, stain-free carpet needs more than vacuuming. Dirt particles can permeate carpet fibers below the pile, invisibly and treacherously eating away at your carpet and substantially reducing its lifetime.
Types of Carpet Cleaning Machines
That said, more extensive carpet cleaning methods are no sure-fire way to a clean, healthy carpet. Misused carpet cleaning equipment can even make the situation worse. Dry-cleaning methods are often insufficient for badly soiled carpet. Steam cleaning methods require high pressure equipment and a deft touch to prevent odors and damage associated with lingering moisture. Here are some of the major types of equipment that are on the market today, along with a brief synopsis of their cleaning methods:
Carpet Extractor: Sometimes called a "steam cleaner," a carpet extractor pumps a detergent solution into the carpet, then sucks it out with a high-powered vacuum. Some models feature heaters, since hot water does a better job of breaking up oil-based dirt and stains. This system cleans deeper than most, but it will leave the carpet wet.
Self-Contained Carpet Extractor: This machine works on the same principle as extractor carpet cleaning equipment, but it includes a brush that scrubs the carpet between laying down the detergent and sucking it up. This type of carpet cleaning machine works well for large, industrial areas.
Extraction Restoration: This process adds to the extraction above by adding a rinsing aid, which will flush out chemicals and dirt more thoroughly—from this cleaning, as well as previous cleanings.
Bonnet Cleaning: This is a dry carpet cleaning machine in which a round pad, or "bonnet", is placed on a standard floor buffer. It uses friction to pull dirt from the carpet fibers. Though your carpet will dry faster, this is not a deep-cleaning method.
Most carpet cleaning equipment that you find will be one of the first two types. One of the main considerations is power. Professionals often use a truck-mounted system, which takes its power from a generator in the truck outside the house, allowing them to get more suction, meaning a drier carpet, and heated water, meaning deeper cleaning power. Most carpet cleaning machines sold to consumers are portable, meaning that they plug into the wall. This means limited power on both fronts. For this reason, many homeowners wisely leave this job to the pros.
Ready to start your
Carpet Cleaning Project

?Find Pros
Carpet Cleaning Equipment Considerations
If you do decide to purchase or rent a carpet cleaning machine, here are some things to consider:
Avoid over-wetting the carpet. Many of the rental machines that are found at retail and grocery stores don't have enough power to extract the cleaning solution adequately. If this happens, and the carpet stays wet for more than 24 hours, mildew and bacteria can grow in the carpet.
Use a mild cleaning solution with a pH below 10. (pH of 5 to 8 for wool and natural fibers).
If your carpet has a built-in stain treatment, use the right brand of solution so that the coating will not be damaged.
Use fans, along with a dehumidifier or air conditioner, to reduce drying time.
Asking questions and being armed with knowledge is the key to success in buying or renting carpet cleaning equipment.
No Comments Yet