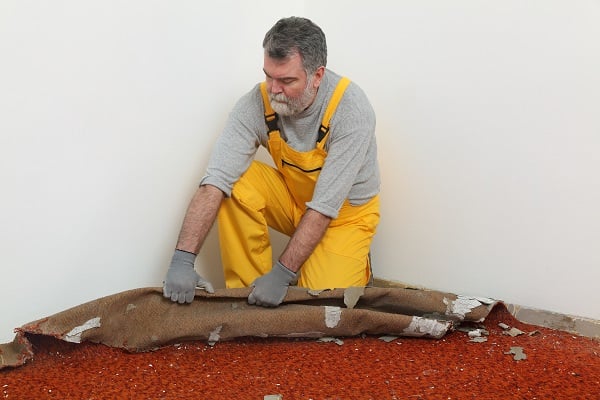 Once you've hired your carpet contractor to install your new flooring, you may think you're completely done with the project. Hold on one minute! There's still more you can do in order to help out the professionals before they arrive. Don't worry, these prep steps are easily do-able and require no specific skill, but they are necessary if you want the carpet installation to move faster.
Create a Workspace
When contractors arrive, they will need a place to work, outside and inside. Find them a place to park their truck that is most convenient. They'll be moving back and forth through the house, so make it easier for them. The quicker they can work, the quicker the project will be finished. As for the interior, this worksite is typically already designated, but even this can be improved with additional steps.
Pave the Way!
Sure you're getting new carpet, but not at the risk of your other interior flooring. As contractors move in and out of your house, they will naturally leave behind footprints, dirt, mud, sweat, and tears. Also, they may be carrying heavy equipment behind them that could otherwise damage your other flooring. Therefore, always lay a trail from the contractor's entryway to the area that is being refurbished. Use old towels, cardboard, or drop cloths. Or you can use old carpet squares; if you're replacing your carpet during this new installation, and you're just going to throw the previous flooring away, you may as well use if for this particular purpose.
It's a good idea to adhere these materials though. Tape down the cardboard or drop clothes in order to avoid any slipping when walking or carrying heavy materials. There is no point in saving your floors if you're actually creating more hazards to the contractors themselves. On hardwood floors or tile, you may want to be careful about how you adhere items: tape may cause damage to the finish, so possibly carpet padding would be a better resistor.
Clear the Way
Since most carpet is installed in high-traffic rooms (family rooms, living rooms, bedrooms) because of its plush comfort, your contractors will probably be moving back and forth past some precious, personal items. Therefore, remove any valuable breakables and fragile articles, such as vases, flowerpots, glassware, etc. that might be at risk along the path you've created. Contractors lugging heavy equipment, tools, and the new carpet itself may not see these items, so get them out of the way and store them temporarily in a safe area (another room, basement, garage, attic, etc.).
Finally, the room where the new carpet is being installed should be thoroughly cleared of furniture, TV's, beds, and even wall decorations, etc. The emptier the room, the easier it is to work because there are fewer items to negotiate and consequently more time can be spent on the project at hand.
Getting a Head Start
Once you've created a space throughout your house for the contractors, you may be able to give the contractors a hand. For a more thorough preparation, you could remove the pre-existing flooring yourself. Always ask your contractor if this is necessary. Some carpet may be able to be laid directly on your old flooring. Plus, many contractors probably include this type of removal service during their installation, so they may ask you to hold off on this step so that they can do the job right. Also, some flooring (hardwood and tile) may require specialized training to remove, so it could be best to leave it to the professionals. However, when ripping up old carpet, doing the job yourself could save you money off the estimated price and get the installation done quicker.
Before removing your old carpet, it is always a good idea to vacuum it first in order to minimize any dust that may become airborne and irritating. Also, when ripping up old carpet from the wall strips, make sure you are careful of any rusty nails or staples that may come loose. Also, make sure you have somewhere to put it. If the carpet is still good, you may want to store it somewhere. Why waste good carpet when it could be used as a temporary flooring someplace else (your garage workshop, your home-gym, or a basement hang-out). Afterwards, always make sure the sub-floor is dry and clean.
Carpet Installation
Carpet is a great investment, but it isn't free. Therefore, when you buy this type of plush flooring, why take the financial and physical risk of improper construction. Carpet is only as good as its installation, so once you've completed these simple prep-steps, leave it to the professionals to get the job done correctly for optimal comfort and guaranteed service.
1 Comments