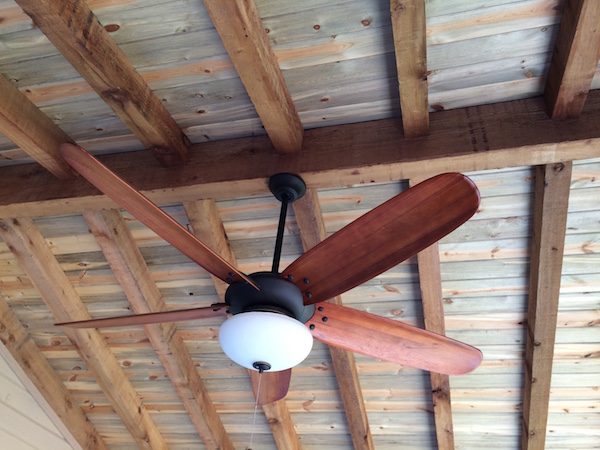 To finish a ceiling is, some would say, to have a blank canvas to work with. The unsung wall in any room (Sistine Chapel aside), it is truly the one keeping a roof over our heads. While outside, it's second nature to look up at the sky, very few do the same indoors. Perhaps it's because there's so little to look at. If that's the case, maybe it's time to spruce up our over (under?) looked top wall. A ceiling finish is worth a second glance!
Ceiling Fans
Probably the best way to get your ceiling to start looking up is with a ceiling fan. A fan will serve the dual purpose of adding texture to a blank space, and providing an inexpensive way to cool down. Today's ceiling fans are quiet, energy efficient, and often come with a light. A brass finish ceiling fan could add some old world charm to a room, while an enamel finish ceiling fan can lend a more modern feel.
Faux Finish Ceiling Medallions
Speaking of old world charm, have you ever heard of a ceiling medallion? Basically, they are disks made of molded plaster or carved wood attached to the ceiling where a fan, light, or chandelier hangs. Generally associated with old style elegance, a traditional one is both expensive and heavy (which can lead to problems over time).
A faux finish ceiling medallion has the same look as its older and more expensive cousin, but is made of a light and durable urethane. You get the same elegant appearance, but spend less money and time in both installation and upkeep. They come in many different styles and can be painted to match any room.
Ceiling Paint
In some cases, less is more. Instead of installing something new, maybe your ceiling just needs a pick-me-up. In many older homes, ceilings go untouched for years. This leads to color distortion and, of course, paint cracks and chips. If the situation sounds familiar, you might want to try a textured finish ceiling paint. This type of paint is designed to not only cover up the old paint, but to fill in cracks and even mask small dents or holes. It costs a little more than standard paint, but the coverage will be worth it.
Ready to start your
ceiling finishes

?Find Pros
Drop Ceiling Tiles
Many modern ceilings are formed of grids and tiles. Take a look around and see if any of your tiles has seen better days. The nice thing about tile is that replacing a damaged one is pretty simple. You just pop it out and slide in a new one. The bad thing about tile is that it's easily stained by moisture. Many savvy homeowners will purchase extra tiles when they are first installed so that a replacement will show the same amount of aging as the rest of the ceiling.
Tiles are sort of a pain to paint, as each needs to be done individually. In regards to budget, however, painting tiles is more cost effective than replacing them. Painting is a good option for yellowed, aged tile. If you notice a lot of moisture marks, though, you might be better off installing new tiles, and hiring a professional to check for leaks.
No Comments Yet