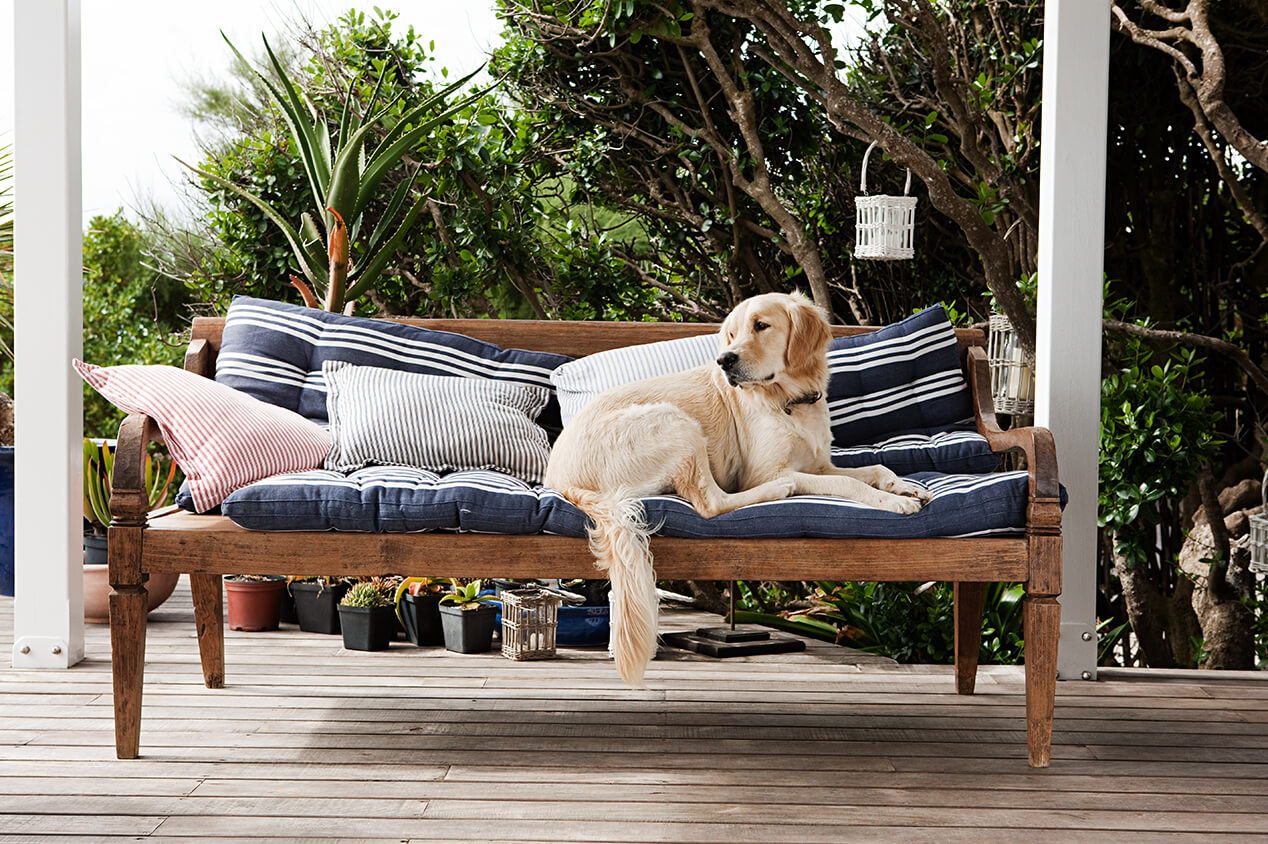 The idea of spending time with loved ones in a freshly designed outdoor space is exciting, and a revamp could be just the refresh your outdoor area needs. Thankfully, you don't have to break the bank to create a patio space you love.
Below is a list of cheap patio ideas that will help you stay within your budget without compromising quality. Plus, you'll find a few reasons why hiring a local patio contractor is less expensive than you might think.
With a strategic blend of professional help and DIY tactics, your patio can become a polished, comfortable space that makes you proud and doesn't hurt your wallet. Check out 13 fun and affordable ideas below.
On This Page:
1. Elevate Your Space With a Trellis Box Planter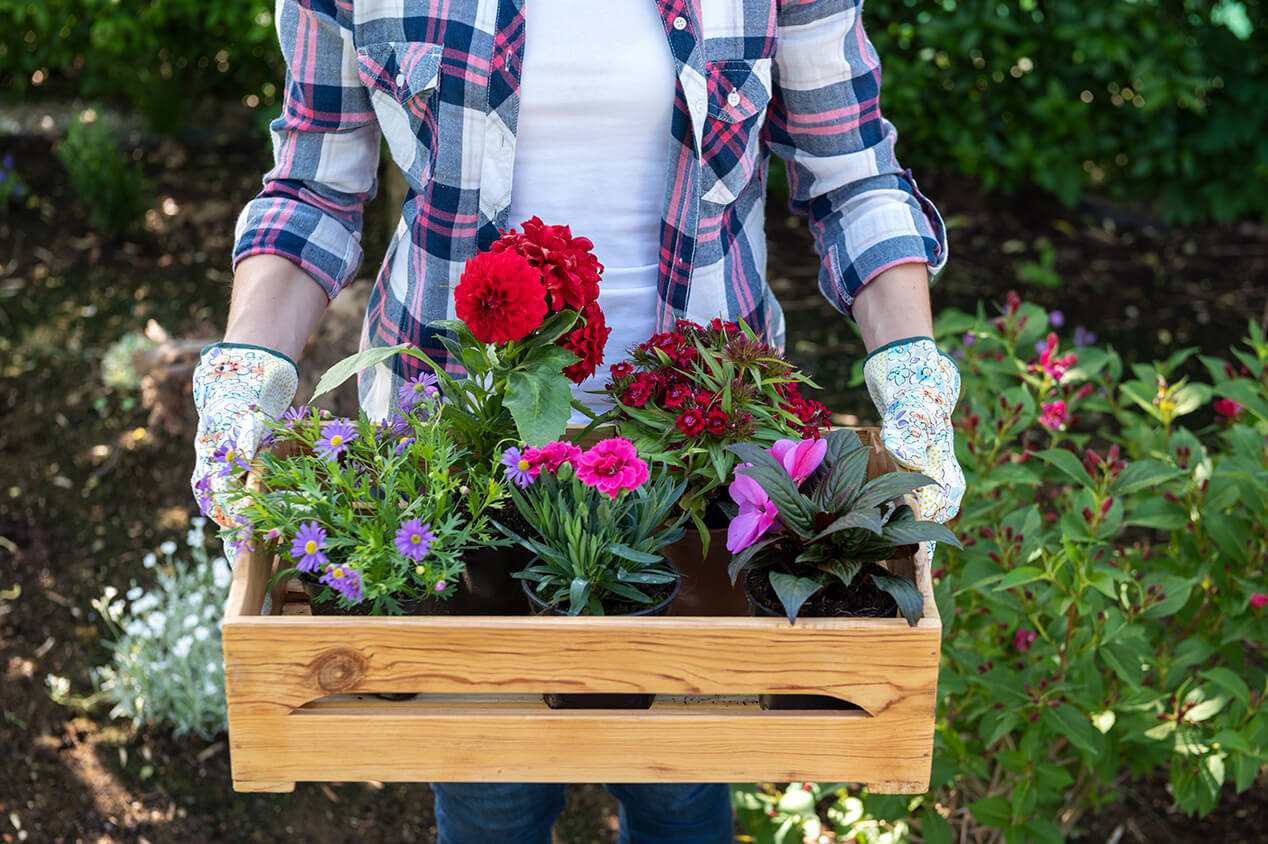 Use ivy or hanging plants on a lattice to create a vertical garden and immediately level up your patio space. Consider hiring a gardener for quality work and expertise to keep your vertical garden thriving.
Pros: Plants growing through a wooden structure like a trellis box planter are low-effort but sophisticated. Try English ivy, morning glories or mandevillas.
Cons: Although a vertical garden is low-maintenance, it's possible to accidentally neglect it. Untamed vertical gardens can look careless and messy, so set reminders for watering and pruning.
Cost: A trellis box planter usually costs $50 to $200, depending on the size and craftsmanship. A plant like English Ivy costs about $80 to $100. The cost of hiring a gardener is around $30 per hour.
2. Revamp Your Lighting Design
Studies have shown that lighting influences mood — why not create an enjoyable ambiance for your outdoor space? A professional can help steer you in the right direction for something that's within budget and eco-friendly by conserving energy.
Pros: Patio lighting can make a huge impact and it's not as expensive as you'd think.
Cons: Selecting bulbs that aren't energy-efficient can cause your electricity bill to spike, so it's best to do your research before installing.
Cost: Professionals charge an average of $260 to install porch lights. Installation takes no more than an hour, so most of this cost is the lighting itself. However, these estimates don't include the cost of installing an exterior power source.
3. Creatively Hardscape Your Terrace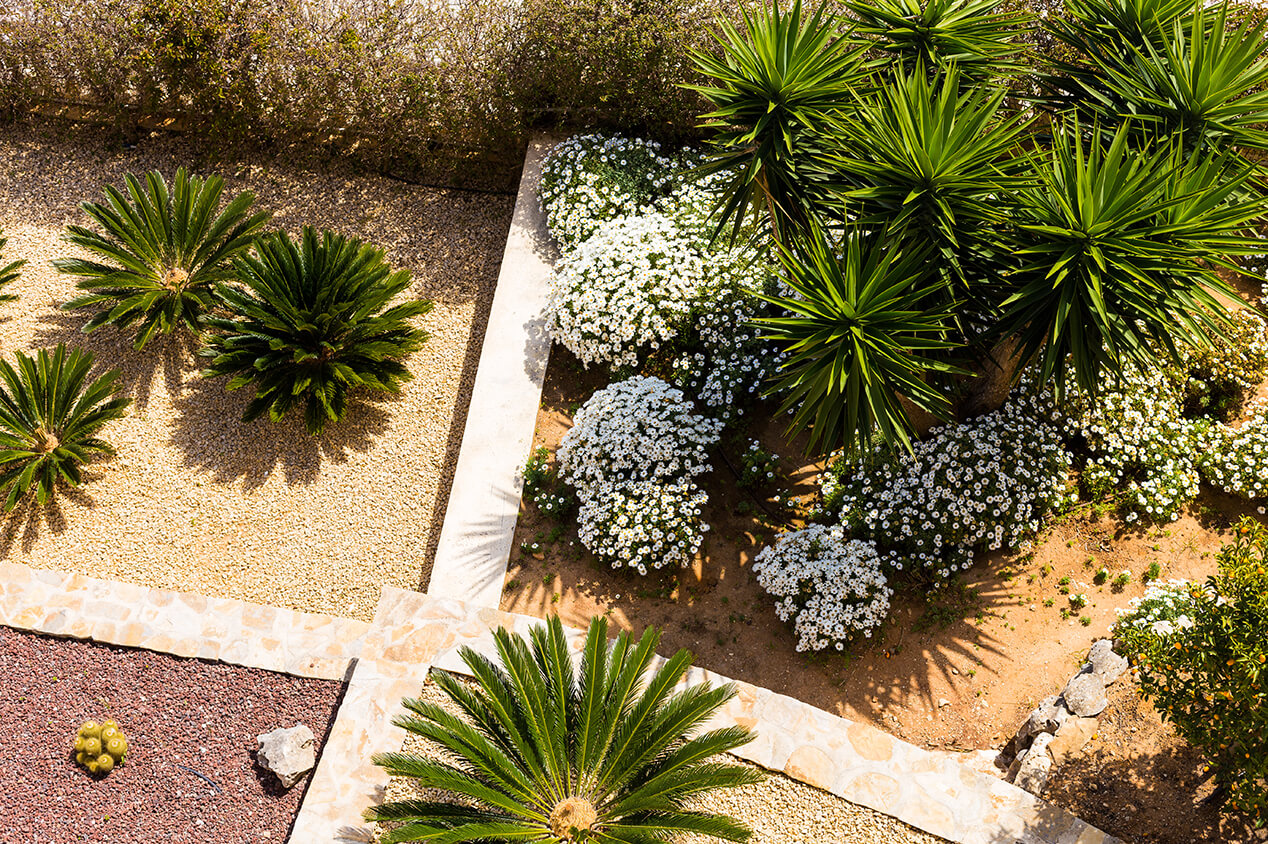 Also known as xeriscaping, this type of landscaping design is drought-friendly and doesn't require regular maintenance. Hardscaping the surrounding area of your terrace with gravel or pavement is also one of the best ways to incorporate low-maintenance landscaping.
Pros: Hardscaping provides a low-effort but creative, drought-friendly design for your patio's surrounding area. It may not be super cheap upfront, but you can save hundreds of dollars in the long run if you opt for this low-maintenance design.
Cons: Some people may feel the hardscape looks sparse and lacks greenery. Choose the right stone and an appealing paving pattern to add more visual elements.
Cost: This patio idea isn't cheap upfront, with some of the most inexpensive options still totaling $800 for a small 10 foot by 10 foot space. Allow extra room in your budget if you're considering investing in the cost of concrete patio.
4. Add Japanese Garden Design Elements
Remember that less is more when it comes to incorporating elements from Japanese garden design into your patio. The subtlety of this kind of patio design makes it affordable, too.
Pros: Japanese rock gardens provide a place for quiet contemplation. For example, one of the elements of a Zen garden is drawing sand patterns with a stick, fork or comb to create shapes in the sand.
Cons: Laying the foundation for a beautiful Japanese garden can be expensive, but it doesn't have to be. Be sure to compare and contrast your options for using pavers versus concrete in your patio design.
Cost: Your cost will depend on the size, but keep in mind that larger Zen gardens, which will need plenty of sand, will cost up to $200 or more.
5. Craft a Bird Sanctuary
Have you ever considered investing in a birdbath, birdhouse or bird feeder for your winged visitors? These elements are an excellent addition to any patio area, especially when you opt for materials that complement the design of the rest of your patio.
Pros: Creating a beautiful dedicated space for bird visitors is a great way to support nature and help your local ecosystem in an aesthetically pleasing way.
Cons: Birdbaths can get messy if you don't maintain them. Don't forget to refill the water and clean up spilled birdseed every few weeks. Otherwise, your peaceful nature sanctuary will start to look messy.
Cost: Making a safe haven for birds is quite inexpensive — most birdbaths are $30 to $100 depending on how fancy you would like the bath to be (some baths are heated). Similarly, a birdhouse and bird feeder can range from $20 to $75 each, depending on the type.
6. Create a Fence or Railing Garden
If you have an elevated patio with a garden, you can take advantage of that element to create a beautiful border for your outdoor space. There are two simple options to achieve this aesthetic: Fence gardens and railing gardens.
Pros: Fence and railing gardens are simple to set up and maintain. You can attach the side or bottom of the planter using brackets that hook onto the railing or fence. Alternatively, you can try straddle-style planters.
Cons: Like any garden, a fence or railing garden requires watering, pruning and the right amount of sun exposure. If your plants aren't thriving, it can make your entire patio seem neglected and unkempt.
Cost: Planters designed to attach to a fence or railing are quite affordable, usually only costing $50 to $100.
7. Take Advantage of Multi-Purpose Furniture
When you have multi-purpose furniture, like a bench that doubles as a plant holder, you're making great use of your space. For outdoor spaces, look for versatile furniture that's foldable and weatherproof.
Pros: Versatile furniture provides endless design options. You can switch things up and turn a previously comfortable seating area into a decorative bench for displaying potted plants.
Cons: Depending on the pieces you select, your patio furniture can seem mismatched if not from the same set. Stick with complementary colors and textures when mixing and matching.
Cost: The cost of your furniture will vary greatly, and runs anywhere from $50 to $400 per furniture item. It's important to keep in mind the best material for your patio furniture considering your region's climate.
8. Borrow from the Principles of Hygge
Hygge is a design approach that incorporates textures and natural elements to craft a cozy, uncluttered atmosphere. Aim to create a serene space that you look forward to relaxing in.
Pros: Extend your living space outdoors and turn your patio into a warm, welcoming outdoor refuge.
Cons: Some cozy materials like blankets and pillows aren't made to withstand the natural elements. Opt for weatherproof or mold-resistant materials if you're in a humid or rainy climate.
Cost: Invest in affordable, homey elements designed for outdoors, like throw blankets, cushions and accent pillows. If you focus on these simple decor elements rather than a major renovation, you may only spend $100 to $300.
9. Make Your Fire Pit a Focal Point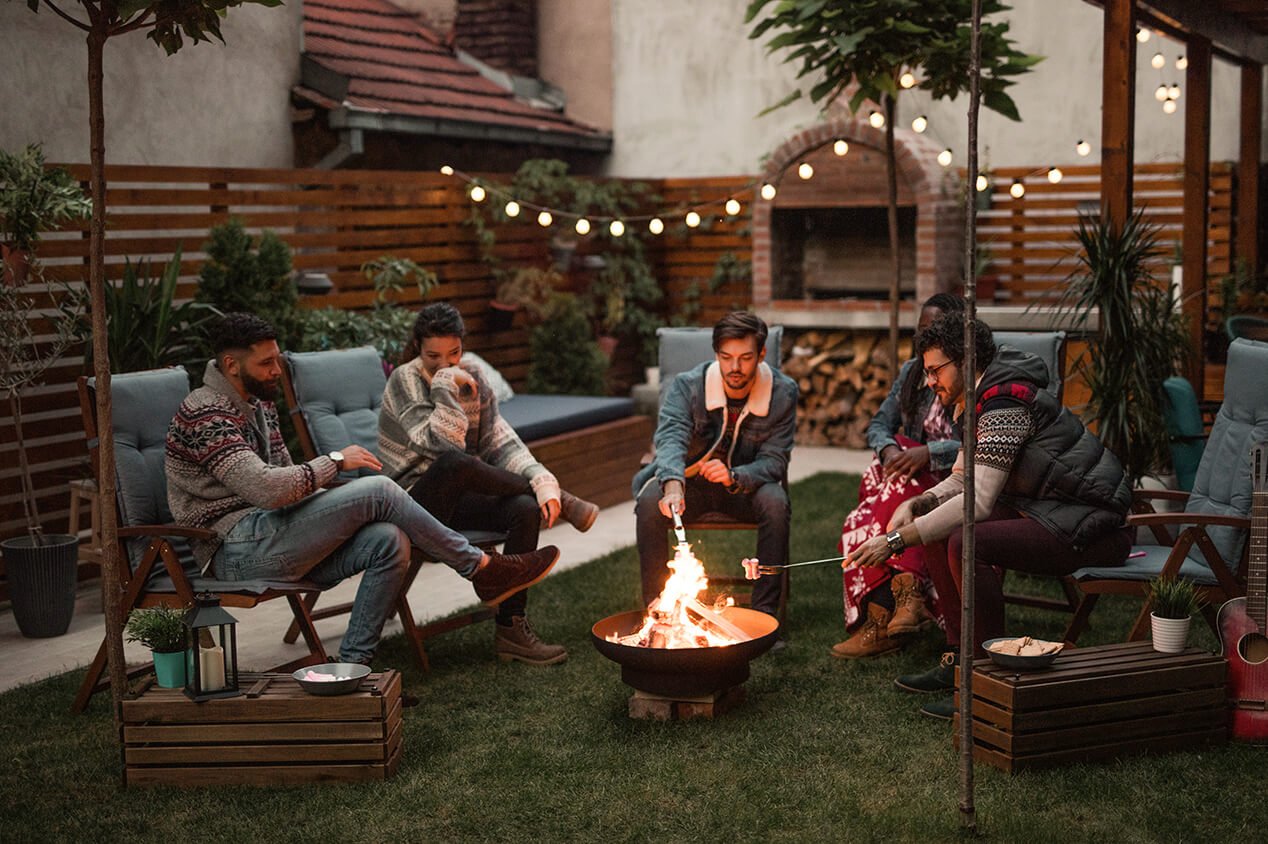 A fire pit is one of the best focal points for an outdoor space. To build an outdoor fire pit for your patio, you won't need to break the bank. There are plenty of simple stone, metal and concrete fire pit options. When you have a hearth for your patio, you'll find yourself spending more time there.
Pros: A fire pit can be a cost-effective compromise to a pricey outdoor kitchen or stone fireplace.
Cons: Fire pits come in a variety of styles and materials that may not match the rest of your patio. Choose one that complements the rest of your patio furniture and accents so it's not distracting.
Cost: The lower-to-mid price range for fire pits is $300 to $700. The cost of a fire pit is a lot more reasonable than the cost of adding an outdoor fireplace, which usually totals $1,500 at a minimum.
10. Create a Fun Grilling Area
If you've always wanted to create a grilling area on your patio, the good news is that it doesn't have to be expensive. As long as you're willing to get creative on materials to cut costs, you can keep your grilling area budget-friendly.
Pros: A grilling area where you can serve drinks and snacks adds a fun, friendly dynamic to your patio area. If you ever have guests over, it's a wonderful feature when hosting.
Cons: Some grilling areas are extremely expensive. Define your budget in advance to help find the right grill for you.
Cost: Although some prices are steep, the cost of a natural gas BBQ can range from $130 to $350 for installation, and between $250 and $3,500 for the grill itself. Depending on your budget, you may find it a worthwhile investment, since your grill is often the centerpiece of an outdoor space.
11. Design a Picturesque Patio Walkway
Your patio walkway creates a powerful first impression for the rest of your outdoor space. Keep in mind that your budget will vary significantly depending on what type of walkway you have in mind. In most cases, you'll need professional help to create a beautiful path that you'll enjoy looking at for years to come.
Pros: Even though this isn't the cheapest patio update, this project leaves a long-term positive impact on the look of your outdoor space. On the other hand, an affordable option is to spruce up your walkway by planting flowers around it.
Cons: If you fall in love with the idea of using stone pavers, the project will be more expensive. The cheaper option would be to either paint or stain an existing wooden walkway or add flowers along the border.
Cost: The cost of building a concrete walkway is $6 to $12 per square foot, or $1,200 to $2,400 for a 200 square foot walkway. Keep in mind that the price will decrease if you opt for a less expensive material like mulch or gravel.
12. Add String Lights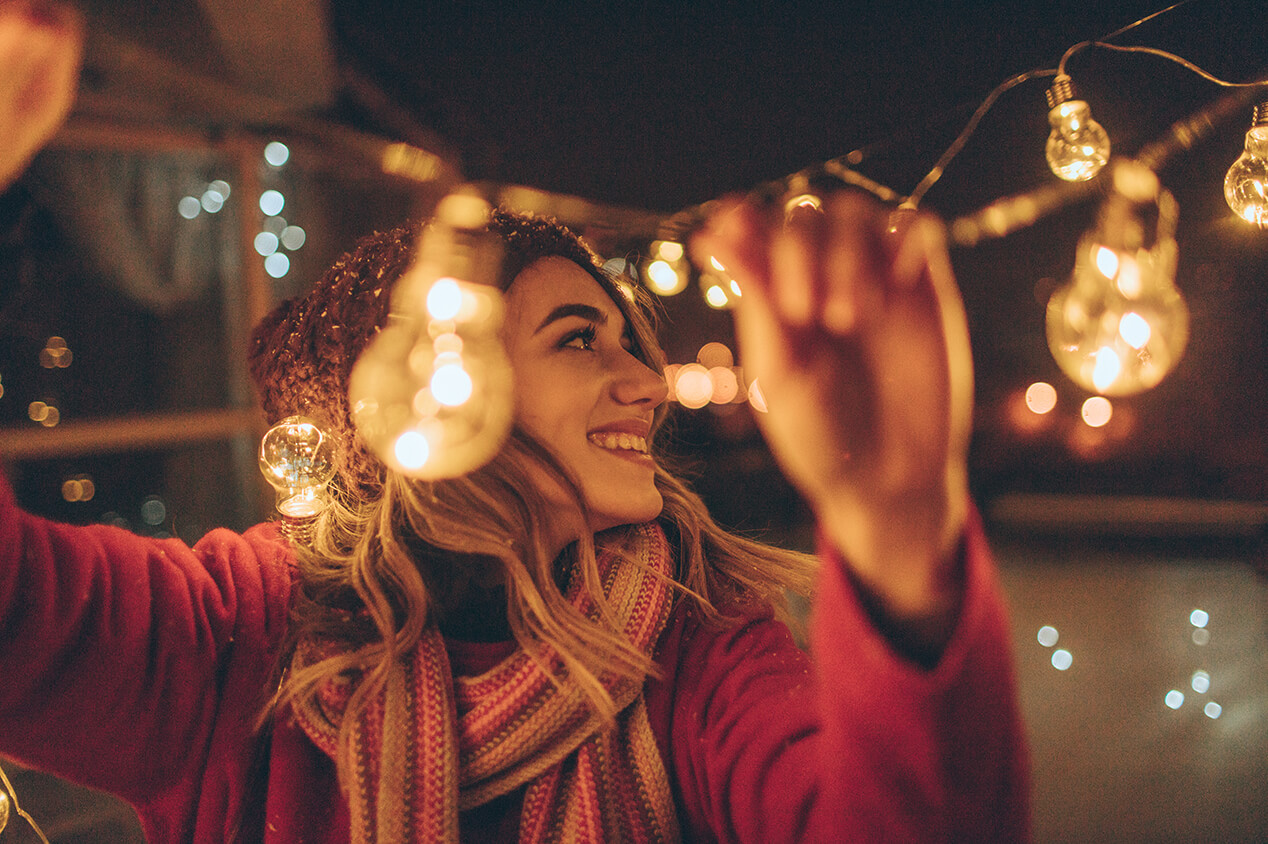 Once you've revamped your main patio lighting, it's time to have fun with some DIY touches. Get the most bang for your buck with string lights or electric candles.
Pros: String lights are easy to install and instantly add a whimsical feel to any patio. Paper lanterns are also easy to set up and add a nice addition.
Cons: Even small lights can be overpowering in some spaces. Be mindful about the placement of your string lights so that they're subtle.
Cost: String or fairy lights are reasonably priced, typically costing no more than $20 for about 30 feet of lights.
13. Install a New Awning
There are tons of reasons why installing a new awning is a great idea, like providing a comfortable, shady space to hang out. The shade created by awnings can make your patio space up to 20 degrees cooler.
Pros: A new awning has a large impact on the overall look and feel of your patio. The right awning can also help lower home energy costs. If you don't want to commit to a new awning, there are also umbrellas and sunshades that cost between $50-$100.
Cons: Although adding an awning can be complicated and isn't always the cheapest patio idea, it still earns a spot on this list because the long-term benefits make the cost to install an awning worth it.
Cost: Affordable awning options include canvas awnings which cost between $300 and $700, and aluminum awnings which cost $250 to $800. You'll start to get into a more expensive range when you look at retractable awnings and pricier materials.
Looking for some more inspiration? Browse these themed mood boards below to help spark some ideas. Whether you're looking to create a cozy hideaway or a picturesque sanctuary, these photos will inspire your patio renovation process below.
Mood Boards

No Comments Yet