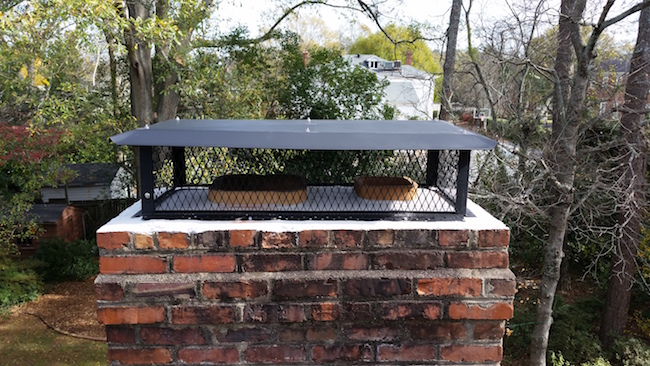 Since your chimney is one of the major barriers to fire danger in your home (and consequently one of the primary sources of fire outbreaks), when a problem occurs chimney repair is of utmost importance. Here's a short list of quick checks you can perform on your own or hire a professional to undertake in order to evaluate when chimney repairs are in order.
Easy-to-Identify Reasons for Chimney Repairs
Reducing the severity and frequency of chimney repair is about three things: inspection, inspection, inspection. The easiest place to begin an evaluation of whether your chimney needs any attention is from your living room. These simple inspections can be made by just about any homeowner, and could lead to spotting a necessary chimney repair before it becomes a much larger problem.
Check the Firebox. Cracks and loose joints in the masonry are an issue, but one that is easy to repair. Chimney experts can generally fix small cracks by applying refractory cement to seal up the offending areas.
Examine the Damper. It should open and close easily, and you don't want to see any evidence of extensive rust, cracks or pitting. If you do, it's time to have your damper replaced.
Look Up The Flue. Use a high powered flashlight and inspect the flue liner for cracks or other defects. All the joints should be smooth and tight to prevent fire or heat from reaching the materials behind it.
Identifying Areas in Need of Chimney Repair from the Outside
Just about every homeowner can examine components that are visible from indoors, but it is often necessary to climb up to the roof to spot areas in need of repair. Chimney service companies are often better able to identify and handle problems in these harder to reach areas; if you have a steep roof, or aren't comfortable with heights, contact a certified chimney sweep or repairman to look things over for you.
Remove Any Blockages. The tops of chimneys are favorite places for birds and squirrels to build nests, especially in the spring and summer months when the fireplace isn't used. If you've got unwanted guests, be sure to remove all the debris to eliminate the consequent fire danger.
Check the Flashing and Brick and Mortar Joints. Just as with the inside of your fireplace, the exterior of your chimney needs to be tight and without defect. Reseal your flashing if it needs it, and be sure to reseal all cracks, loose bricks, and mortar joints with a cement compound to prevent further deterioration.
Is There Evidence of Water Damage? If so, apply a waterproof sealant to your chimney to prevent further damage and more expensive repair. Chimneys might look sturdy and tough, but water has been known to cause damage to hardware, and even to mortar that was improperly mixed or set.
Inspect the Interior. Use a high-powered flashlight to inspect the interior of your chimney from above. Again, check the flue liner for defects, and also keep an eye out for creosote or soot deposits. These deposits are a leading cause of damaging fires if they're not dealt with. If you're chimney needs a cleaning, contact a chimney sweep to remove these dangerous deposits.
Keep in mind that unsafe chimneys account for over $200 million dollars in damage and a number of deaths each year. To lower these statistics, The Chimney Safety Institute of America recommends that every home with a chimney have an annual inspection to ensure optimal safety. Whether you suspect you may be in need of a repair job or are just due for a regular checkup, contacting a certified chimney repair specialist to inspect your chimney, identify existing problems, and perform necessary cleaning or repairs can be very beneficial. Not only do the pros know what they are looking for and understand how to fix it, they can also offer good advice to prevent future problems; when a chimney repair service finds and fixes a problem early, hiring that service is actually saving you money (and quite possibly a lot of hassle) in the long run!
Ready to start your
chimney maintenance

?Find Pros
No Comments Yet