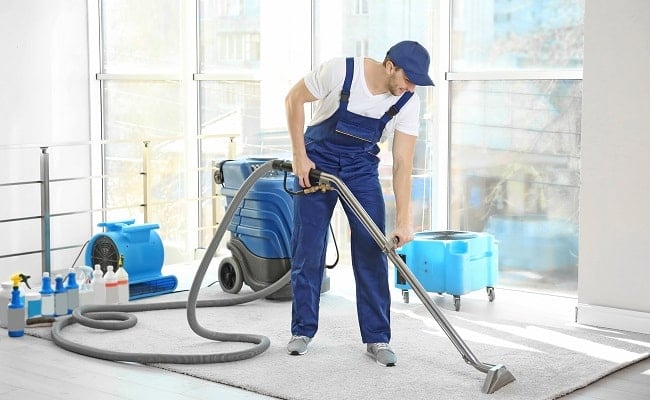 July 22, 2021
Reviewed by Asya Biddle, Cleaning Services Professional & Owner of The Dust Busters, Williamsport, PAWritten by HomeAdvisor.
Looking for a Carpet Cleaner?
Whether you're looking to rent a carpet cleaning machine, hire a professional or just find the right chemical treatments to remove a stain, this guide covers it. Carpet is one of the most popular flooring choices in the nation. It looks great, feels soft underfoot and is inexpensive to install. But it needs regular cleaning to keep it looking great.
Carpet takes a beating every time you walk on it. Dirt particles grind in to it, both wearing down the fibers and giving it a worn look. Regular annual or bi-annual cleaning keeps it looking and smelling fresh while extending its life span. Hiring a carpet cleaning professional provides the best results for about the same cost as purchasing a shampooer and doing it yourself.
On This Page:
Professional Carpet Cleaning vs. Do It Yourself
There are both do-it-yourself methods and a variety of professional systems for cleaning carpets. Each has its advantages and disadvantages. Hiring a professional service is one way to ensure that the job is done using the best equipment and the best cleaning solutions. Professional services are often also proficient in repair, meaning that you may be able to have runs or small tears fixed at the same time.
Quality ranges between home cleaning machines, rentals and professional services.
| | Buy a Machine | Rental | Hiring a Service |
| --- | --- | --- | --- |
| Cost | $90 to $500+ | $30 to $60 per day | $120 to $250 |
| Effectiveness | Minimal results | Moderate results | Best results |
| Time | 1 hour per room | 1 hour for pickup. 1 hour per room | No time invested. Services take about 2 hours. |
Buying and Owning a Machine
It's handy to have your own machine for pets and quick stain cleanup, but consumer grade machines tend to have the worst results.
Pros
Machine on hand for quick cleanup.
Not as effective as most rental machines.
Cons
Upkeep
Cleaning time
Storage
Rental Carpet Cleaning Machines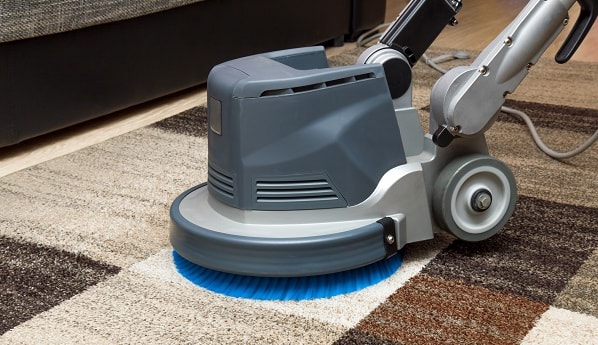 For a little more quality, try renting a machine from a home improvement store like Menards, Home Depot or Lowes. Though they work better, you'll need to transport it.
Pros
Better than most consumer grade machines.
No storage concerns.
Cons
Pickup and drop-off.
Cleaning time.
Hire a Professional
Not only do you get the highest quality results, but licensed and bonded pros carry insurance in case of damage, and you won't have to contribute your own time into completing the project.
Pros
Excellent results.
Warranty & guarantees.
Insured work.
Cons
Cost.
Inconvenience during cleaning.
Rug Doctor vs Professionals
Rug Doctor, one of the most well-known names in rug cleaning machine rentals and chemicals, tops the consumer market. However, like any inexpensive rental machine, they are no match for a commercial setup run by an experienced cleaner. It's a great option for quickly addressing a wine stain or pet messes, but for whole-house applications, turn to a pro.
Pitfalls of a DIY Home Carpet Cleaning
While cleaning your carpets DIY is a straightforward project, watch out for these pitfalls:
Leaving too much moisture. Excess moisture can promote mold growth. When using a machine, go slowly and remove as much water as possible.
Damaged Furniture. Wood furniture sucks up moisture. Use furniture coasters to separate all furniture from the floor or better yet, remove everything from the area prior to starting the project.
Over Shampooing. It doesn't matter how much dirt there is, stick to the directed amounts of shampoo. Leaving shampoo in attracts dirt quickly.
Stained Carpets. Every chemical has a warning to test in an inconspicuous area, like the back of a closet. Some chemicals can quickly change a floorings color. Always test first.
Find out more carpet cleaning mistakes to avoid.
What Do Professional Carpet Cleaners Use?
Carpet cleaning equipment runs from $90 off-the-shelf home units to $20,000 vehicle-mounted types. Professionals use commercial-grade machines and wholesale bulk cleaners. However, the ingredients in a commercial-grade cleaner match those found in consumer-type chemicals found on your department store shelves.
For machines, the biggest difference is price and power. Commercial machines come in mobile carpet extractors and truck-mounted systems. Mobile extractors cost anywhere from $2,000 to $10,000 while truck mounted systems run $20,000 or more.
Steam Cleaners vs. Shampooers vs. Dry Cleaning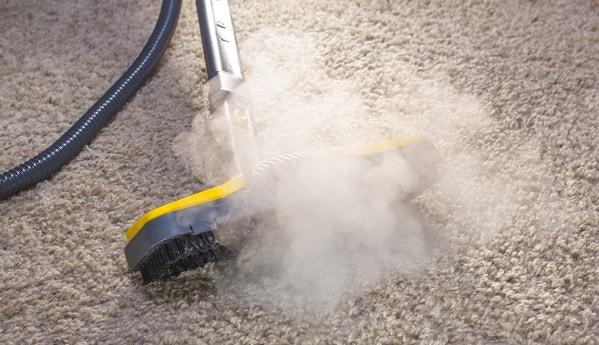 Professionals use steam, shampoo and sometimes dry-cleaning methods. Rentals and DIY use the shampooing method. Understand carpet cleaning methods – even if you decide to hire a professional.
Dry cleaning uses dry chemical compounds with no liquid. The chemicals break down dirt and oils are then vacuumed up. Dry cleaning effectively cleans with no drying time but at the cost of using harsh chemicals. Dry cleaning works, but hot water extraction methods like steam provide better results.
Steam cleaning and carpet shampooing are sometimes interchangeable terms. They both refer to hot water extraction using a combination of water and chemicals. Though many consumer-grade shampooers include the name "steam" in their title, they rarely deliver. Residential and rental models release a mixture of hot water and shampoo into the carpet – often with rotating brushes – and then vacuum the liquid up. While the hot water does release a little steam, it's the shampoo, brushes and water that does the cleaning.
How to Find & Hire a Good Carpet Cleaner
Since you will get your carpets cleaned one or two times per year, take the time to find a professional you like, trust and can work with for years to come. Reading reviews, getting multiple quotes and checking references are all reasonable steps to take in finding a quality professional.
When choosing a cleaning service, stick with reputable firms and check prices upfront. Stairs are more labor intensive, so most firms also charge for them separately on a per-step basis. You may come across offers of "3 rooms for $49" which may sound good but aren't profitable for most companies. After catching your interest with these low offers, they'll sell you extras like pre-spotting, soil retardants, or deodorizing and anti-static treatments. All together, these upgrades can end up costing more than all-inclusive prices offered by other firms.
Reading Reviews and Ratings to Find Reputable Pros
Always read reviews and ratings on all professionals you invite to do work in or on your home. Our carpet cleaning services directory lets you browse ratings and reviews and find a trusted professional.
Carpet Cleaning Quotes & How Cleaners Charge
Get at least three quotes from different service providers. Make sure to ask the right questions to determine if all the costs are included or if there are hidden fees or surcharges.
Carpet cleaners charge an average of $175 nationally. Most charge by square foot or by the room size. You'll spend anywhere from $0.20 to $0.75 per square foot. Per room charges range anywhere from $40 to $100. Costs also vary depending on your location and your home's accessibility. Expect prices to reflect your area's cost of living as this increases a professional's expenses.
Questions to Ask Before Hiring a Professional
Most cleaners will have very similar services and billing, but it doesn't hurt to ask these questions.
How long have you been in business? Find out what experience they have.
How long will the job take?
Are you insured against damage to my home?
Do your chemicals leave an odor? If so, how long does it last?
Are all the charges included in the quote? Find out about hidden charges.
Are the cleaning solutions you use healthy for humans and gentle on the environment? There are environmentally responsible and healthier carpet cleaner options.
How to Prepare for a Carpet Cleaner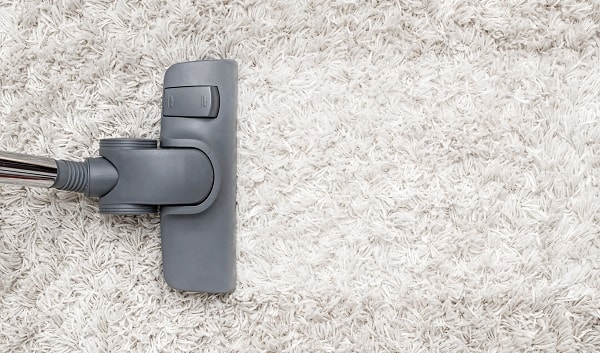 To get the best results from either a home rental, purchased machine or a professional cleaning service, follow these tips prior to the start of the project.
Vacuum. Don't assume the cleaner is going to do this. You'll loosen up dirt and get any large debris out of the way.
Remove your delicate items. Move anything you don't want broken like art, antiques or small and delicate furniture.
Tell your professional about any problem or high traffic areas. Letting them know that the dog occasionally uses a corner instead of going outside to relieve himself helps the professional pretreat correctly.
Move floor length curtains and drapes. Secure them to the curtain rod or to the window.
FAQs
Do Rental Carpet Cleaners Work?
Rental cleaners will remove most of the dust and dirt, but don't expect a 30 machine rental to perform as well as a professional's $1,000 truck-mounted model. Established, experienced, and in some cases licensed, professionals get better results. Rental machines are typically lightweight versions of professional rigs.
Is Professional Carpet Cleaning Worth It?
A professional cleaning is worth the money. It is more expensive than renting or buying, but you'll get the best results without investing any of your time. Read more about carpet cleaning pros and cons.
How Regularly Do You Need to Clean Your Carpet?
You need to have your carpet cleaned regularly either by renting equipment or hiring a service. Have it done at least once every 12 to 18 months, and even more if you have a large household with a lot of foot traffic or pets. You should also have them done after any major soiling event such as remodeling or holiday parties. The sooner you remove dirt, the better.
Is It Better to Rent or Buy Machines for DIY Home Cleaning?
Buying vs. renting depends on your budget. To get a machine that equals the quality of a rental machine, you'll spend anywhere from $400 to $1,500. The cheap department store models don't do nearly the same quality job. It's also a matter of storage. You'll only use the machine one or two times a year, do you have space to store it?
How Long After the Service Do I Have to Wait to Walk on My Carpet?
Once your carpet is dry, you'll be able to walk on it. This can take anywhere from 3 to 24 hours with proper ventilation and fans. It depends heavily on humidity levels, the thickness of the carpet and pad, and the amount of ventilation available. Professional machines vacuum up more moisture than residential and rental models. Expect quicker drying times with professional services. Often, parts of the home will already be dry by the time the cleaner is finished.
How to Prevent the Need for Frequent Cleanings?
Vacuum regularly: This is the single most important thing you can do to both clean carpets and to prolong their life. Tests have shown it usually takes a full seven passes with a vacuum to remove all the loose dirt. A lightweight, upright vacuum is usually the easiest to use. To be effective, it must have strong suction and have some sort of vibrator to loosen the dirt.
Eliminate stains immediately: This is the next most crucial factor in good carpet care. The longer a stain sits there, the harder it is to remove. Make sure you use the right cleaning materials, or you may make the situation worse.
Where to Hire a Pro When You Need Your Carpet Cleaned
Even though it may not look like it, you should have your carpets done annually or more. Find local professionals near you to get the process started.
No Comments Yet